This cheesy pesto pasta comes together by making a quick stovetop cheese sauce. Pesto and pasta are added for an easy and delicious meal.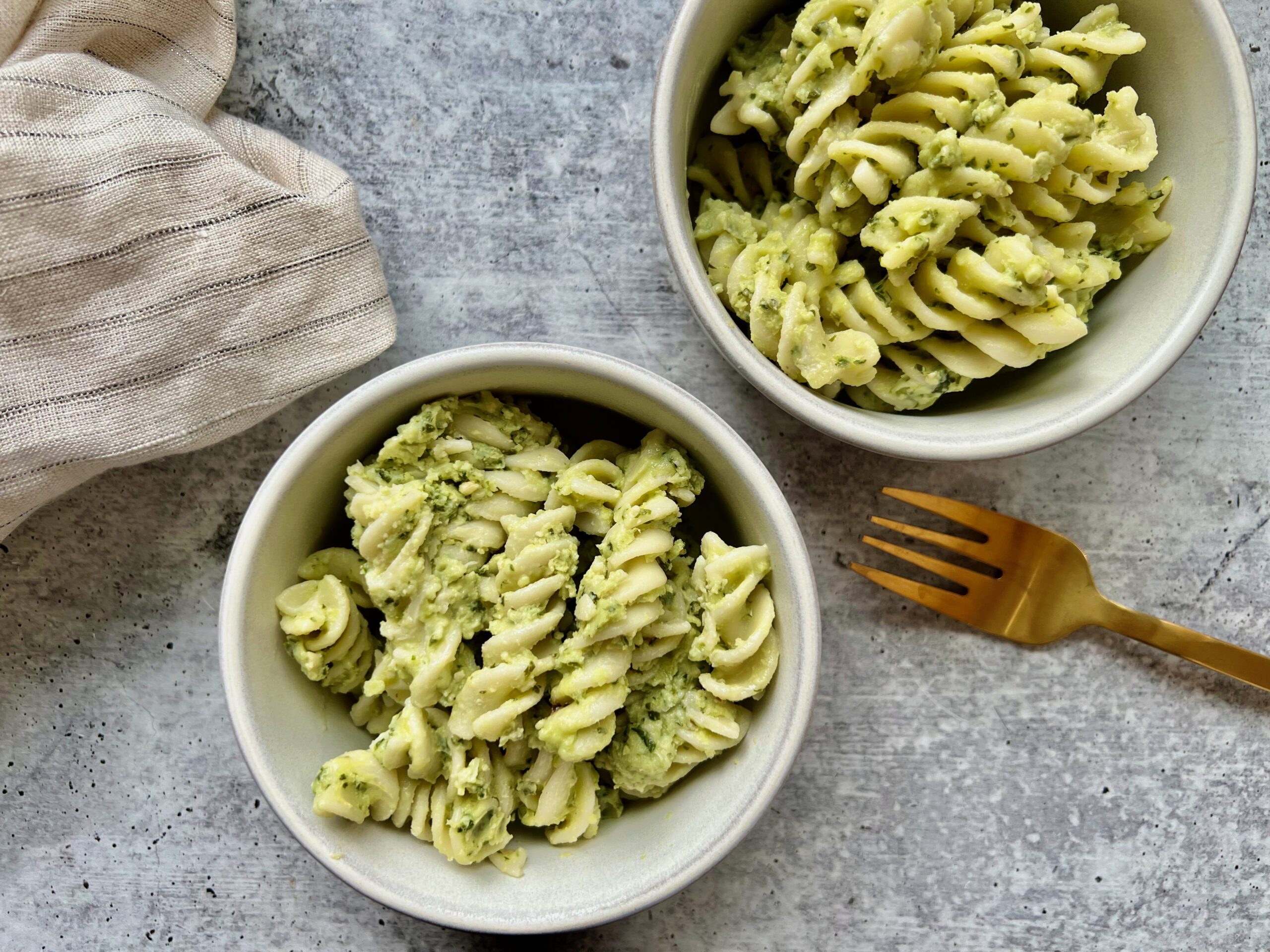 We had just got back from being on vacation for a week. On vacation normally when we get back I feel like we need to stuff ourselves with vegetables because they are hard to find. Not on this trip! We got our fill of vegetables but surprisingly didn't have a ton of carbs. And the meals we had didn't really have any cheese. I was looking to make an easy meal to get all the things we missed on vacation so I decided to make this cheesy pesto pasta.
Pesto is the Best-o
When I first started eating pesto forever ago I remember getting the jarred stuff. I also remember not really liking it. Then I realized how easy pesto is to make and since then I have never bought it from the store (find my recipe here [3]). A lot of people think pesto is always basil and pine nuts. However the word pesto comes from the Italian verb that means to pound or crush. Which is how pesto was originally made back in the day.
Now with modern kitchen gadgets pesto is made easy with a blender or food processor. And there are tons of variations with the main ingredients usually containing an herb and nut. You can swap parsley for basil, walnuts for pine nuts etc. For this pasta I kept it with the traditional basil version but once you get the method down you can use whatever variation you want!
If you choose to make your own pesto for this recipe here are some suggestions:
Add a few handfuls of fresh baby spinach to your pesto when blending for extra veggies. It doesn't change the flavor at all!
Don't add the parmesan cheese – it will get added to the cheese sauce instead
You can experiment with the nuts – walnuts would be good here as well, I personally don't love the texture almonds give to pesto
Speaking of nuts – TOAST YOUR NUTS. It adds an extra depth of flavor. Put them in a pan over medium heat until they get golden. Be careful – they go from brown to burnt really fast!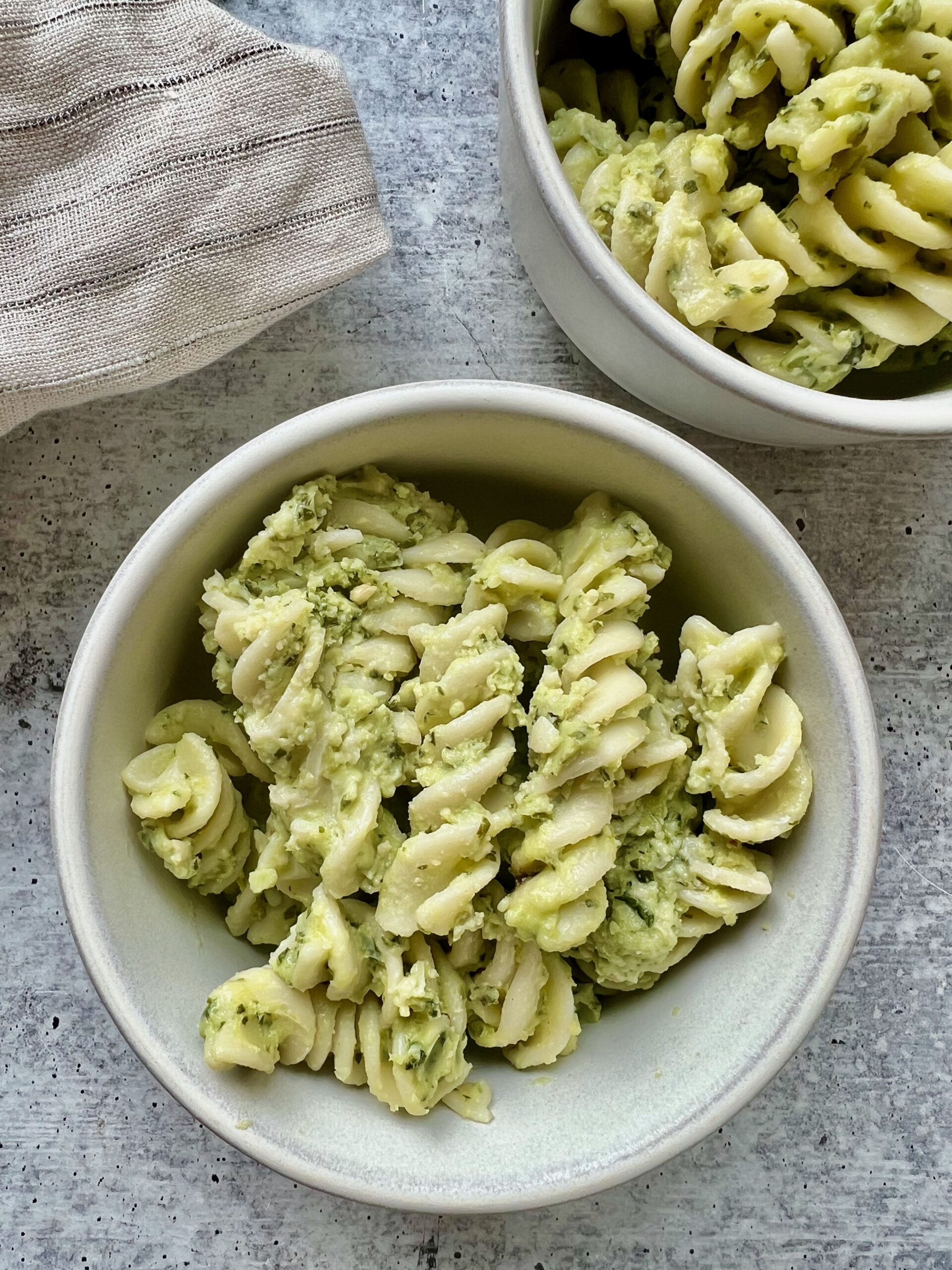 Easy Cheesy (Sauce)
Cheese sauce tends to be over complicated sometimes. Traditional Mac and cheese sauces will start with a roux. While making a roux is not hard it just adds steps and time to a recipe.
Because the cheese sauce isn't meant to have the most seasoning (instead it will come from the pesto) I was able to keep it super simple. I started with some heavy cream which I warmed on the stove top. Then to that I slowly added my cheese. I used some good Italian melting cheeses like fontina and mozzarella for this recipe. Then I added in the parmesan that was missing from the pesto for a little nuttiness.
The sauce comes together so easy on the stovetop. And don't worry if it's too thick. Once you add the pasta from the pan and the pesto it will thin out a bit.
So that's it! In the time it takes you to cook the pasta the sauce is made and then everything gets tossed together for this easy and delicious cheesy pesto pasta. The next time you want pesto be sure to try this cheesy version. Also remember, if you try this recipe be sure to rate it and leave a comment below and let me know how you like it. Or tag me on Instagram [4] or #eatbreathelove!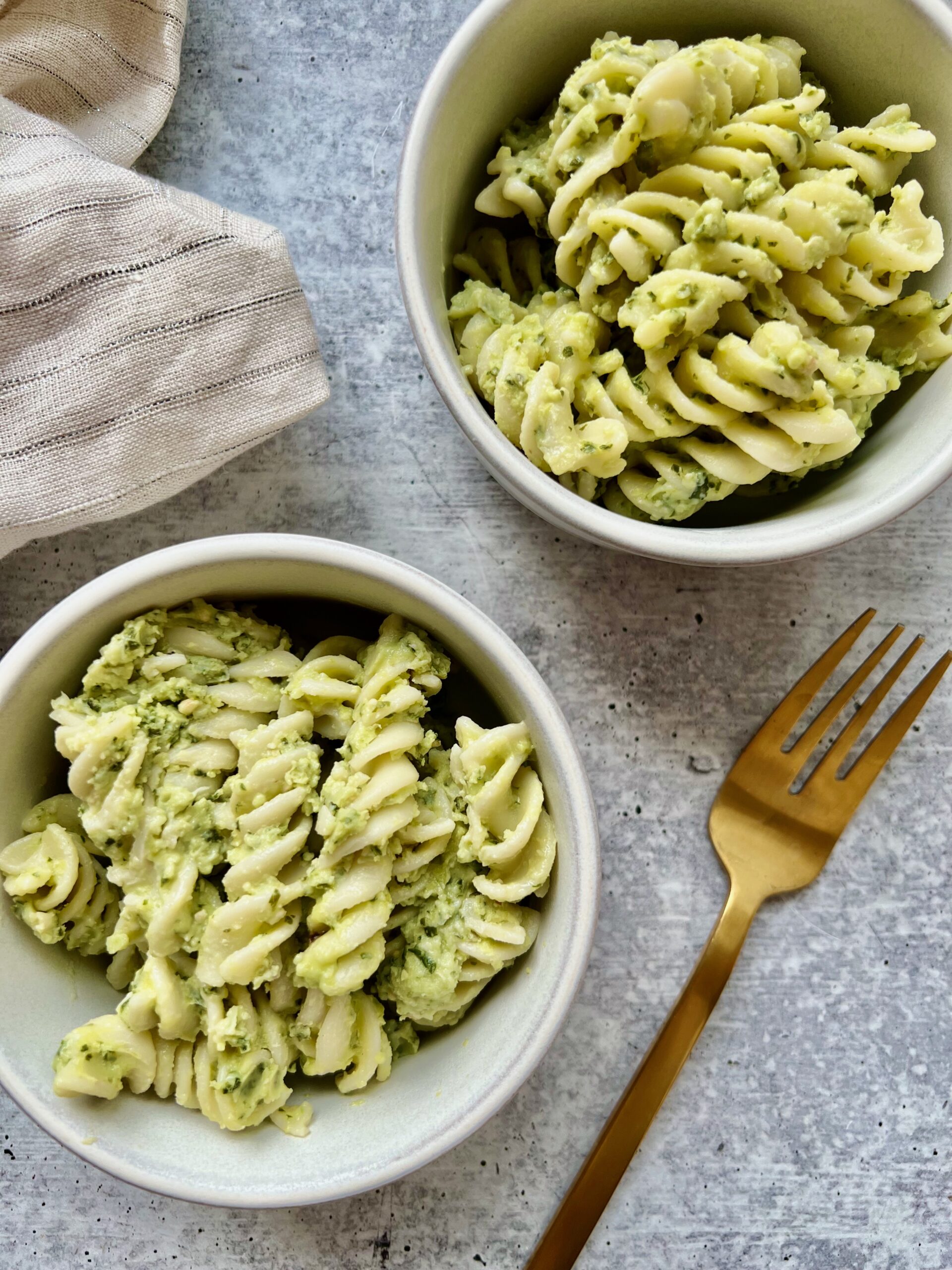 Print
[2]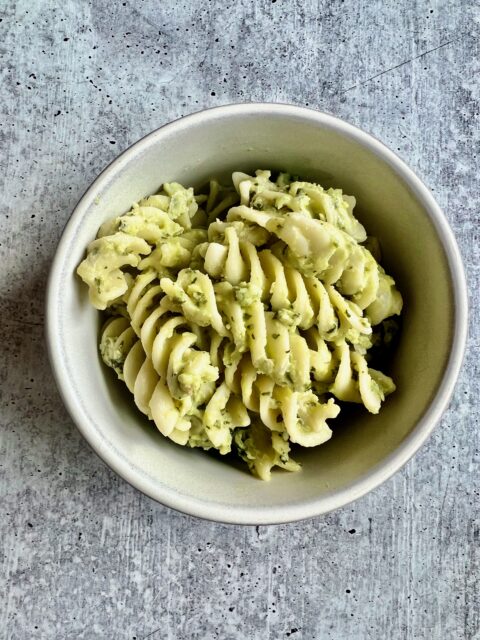 Cheesy Pesto Pasta
---
Author:

Karissa P [5]

Total Time:

20M

Yield:

4

-6

1

x
Description
This cheesy pesto pasta comes together by making a quick stovetop cheese sauce. Pesto and pasta are added for an easy and delicious meal.
---
1

c

homemade [3] or store bought pesto – if you are making homemade pesto for this recipe do not add the parmesan cheese to it

1

c

heavy cream

1

c

shredded mozzarella cheese

1

c

grated fontina cheese

1/2

c

grated parmesan cheese
zest of

one

lemon

1

lb

of pasta (I love penne, fusilli, rigatoni, or cavatappi for this recipe)
---
Instructions
In a large pot bring water to a boil for the pasta. Be sure to salt the water liberally prior to adding the pasta. Cook pasta for the time on the package, DO NOT drain pasta when done! (see step 5)
In a large skillet or dutch oven (something that you can add the pasta to!) add the heavy cream and heat to medium. If the cream starts to bubble turn the heat down slightly as you don't want it to scorch.
Slowly whisk in the cheeses a little at a time. At this point your "sauce" is going to be very thick. Don't worry!
Stir in the pesto and lemon zest. Season with salt and pepper to taste.
Once the pasta is done cooking use a slotted spoon to transfer to the sauce. The water that is on the pasta will help thin the sauce out.
Stir pasta and sauce together to coat the pasta evenly. Serve immediately. If the pasta sits it will start to absorb the sauce. You can additionally use some of the salted pasta water to thin out and make more of a sauce consistency if this happens or if the sauce is too thick.
Notes
This goes well with a salad as an entrée or pair with grilled chicken or shrimp as a side dish.
Prep Time:

5M

Cook Time:

15M