My husband and I had a kid free weekend recently. We went to brunch and hit up a little Italian store that I have been wanting to go to for awhile now. In addition to all the pottery and pantry staples this store had homemade pasta as well as meats and cheeses. When I saw that they had 'njuda I knew I had to whip up a pasta sauce. So I created this white wine tomato sauce with 'njuda to go with the homemade pasta we purchased.
Never heard of 'njuda?
I hadn't either. I heard about it form the various cooking shows I watched. What the heck is it you must be asking yourself? 'Njuda is a spreadable salami. It comes from Calabria Italy so as you can imagine it's jam packed with Calabrian chilis that give it a punch. It is already cooked so you can spread it on crackers or put it in sauces.
My first taste of 'njuda was on a pizza. A pepperoni pizza! I hadn't had pepperoni in decades and we are at a great little Italian spot in Detroit called San Morello and the pizza looked delish. Not only did it have big pieces of pepperoni on it it had 'njuda spread on it as well. It was so good so I knew when I came across it I had to experiment in my own kitchen.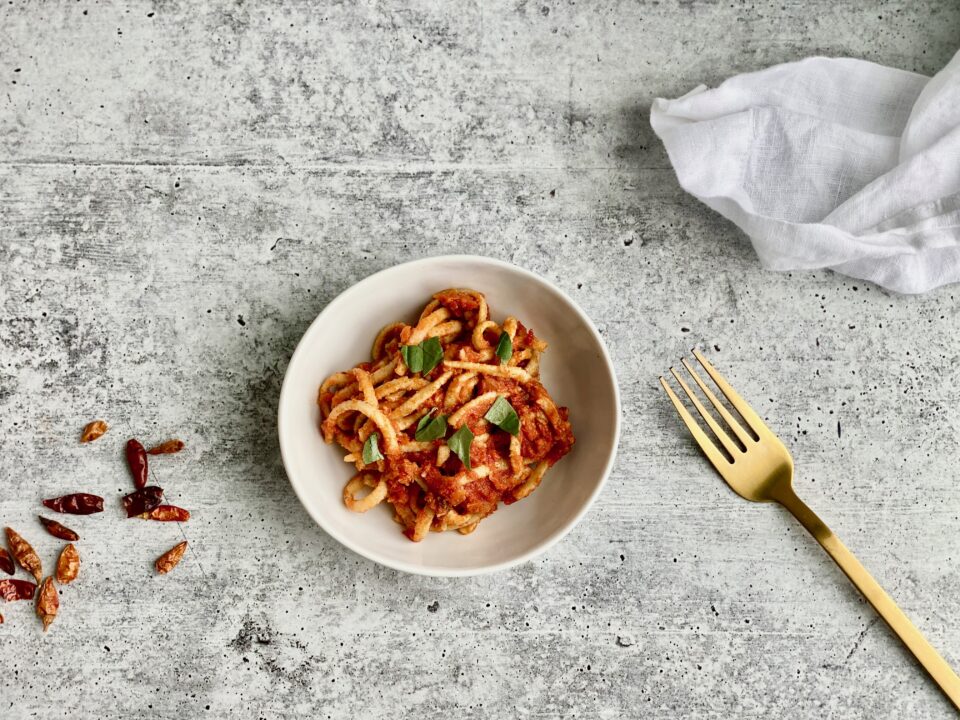 The secret is in the sauce
This tomato sauce is so simple to make. It honestly is one of the easiest sauces but the secret ingredient – the 'njuda takes it to a whole new level.
While sautéing garlic and onions I add in several heaping tablespoons of the 'njuda. Cooking with 'njuda reminds me of cooking with anchovies. The anchovies kind of gross me out but when you throw them in a sauce they break down and melt. The same thing happens with the 'njuda. The sausage melts into the onions and garlic leaving them a reddish color from the chilis. It's that thing that makes you go hmmmm when you eat it.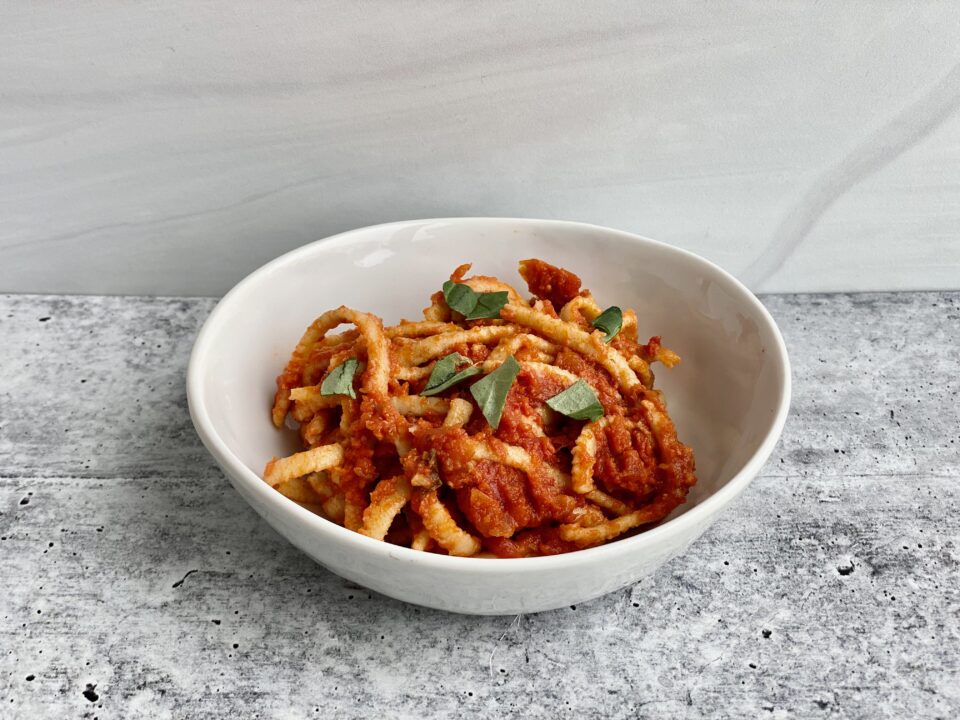 The rest is easy. White wine, crushed tomatoes and a few parmesan cheese rinds go in the mix and then I cook it low and slow. The flavors all come together for this super simple – yet intensely flavorful sauce.
Make sure if you are making a sauce this good to use good pasta. A guilty pleasure of mine is splurging on imported pasta. It is a little more expensive but you can definitely taste the difference. Some of my favorite brands are Seggiano, Isola, and Montebello. I like spaghetti noodles for this but a shape like conch, orecchiette, or fusilli would be good as well.
So the next time you are looking to make a pasta sauce take your traditional tomato sauce up a notch and try this white wine tomato sauce with 'njuda. It will be a game changer!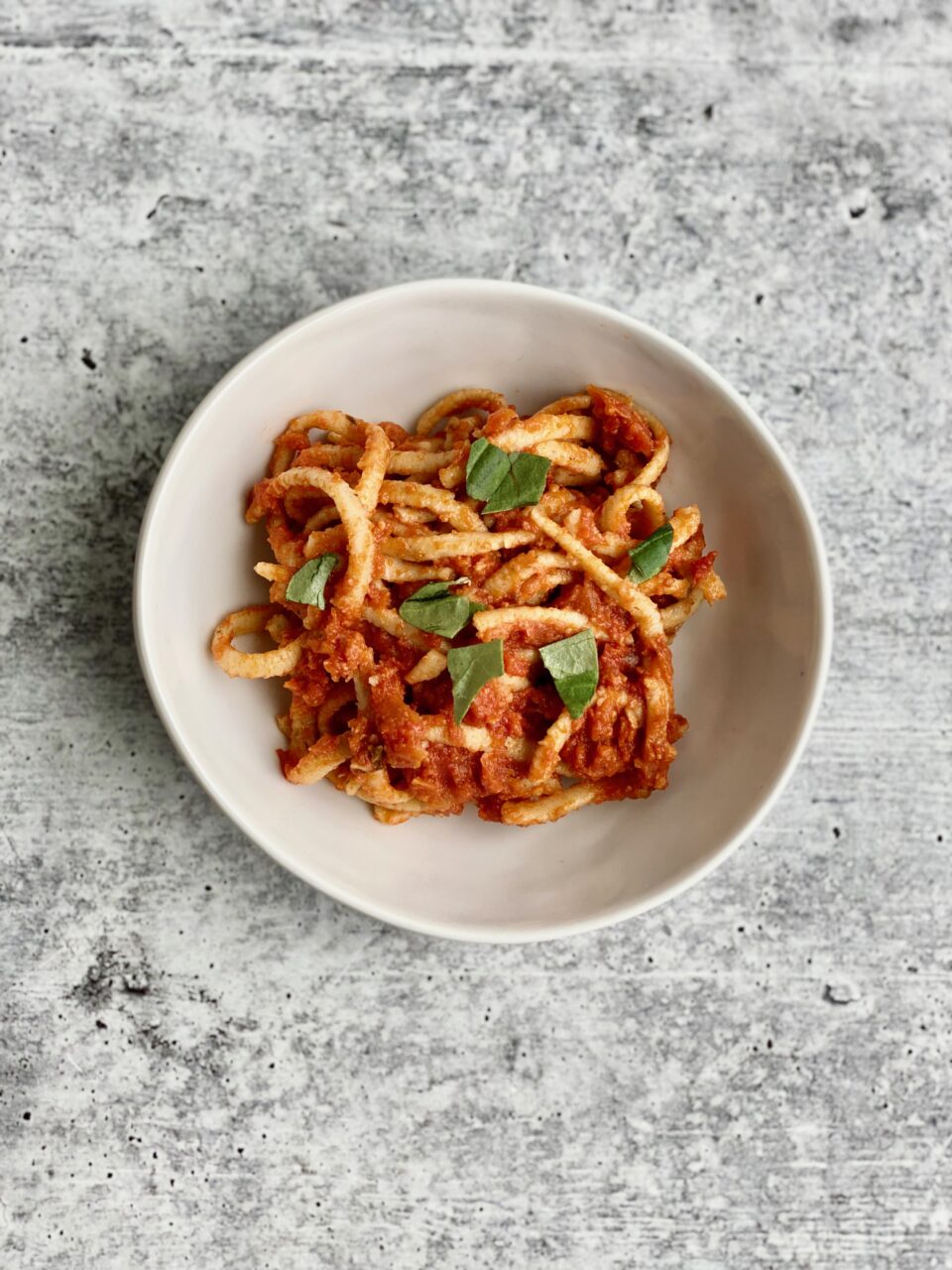 FOR MORE PASTA RECIPES BE SURE TO CHECK THESE OUT:
This pasta is simple with tomato sauce and burrata cheese
For another simple tomato sauce try this version enhanced with a little heavy cream
And remember, if you try this recipe be sure to rate it and leave a comment below and let me know how you like it. Or tag me on Instagram!
Print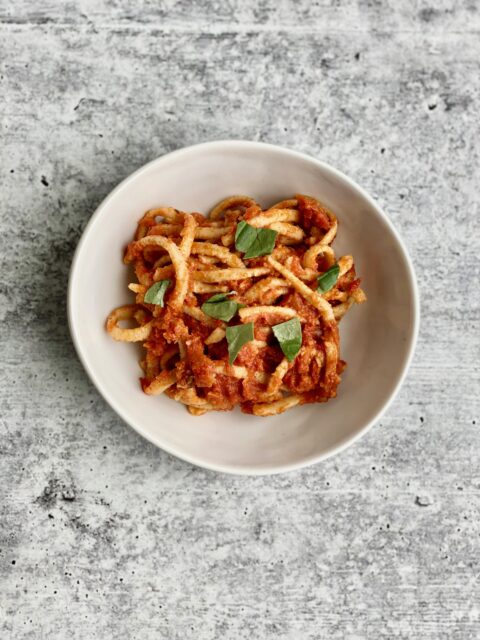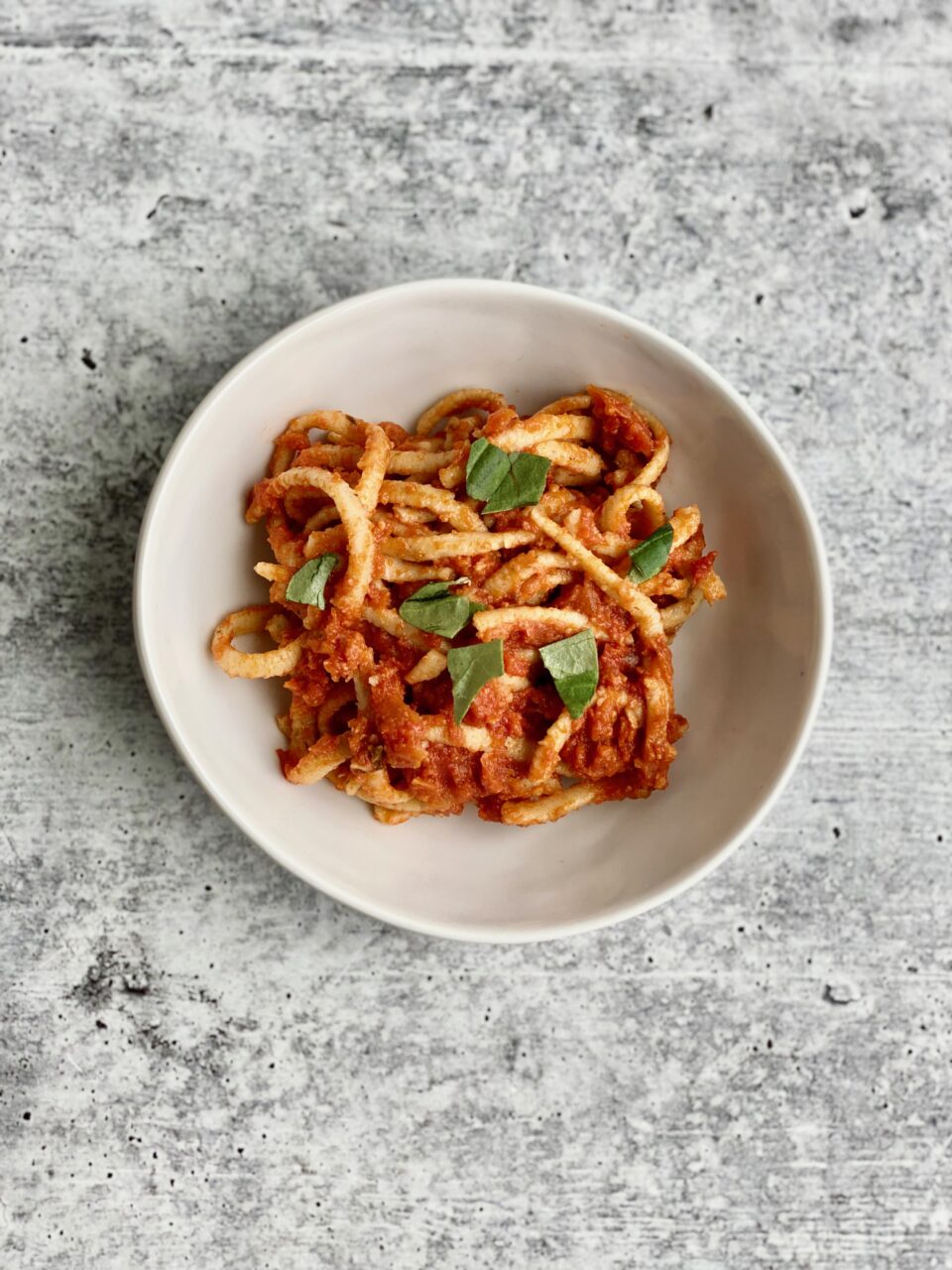 White Wine Tomato Sauce with 'Njuda
---
Description
Tomatoes are paired with Calabrian spicy 'njuda and white wine for a spicy pasta sauce.
---
Half of a medium yellow onion, minced
6–8 cloves garlic, minced
4 heaping TBS 'njuda
2 c dry white wine (Pinot Grigio is great here)
Parmesan cheese rind
1 28 oz can crushed tomatoes
1 28 oz can whole tomatoes
Large handful of basil torn or thinly sliced
---
Instructions
In a large dutch oven or soup pot in 2 tsp olive oil sauté onions and garlic over medium low for 10 mins until softened
Stir the 'njuda and let it melt into the onion and garlic mixture
Add in the white wine and turn the heat up to medium high so the wine comes to a gentle boil. Cook until the wine is almost reduce, about 3-4 minutes
Add in the tomatoes and parmesan cheese rind. Using a wooden spoon or fork break up the whole tomatoes. Season with salt and pepper, turn heat down to medium low and cook for an hour stirring occasionally. I place the lid to my pot partly over it so that the tomatoes don't splatter on the stove.
Remove the parmesan cheese rind. Cook any pasta or zucchini noodles to pair with this sauce.