[dropcap]I[/dropcap]t's that time of the year again – Opening Day! Detroit's unofficial (drinking) Holiday. Where people come together to celebrate their love for baseball, the first signs of spring and a day of debauchery. This year I realized I haven't worked on Opening Day since 2008. Knowing how these days go I knew breakfast would be a key way to start the day for not only myself but my friends as well. I wanted to make something hearty for us to start with knowing we would be having a few adult beverages. And what better ingredient than tater tots!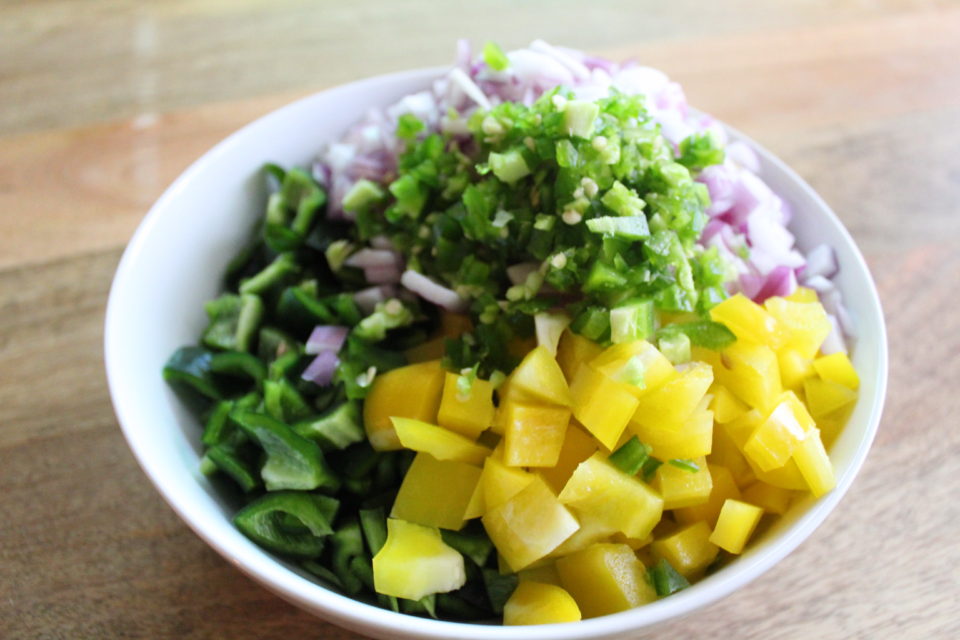 I had seen some recipes for breakfast bakes that involved tots but a lot of the recipes were basic, eggs, sausage and the tots. I of course, wanted to add vegetables to my dish. Peppers and onions are a staple with breakfast foods it seems. Also I don't like sausage so instead decided that black beans would go well. It made sense to just go with a southwest profile since I was using those three ingredients .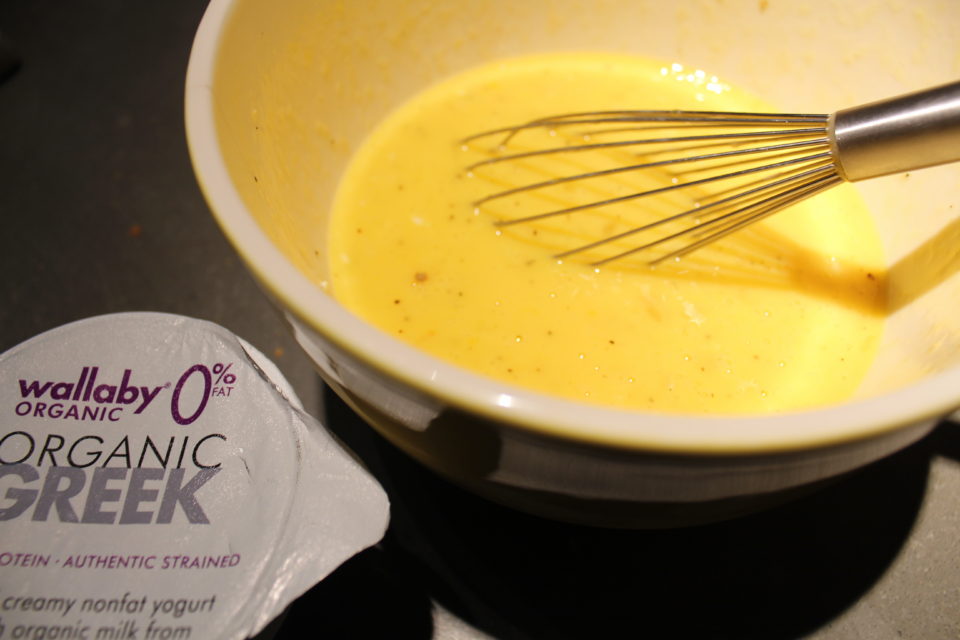 To keep with the southwest profile, I used my (homemade) taco seasoning on the vegetables. Also to save time the morning of I cooked my veggies the night before. The veggies would also cook in the oven so I only cooked them for about eight minutes. I also cracked and whisked all my eggs the night before too. To keep the eggs light and fluffy I added in a few tablespoons of Greek yogurt. I rinsed and drained my beans and put them with veggies and eggs in a baking dish so the dish would be ready in the morning.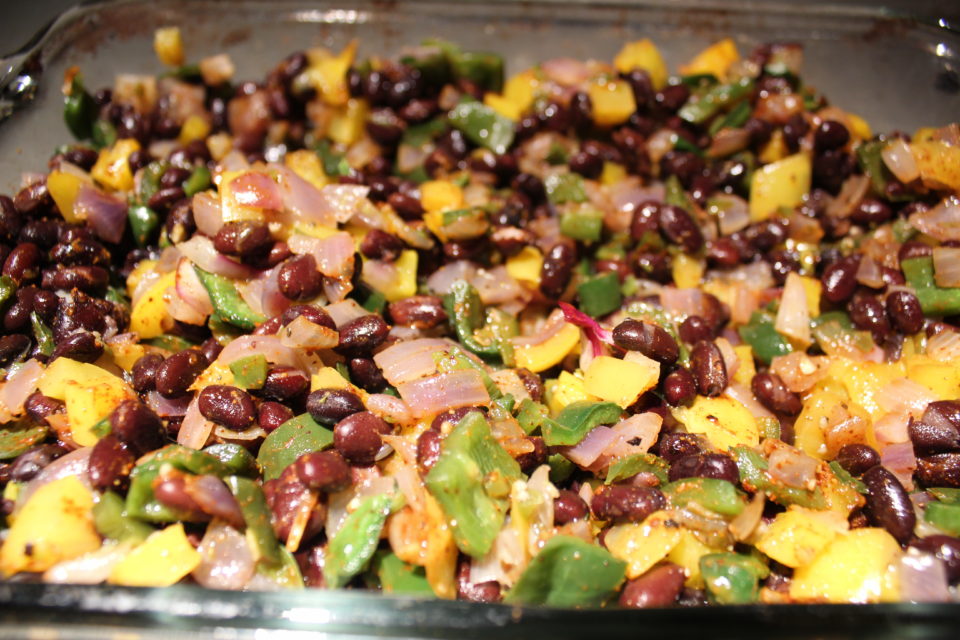 When I woke up the next day all I had to do is pre-heat my oven and top the dish with the tots. The last time I made these tater tots though they were REALLY bland. This time I made sure that didn't happen again. I seasoned the tots very liberally with pepper and garlic salt. Because the tots were submerged in the egg mixture only their very tops would be getting crispy. So I drizzled a little olive oil on the top of the tots to help them crisp.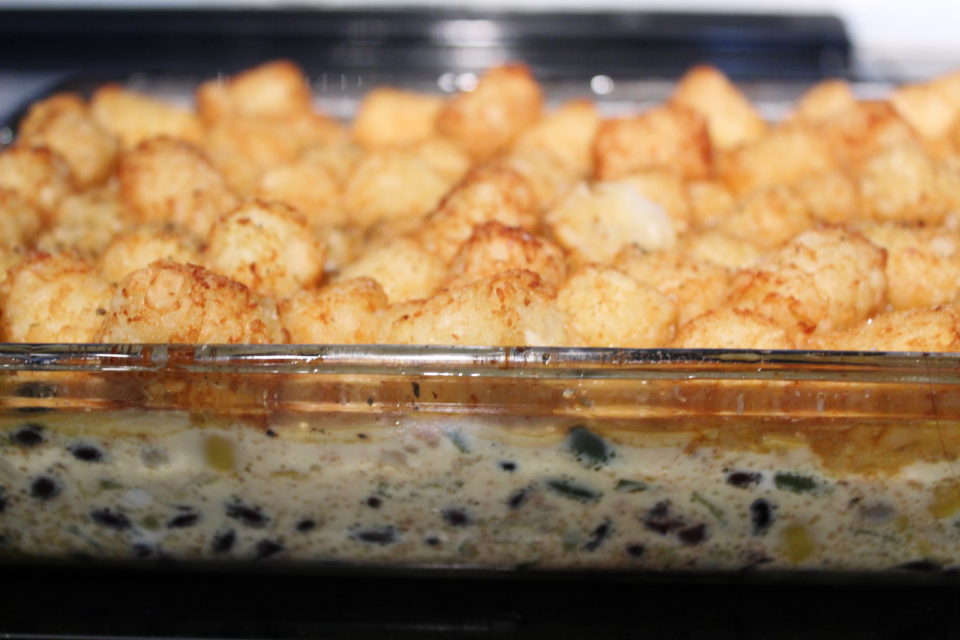 Lastly, to go with my southwest theme once the bake was almost done cooking I topped the tots with some pepper jack cheese, scallions and a few cherry tomatoes. I love using my broiler to make my cheese nice and golden brown and bubbly.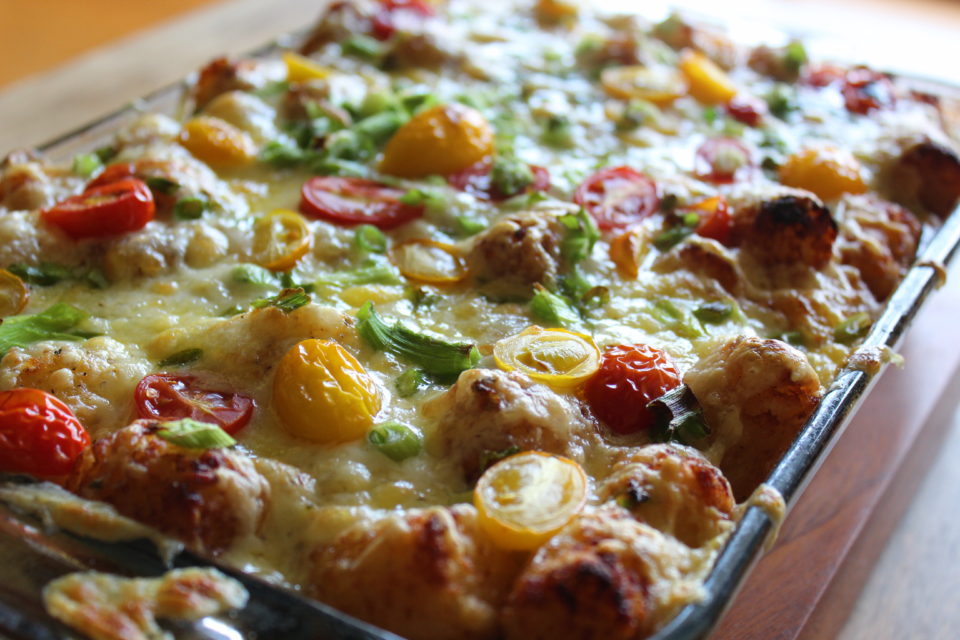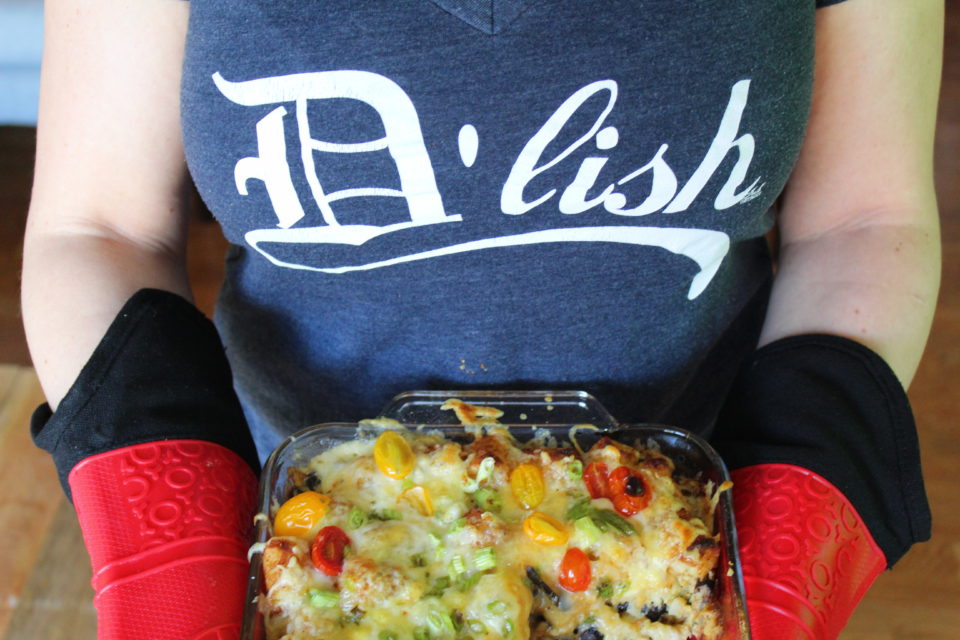 Even though the meal takes forty five minutes to cook, it's truly a "set it and forget it" recipe. The fact that you can do most of the work the night before too really saves you time in the morning. My breakfast baked while I showered and got ready to start my (long) day. The breakfast bake was done cooking by the time I was done getting ready. This is a perfect meal to celebrate baseball or any Holiday for that matter. Plus who doesn't love a good tater tot?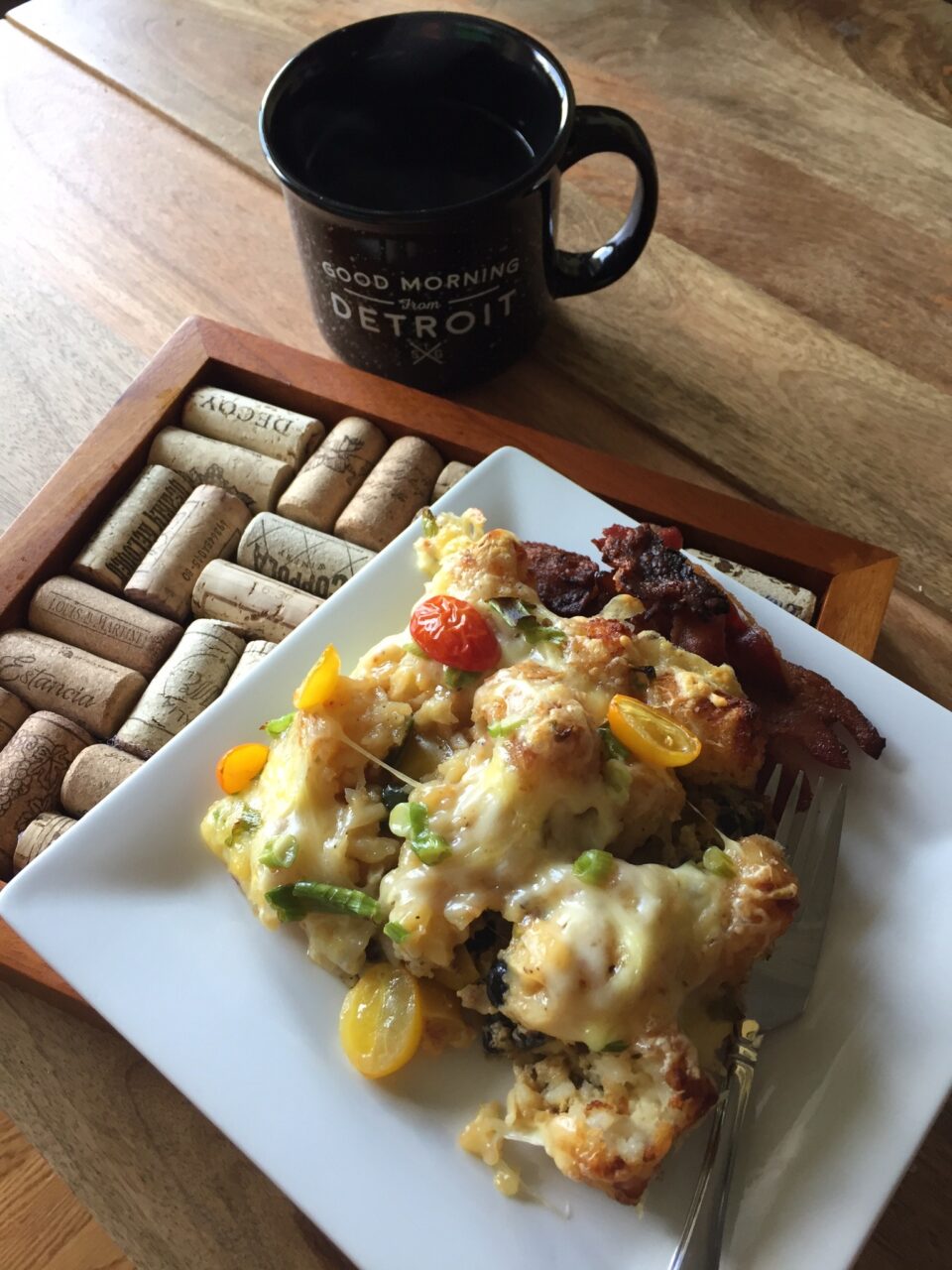 Print
[2]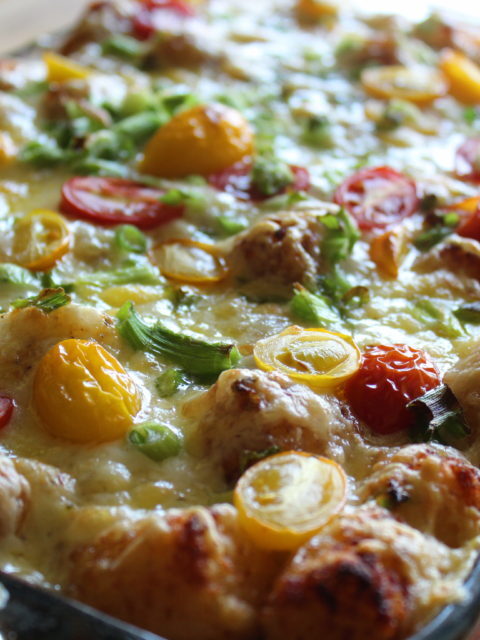 tater tot breakfast bake
Prep Time:

15

Cook Time:

45

Total Time:

1 hour
---
8

eggs

2

TBS Greek yogurt

2

poblano peppers, diced (you can use a green pepper if you can't find poblanos)

1

bell pepper (I would use any color besides green), diced

1

red onion, diced

1/2

–

1

jalapeno. minced

2

TBS taco seasoning (if using store bought be aware of the salt, you might not want to season with any more salt since the taco seasoning is usually loaded with it)

2

cans of black beans, rinsed and drained

1

bag of frozen tater tots

1.5

c shredded cheese (pepper jack, cheddar or monetary jack work well here)

4

scallions, thinly sliced
handful of cherry tomatoes, sliced in half lengthwise
hot sauce to taste
---
Instructions
In a pan sautée onions and peppers, season with taco seasoning, salt and pepper and cook eight minutes. If you like spicy food add in a drizzle of hot sauce to mixture. Let cool for 30 minutes if making the night before (you don't want the heat to start to cook the eggs)
In a mixing bowl whisk egg and yogurt together. Season with salt and pepper.
In a 9×11 baking dish combine veggies, beans and eggs. Cover and refridgerate overnight.
Pre-heat oven to 375.
Top egg mixture with tater tots. Season top of tots with pepper and garlic salt. Drizzle with a small amount of olive oil. Bake for 40 minutes.
Top the dish with cheese, scallions and tomatoes. Bake another 3 minutes. Turn broiler on to high. Broil 3-5 minutes until cheese is golden brown and bubbly.
Let sit 5 minutes and serve.
---