Sundays at my house are typically "Soup Sundays". Even in the summer. I can eat soup when it's 100 degrees out and it doesn't bother me. I mainly make it because then I have a huge pot for leftovers for lunches for the week. However, this past Sunday I really didn't feel like soup. Since it was nice we decided to fire up the grill and make chicken.
Everything is better with bacon
I remember being little and going out to my grandma's house. She had a HUGE garden. I remember one summer as kids my sister and I had an entire day filled with green beans. We picked a ton of green beans from the garden, then went inside and snapped them, canned them and had them for dinner. After a whole day of green beans I didn't want to see them again for a long time. But not anymore!
To save a dish I wanted to make green beans on the grill. And add bacon. But bacon on the grill can be tricky. If you have too much of the fat drip down onto your grates it can cause a fire as that grease burns. I figured maybe if I chopped the bacon up small and mixed it in with the green beans that would help mitigate that from happening.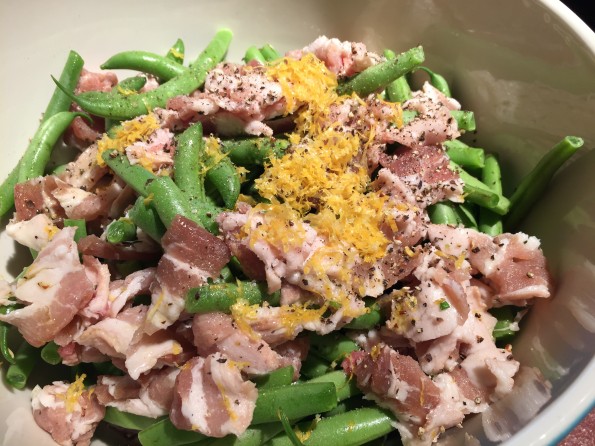 Since the bacon would add a lot of flavor the rest of the flavors are kept simple. I drizzled a small amount of olive oil (you don't need much because the bacon fat will start to melt however, I wanted a little to get the beans going and prevent from sticking to the grill pan), salt, pepper and the zest of a lemon onto the beans and mixed that in a bowl with the raw bacon slices and then threw them on a grill pan.
Abercrombie and Fitch and Chicken?
I am a child from the 90's. When Abercrombie and Fitch was cool and just coming out. Abercrombie soon started coming out with their risqué catalogs with half naked girls on them but the catalog had more than clothes and skin. It had food recipes! I remember showing my dad a recipe for grilled chicken kabobs that was so good. I never remembered exactly what was in it, I just remember the combination of lemon and oregano. To this day I usually use some kind of concoction similar when I marinate chicken for kabobs.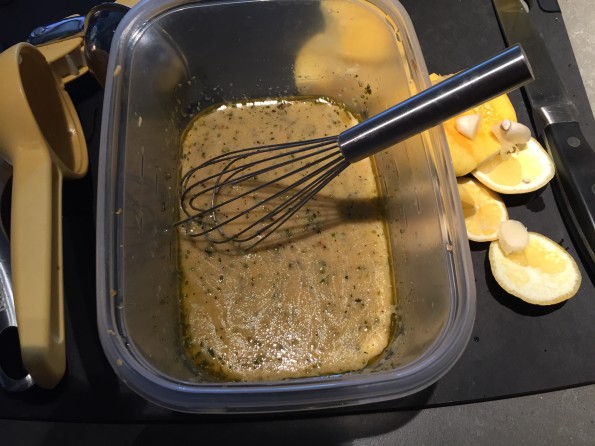 Some tips for a successful grilled chicken:
Pound your chicken breasts – there is nothing worse than a crispy outside and a raw inside. By pounding the breasts so they are 1/4 – 1/8 inch thick and uniform in size helps the chicken cook evenly
Let your chicken marinate for a few hours. All that lemon juice will help break down the chicken and infuse it with flavor.
Buy a zester – it's one of my favorite kitchen tools, but not just for citrus. I use it for the garlic too in this recipe. It helps reduce the large chunks of garlic which sometimes burns on the grill.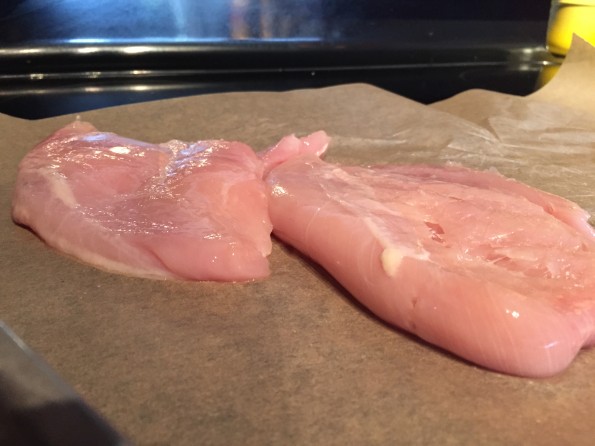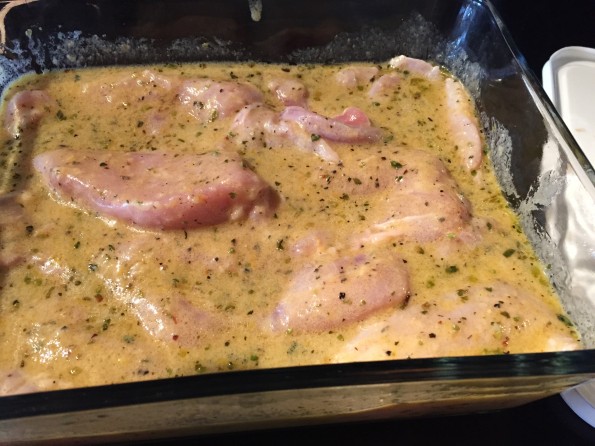 Fuax Mashed Potatoes
I could seriously eat potatoes every day. I love them. They are one of my favorite carbs. I could give up bread all day long, but I could never give potatoes. I really wanted another vegetable to go along with dinner so I decided to make a carb substitute and make mashed cauliflower instead.
The consistency of mashed cauliflower is ALMOST like you are eating potatoes. If you season the cauliflower the same way you would a potato it's a great fake out. I make potatoes a million different ways. I like to mix up what I mash in with them or how I prepare them.
My favorite simple mashed potato is my version of a sour cream and chive mash but I use Greek yogurt and scallions instead. The key for the scallions is to actually sauté them in a little butter to soften them up. Then I add them to the pot with the steamed cauliflower. If you have an immersion blender it helps get all the big chunks out of the cauliflower for a more whipped potato texture. Also use a strong flavored cheese like sharp white cheddar – then you can actually use less of it!
This is a perfect meal for the summer on the grill when you want to pretend you are getting the same comfort from a carb loaded meal.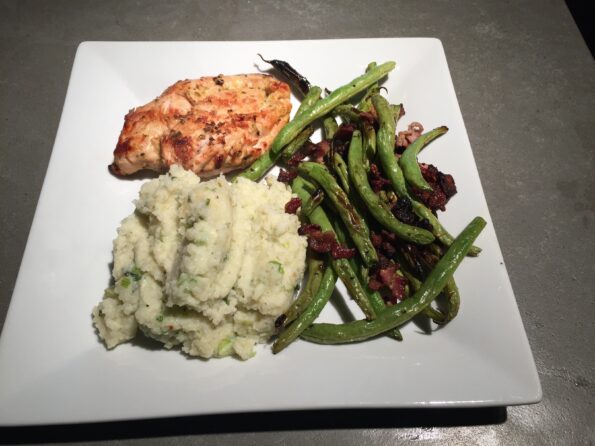 Print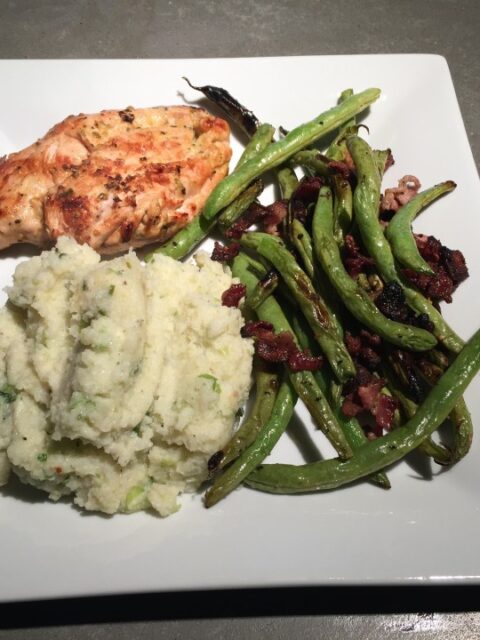 lemon mustard grilled chicken with bacon green beans and mashed cauliflower
---
For the chicken
1/3

c. olive oil plus more for drizzling

2

TBS Dijon mustard

3

lemons

3

TBS oregano

5

cloves of garlic grated (or finely chopped)

1/8

–

¼

tsp cayenne pepper (depending on how spicy you like things)

1 ½

–

2

lbs. of raw chicken (I used a mixture of breast and thigh meat)
For the green beans
6

slices of bacon chopped into

½

inch pieces

1

lb of fresh green beans ends trimmed
For the cauliflower
1

head of cauliflower, if small 2 chopped into florets

1

small 8 oz container of plain Greek yogurt (I like Brown Cow brand because it's organic and non-GMO)

4

–

5

scallions sliced thinly

1

TBS butter

¼

c. grated cheese (I used sharp cheddar but gouda or Monterey Jack)

¼

c. chicken broth or stock
---
Instructions
At least 2 hours before you want to grill your meat start to make the marinade for the chicken. In a bowl combine olive oil, the zest and juice of 2 lemons, grated garlic, mustard, salt, pepper, oregano and cayenne. Whisk until the mixture is all combined. In a shallow baking dish or anything with a cover place raw chicken in and cover with marinade turning to coat chicken. Refrigerate until ready to cook. You could marinade chicken in the morning even and cook in the evening.
Once you are ready to cook, preheat grill and pull chicken out of refridgerator. Allowing meat to come to room temperature before cooking allows for even cooking through out.
In a big bowl combine trimmed green beans, zest of one lemon, raw sliced bacon, salt and pepper (I usually do 5-6 cracks of each using a grider) and a small drizzle of olive oil (1/2 TBS would work here). Toss with tongs to coat beans evenly.
Grill chicken. For chicken breasts ¼ – ½ inch thick I usually grill over medium-medium high heat for 6-7 minutes a side. For chicken thighs usually 4-5 minutes a side. If the chicken does not pull away easily from the grates it is not ready to be flipped. Remove chicken from grill and let the meat rest 5 minutes. One trick my husband taught me is to put the meat in the microwave. DO NOT turn the microwave on, just put the plate of meat in there. This helps insulate the heat so your meat does not get cold while it is resting. The meat will continue to cook internally for a few minutes. Also you never want to cut into meat without letting it rest. The juice (aka FLAVOR) will just run out. By letting it rest the juice of the meat has time to rest into all of the meat.
Once you get your chicken on the grill put the green bean mixture in a grill pan and grill over medium heat. Stir every few minutes to get the bacon to crisp up. I cooked my beans the entire time with the chicken and they were still a little crunchy which is how I like them. If you like your beans a little softer place on the grill before you place chicken on. I tried to keep the bacon towards the bottom of the pan under because I like crispy bacon.
Over a pot of boiling water steam cauliflower florets. If you do not have a steamer, use about ¼ inch of water in the bottom of a pan and add the cauliflower to the boiling water and cover with a lid. Cook about 6 minutes or until you can easily pierce the cauliflower with a fork. Drain the cauliflower. In the same pot melt butter and scallions together to cook the scallions a little bit over low. Add the cauliflower back in for a minute or 2 to help dry out the remaining water that might be left in cauliflower. Add in Greek yogurt and chicken broth. Puree with immersion blender, hand mixer or use a potato masher to mash the cauliflower. Season with salt and pepper to your liking. If the cauliflower is too thick you can add chicken broth a few tablespoons at a time to loosen them up. Add in cheese and stir until the cheese melts into cauliflower.
Serve everything together. The best part was stealing some of the bacon from the green beans and mixing it into my cauliflower on my plate!
Prep Time:

30

Cook Time:

30