[dropcap]L[/dropcap]ately I haven't been jam packing our weekends with tons of activities. That means there is more time to make brunch at home. While going out to brunch is great, sometimes I just want to take the time and cook in my own kitchen and control my own ingredients. I keep seeing recipes for french toast. You know – the good recipes that are stuffed with cream cheese. Or the recipes that are coated in corn flakes to make it crispy. I thought why not do both? Crust it AND stuff it, and why stop there? Why not throw it on the grill pan too?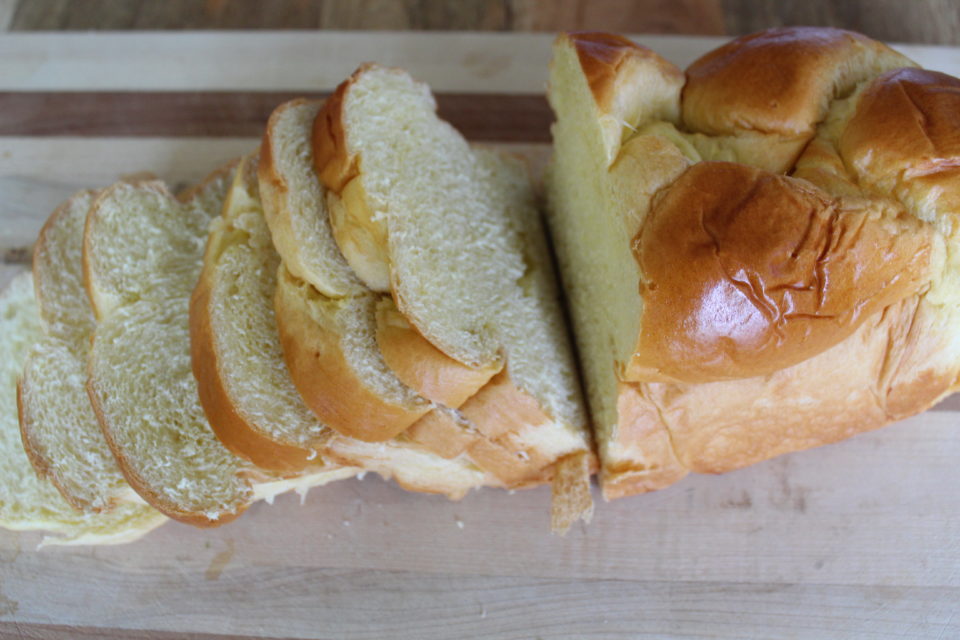 This recipe actually has healthy elements in it. The crust is made with oats, almonds and flax seeds instead of a traditional corn cereal. So not only does it contain a ton of fiber but also healthy fat from the almonds and omega three from the flax. Even though the stuffing is creamy from the cheese, adding blueberries and lemon helps keep the filling light and fresh.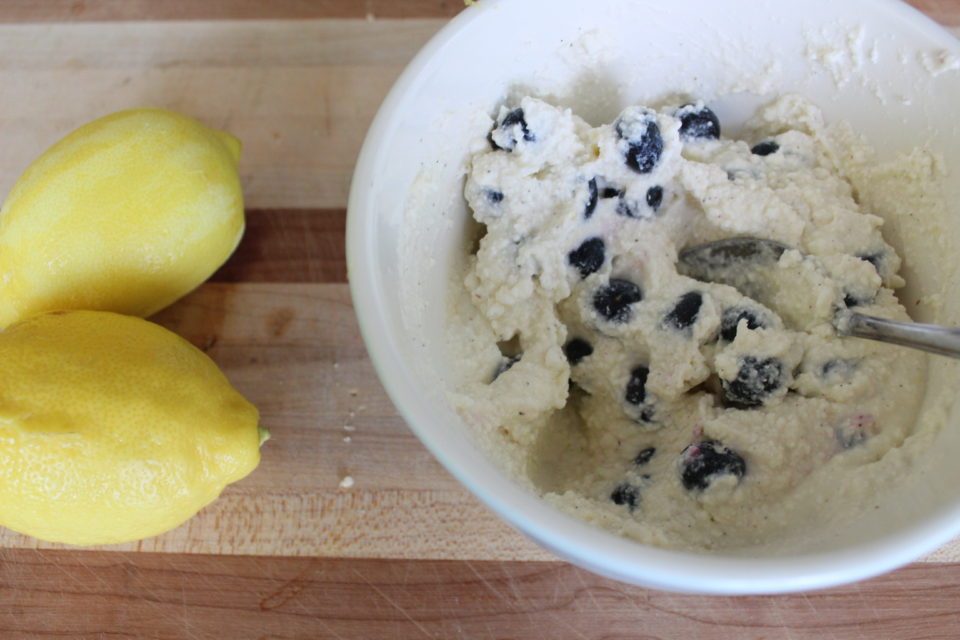 Typically breakfast is a "quick" meal. So I didn't want to spend a ton of time in the kitchen. Luckily with this recipe I didn't have to. The recipe may sound complicated but it is not. I set up three bowls for my ingredients. One for my crust, one for my batter and one for my filling. There was no chopping involved so it made prep super easy. Once I made all three I could start with the assembly line to my french toast.
I took one slice of bread through the process and then started on the next. First I placed the bread in the batter and made sure it was coated on each side. I did this quickly as the brioche really soaks up the liquid and would become soggy. After the egg mixture I dipped it in my oat and almond coating. I then set each slice aside until I had every slice done. I had my grill pan pre-heated so each slice only needed about three minutes per side.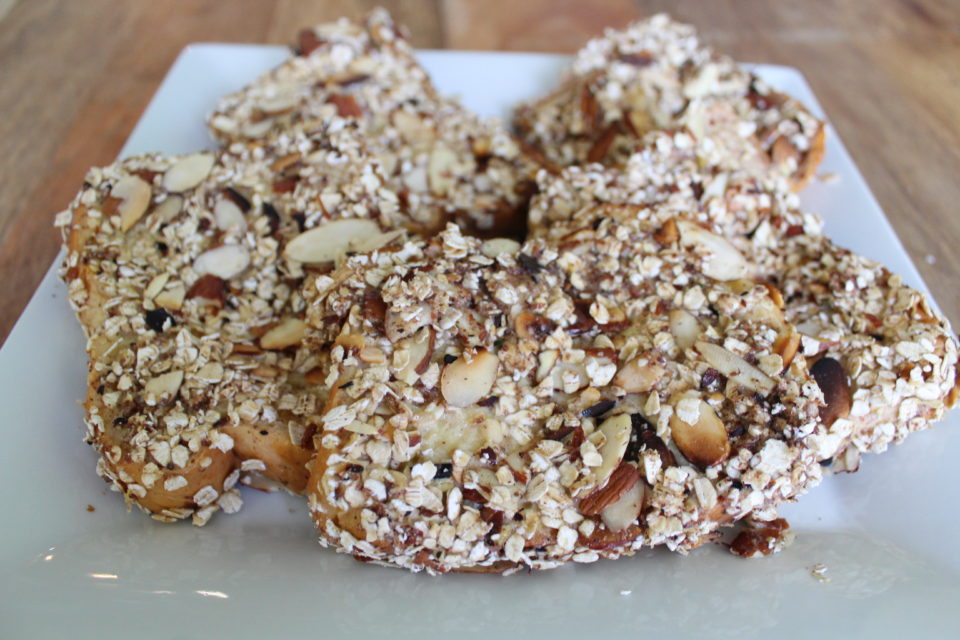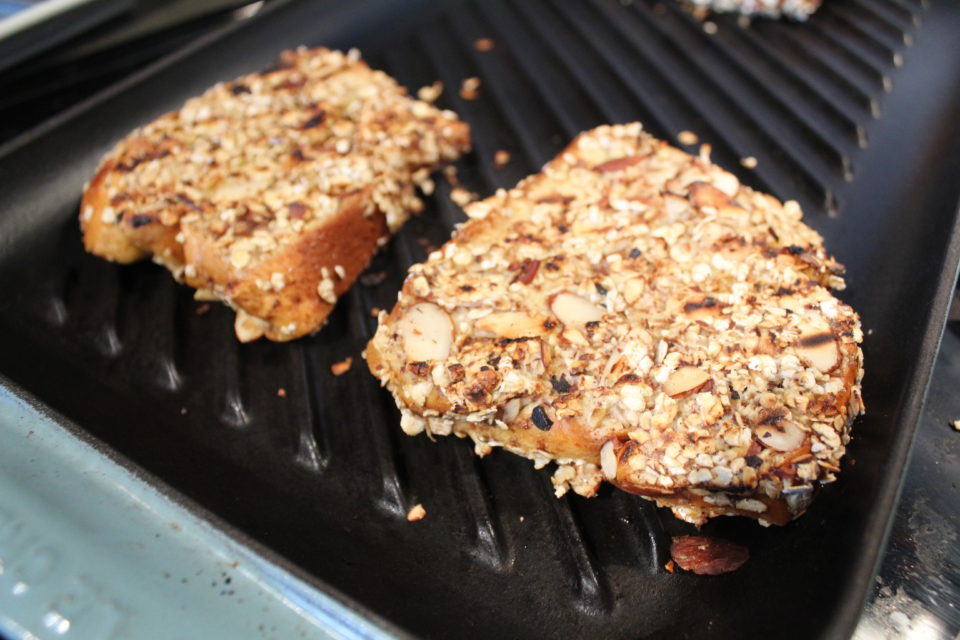 One trick my husband taught me was to use the microwave to keep things warm. This does not mean turning the microwave ON. I placed the bread on a plate after it was cooked and then put the plate in the microwave. The microwave is small and helps insulate the heat for the toast. That way the bread isn't just sitting on the counter getting soggy.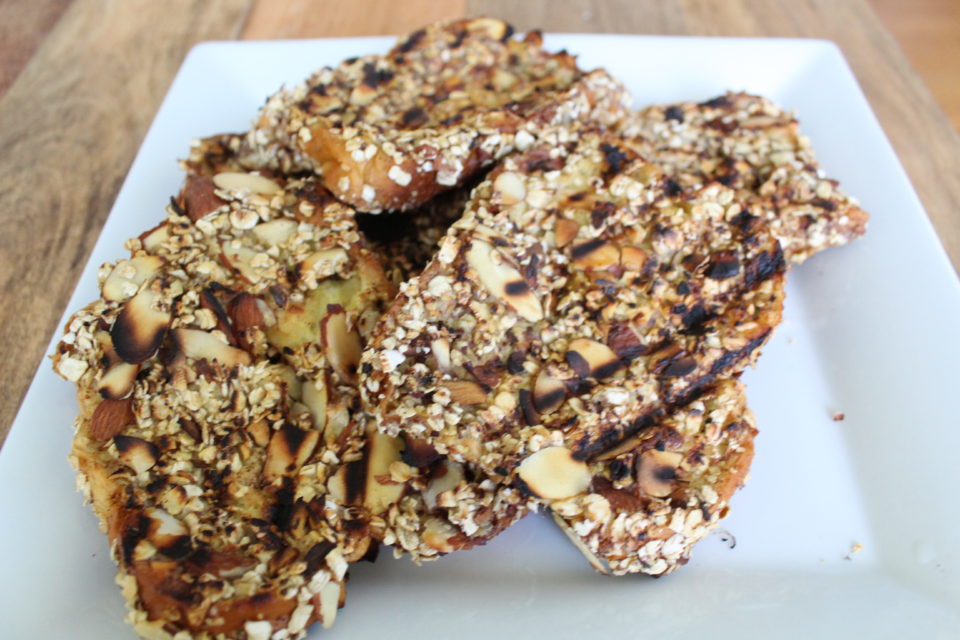 Another trick that I used for this breakfast was with the syrup. When I was little my grandpa would make me pancakes all the time. He would heat up the syrup in a sauce pan and add in the butter. The butter would melt into the syrup so both would be warm. Which is genius really. The freshly cooked breakfast doesn't get cold since the syrup is warm. There is nothing worse than trying to smear cold pats of butter over warmed food. However, this is avoided because the butter is already melted.
This whole meal comes together in less than thirty minutes. While it may be easy to make, it looks like something that came out of a gourmet restaurant. And tastes like it!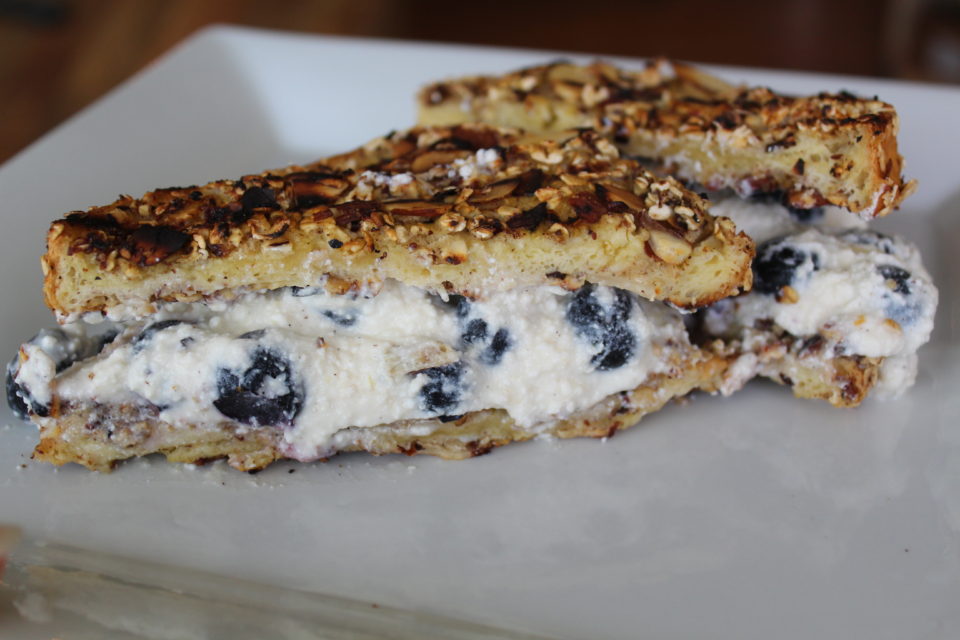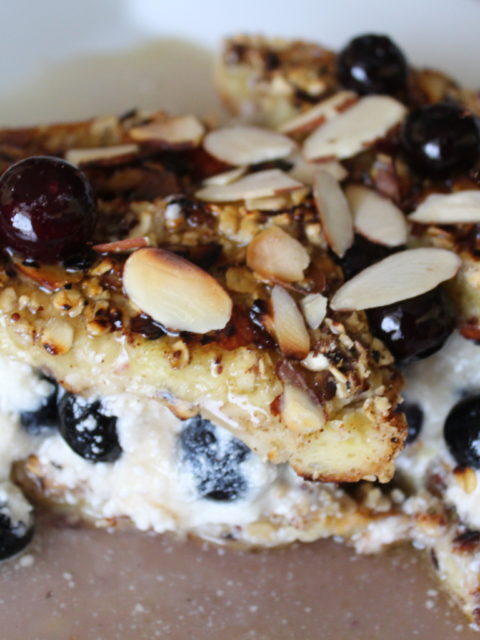 crusted, stuffed and grilled french toast
---
1 loaf of brioche bread cut in 1/2 inch slices (8 slices)
for the french toast batter
4 eggs
1 c milk (I used a coconut milk for this, not the full fat version but the kind you can put in a smoothie)
1 tsp cinnamon
zest and juice of one lemon
for the crumb mixture
1.5 c oats (I used steel cut but regular oats would work)
1 tbs ground flax seeds
2 tsp sugar
zest of one lemon
1 c toasted sliced almonds
for the filling
1 c ricotta cheese
1/2 c vanilla creme fraiche
zest and juice of one lemon
1/2 c fresh blueberries
for syrup
1 c pure maple syrup
1/2 c fresh blueberries
3 TBS butter
---
Instructions
Pre-heat grill pan to medium heat (if you don't have a grill pan a griddle or large frying pan would work just the same)
For the batter combine all ingredients in a bowl. Whisk to incorporate eggs and cinnamon. Combine all ingredients for the crust mixture in a shallow bowl. In a separate bowl combine all ingredients for the filling and place back in the fridge.
In assembly line fashion one slice of bread at a time, dip bread in the batter. Make sure to coat both sides of the bread. Then dip the battered bread in the crust mixture. Set aside on a plate and continue to to batter and crust each slice of bread.
In a small sauce pan over low heat combine all ingredients for the syrup. Let cook over low heat while you make your french toast.
Place finished bread on pre-heated grill pan (depending on how big your pan is you may have to do this in batches). Check the bread after 3 minutes, the bread should be nice and golden brown. If it is not done leave on and check after another minute. Flip and do the same on the next side. Place cooked bread on a large plate. I like to throw my plate in the microwave (DO NOT TURN MICROWAVE ON) to rest. The microwave is small and closed so it helps retain the heat of the bread.
Once all the bread is cooked start assembling your sandwiches. Smear a piece of the french toast with the blueberry mixture. Top with the second piece of bread to make a sandwich. Once all four sandwiches are made place back on grill pan and place a piece of tin foil over the sandwiches for 2-3 minutes to just warm the whole sandwich through.
Top with syrup or any toppings of your choice.
Prep Time: 10
Cook Time: 10
Save
Save
SaveSave