This winter we were really spoiled. After the past two we have had though we definitely deserved it! Spring time is here. I love all the things spring brings, Opening Day of baseball season (Go Tigers! In Detroit it is seriously a national holiday), tulips, rain showers, playoff hockey, warmer weather and of course – spring eats! One of my favorite spring time vegetables is asparagus. I like asparagus when it's really thin versus thick and stalky. When it comes into season you know that spring is (FINALLY) here!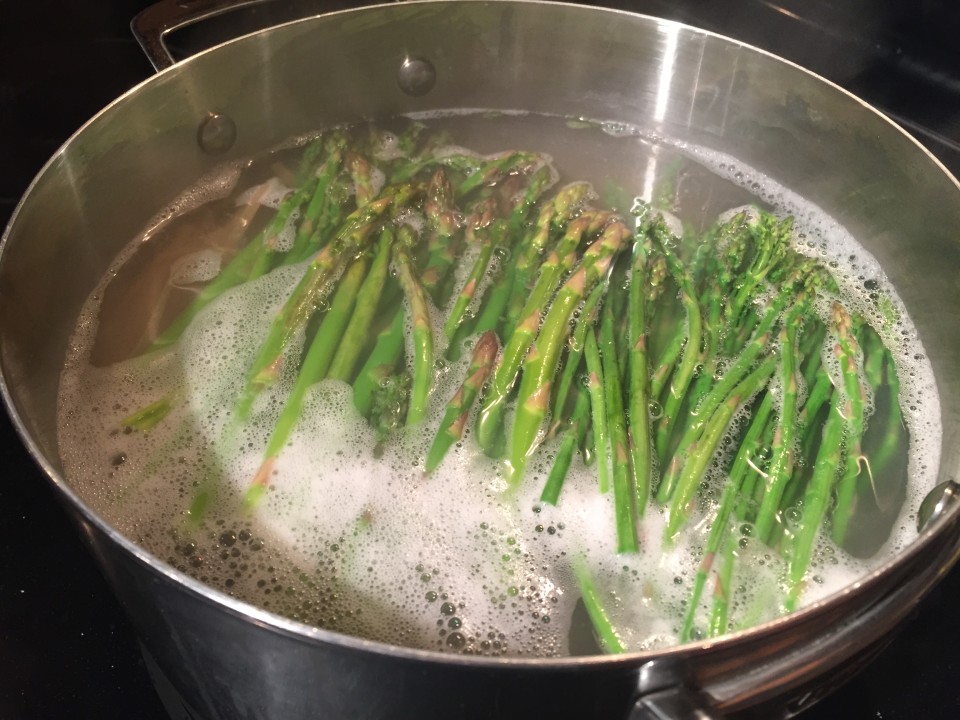 Lemon and asparagus pair perfectly together. I love the subtle tartiness that adding lemon zest to an asparagus dish brings. I have been making a version of a lemon asparagus sauce for years. I think of this sauce almost as a pesto of sorts. It is served nicely over linguine.
You can multi task this dish quite easily. I add the asparagus in with my pasta for the last few minutes of the pasta cooking. The secret here is just drop it in with tongs. DON'T stir it around. The asparagus will mostly stay where you drop them and you can easily take most of the asparagus back out with the tongs in a few grabs. The flavor of the asparagus then gets infused slightly into your pasta and the pasta water. Make sure to reserve a few cups of the pasta water before you drain the pasta out. You need this to help form your sauce. After you pull the asparagus out, I cut the tips off and reserve them to add back to the pasta.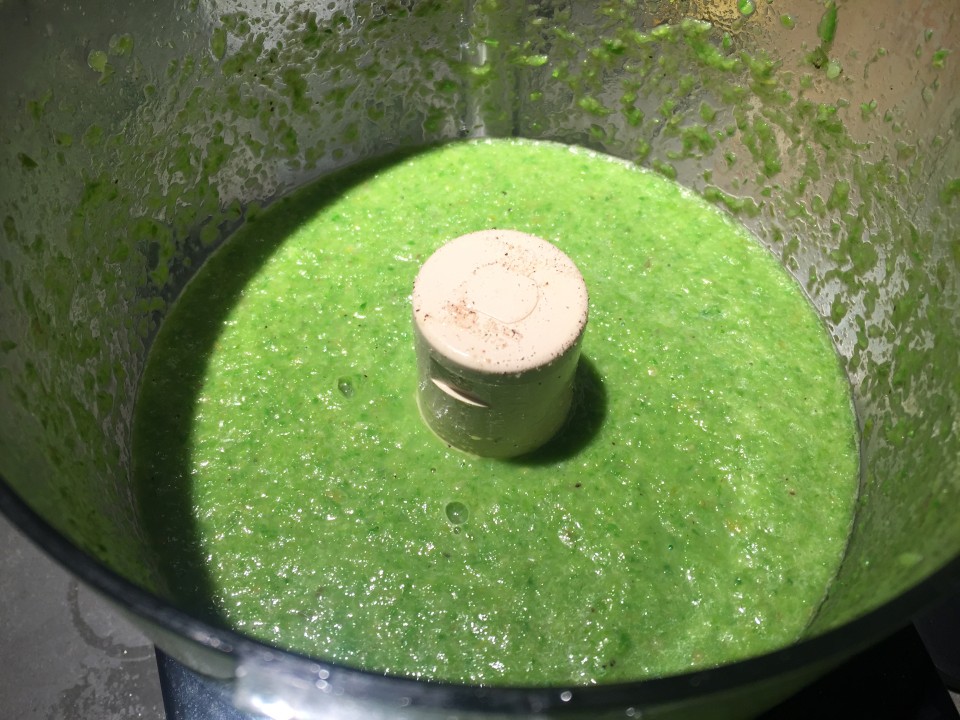 I modified this recipe from one I remember from Sandra Lee. I add the asparagus stems, the zest of 2 lemons, a cup of chicken stock, 2 cloves of garlic, pasta water and salt and pepper into the food processor and puree until mostly smooth. You add the pasta, sauce and goat cheese back into your pasta pot and stir around with the tongs until the goat cheese has melted and makes the pasta creamy. Then I zest another lemon in and then add the asparagus tips to the dish.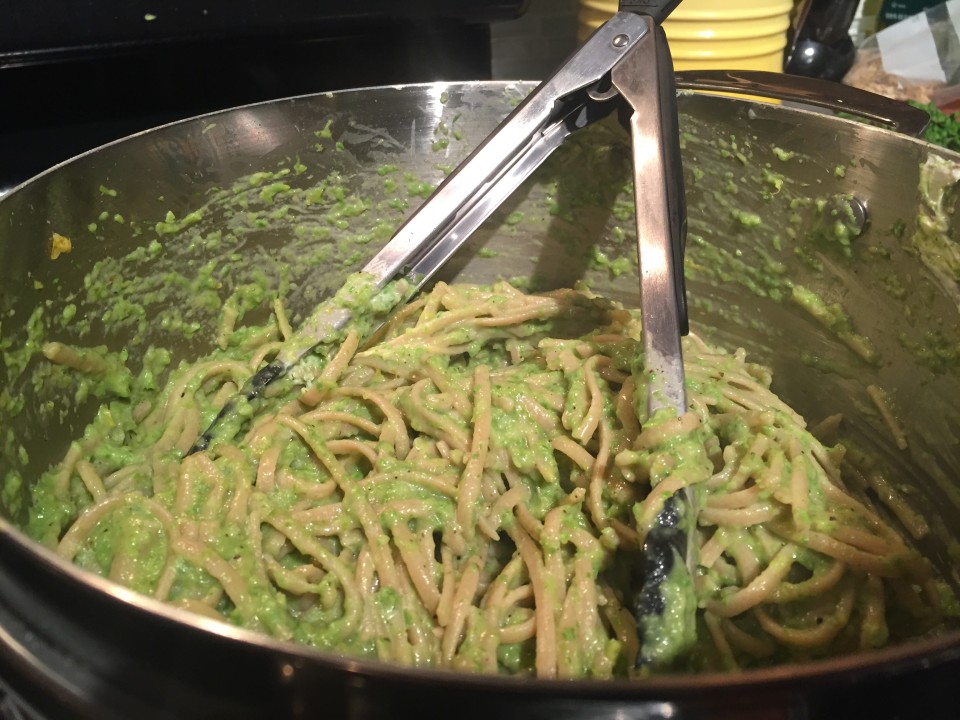 I have been picky about shrimp lately. I have read too many articles about shrimp from China and Thailand (Google it for yourself but be prepared to become grossed out as well!) so when we found some big jumbo shrimp that were not farmed from Key West so we bought a few pounds to freeze for later. Personally the large count are my favorite. The 12/15 count (meaning you get 12-15 shrimp per pound) the kind you can actually eat in 3-4 bites instead of 1. I just think they have great flavor.
Shrimp are super easy to make on the grill. Where people go wrong though is they actually overcook the shrimp because they are afraid they are not done. I remember from a cooking show before the host said "C not O" meaning you want them to curl but if they curl all the way chances are they are overdone. And no one likes a rubbery shrimp.
I like to keep the seasoning simple, I incorporated the lemon theme throughout seasoning with lemon zest, salt, pepper, a few red pepper flakes, a little juice from the lemon and olive oil. You really only need to grill the shrimp for 2 minutes a side on medium-high heat. The shrimp keeps the dish nice and light.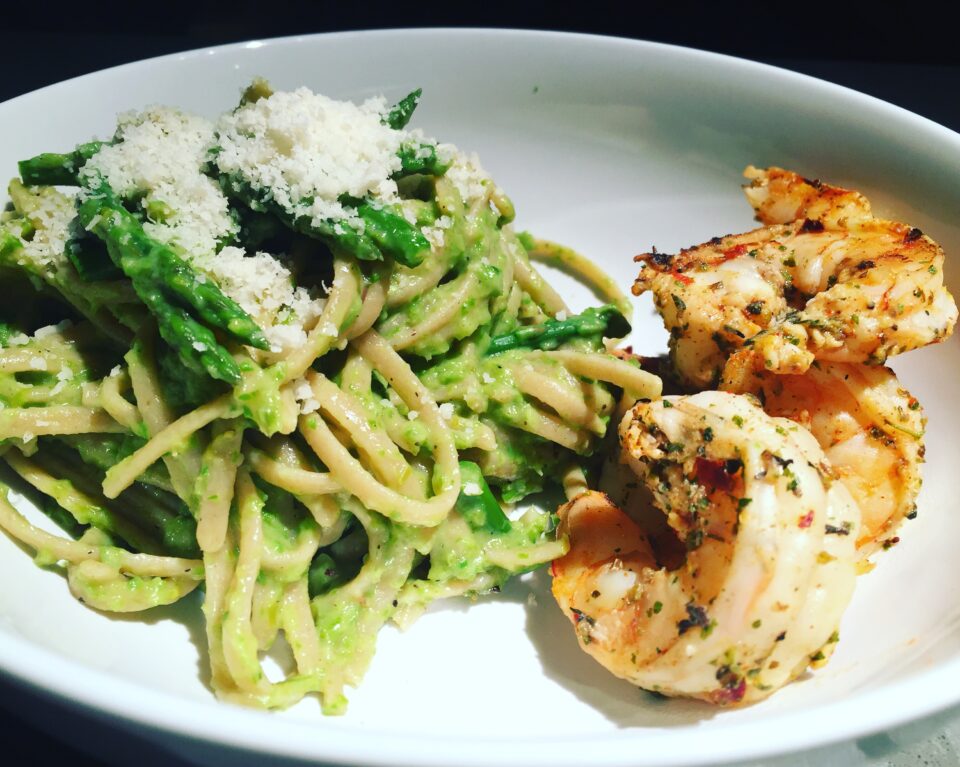 Spring time meals don't have to take a long time to make. You can whip up a quick dish in under thirty minutes or less. If you are anything like me, this meal is perfect to get you into the mood of warmer weather around the corner.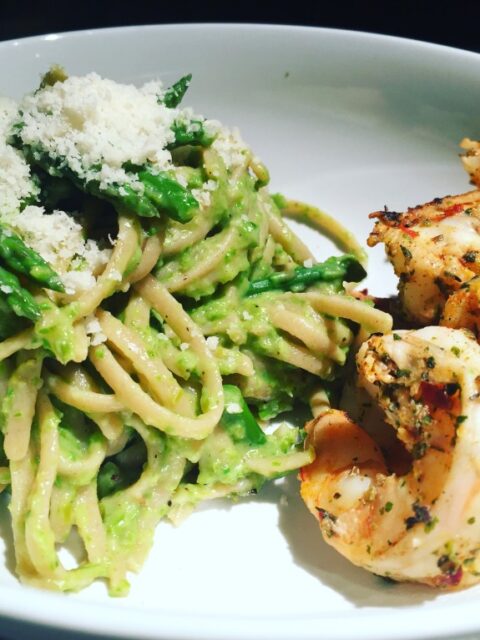 grilled shrimp with lemony asparagus pasta
---
for the pasta
2

lbs of asparagus, tough stems trimmed

3

lemons

1/4

c olive oil

6 oz

herbed goat cheese

2

garlic cloves

1

c chicken broth or stock (can substitute vegetable broth to make vegetarian)

1

lb linguine or any long pasta of your choice
parmesan cheese for topping
for the shrimp
1.5

lb of shrimp peeled and de-veined (I prefer the

12

–

15

count, each person would get approx

5

–

6

shrimp)

1

lemon

1 tsp

red pepper flakes

1 tsp

garlic powder

1 tsp

dried parsley (or a few TBS of fresh flat leaf parsley)

1

–

2

TBS olive oil
salt and pepper to taste
---
Instructions
for the shrimp
In a large mixing bowl, zest the lemon over the shrimp, squeeze the juice from half of the lemon onto the shrimp, add all the other ingredients and mix well. Let sit while you cook your pasta. Pre-heat grill to medium high. When your pasta is almost done grill shrimp for 2-3 minutes a side. They are ready to flip when they are able to be removed from the grates of the grill without sticking. Remember, C not O!
for the pasta
Bring a large pot of water up to a boil. Zest two lemons into the bowl of your food processor. Once pasta water is up to a boil season with salt and add pasta. You want to cook your pasta to al dente so if your pasta directions say 10 minutes at the 7 minute mark add in the asparagus using tongs. (If your asparagus is really thick cook for 4-5 minutes instead) Don't stir around just let them sit in the water because they will stay in one place. After 3 minutes remove the asparagus with tongs and place on a cutting board. Save 2 cups of the pasta water before you drain your pasta. Trim the flowery ends of asparagus off. Add stems to the food processor with one cup of chicken broth, 2 cloves of garlic, salt and pepper and start to puree. Stream in the olive oil. Add in the pasta water a little at a time to make it a sauce like consistency. If the sauce is still too thick you can add in a little more chicken broth. Return to your pasta pan with the drained pasta and goat cheese. Stir around to mix everything together and melt the goat cheese. Once the goat cheese is melted zest the last lemon over pasta. Top with a little parmesan cheese.
Prep Time:

15

Cook Time:

30