We finally got snow! So it's the perfect type of day to make some comfort food. I don't eat red meat a ton but sometimes I CRAVE a good beef stew. My husband moved here from Texas and he used to think it was so funny that I would crave this since he didn't eat a lot of stew in the deep south. But now I have made a fan out of him! So it was a perfect excuse to make an Italian inspired beef stew.
However, he is doing all these crazy "re-set" your body things for January. No booze, no carbs, no fun I say. So typically I would put potatoes in my stew. But they break down as they cook that he can't really just pick them out. And he is being strict so I want to be supportive (as I pour myself a good glass of red!). Instead of potatoes in my stew I decided to try serving the stew over mashed potatoes. Similar to a beef bournignon. This meal really is a meat and potatoes dish just elevated!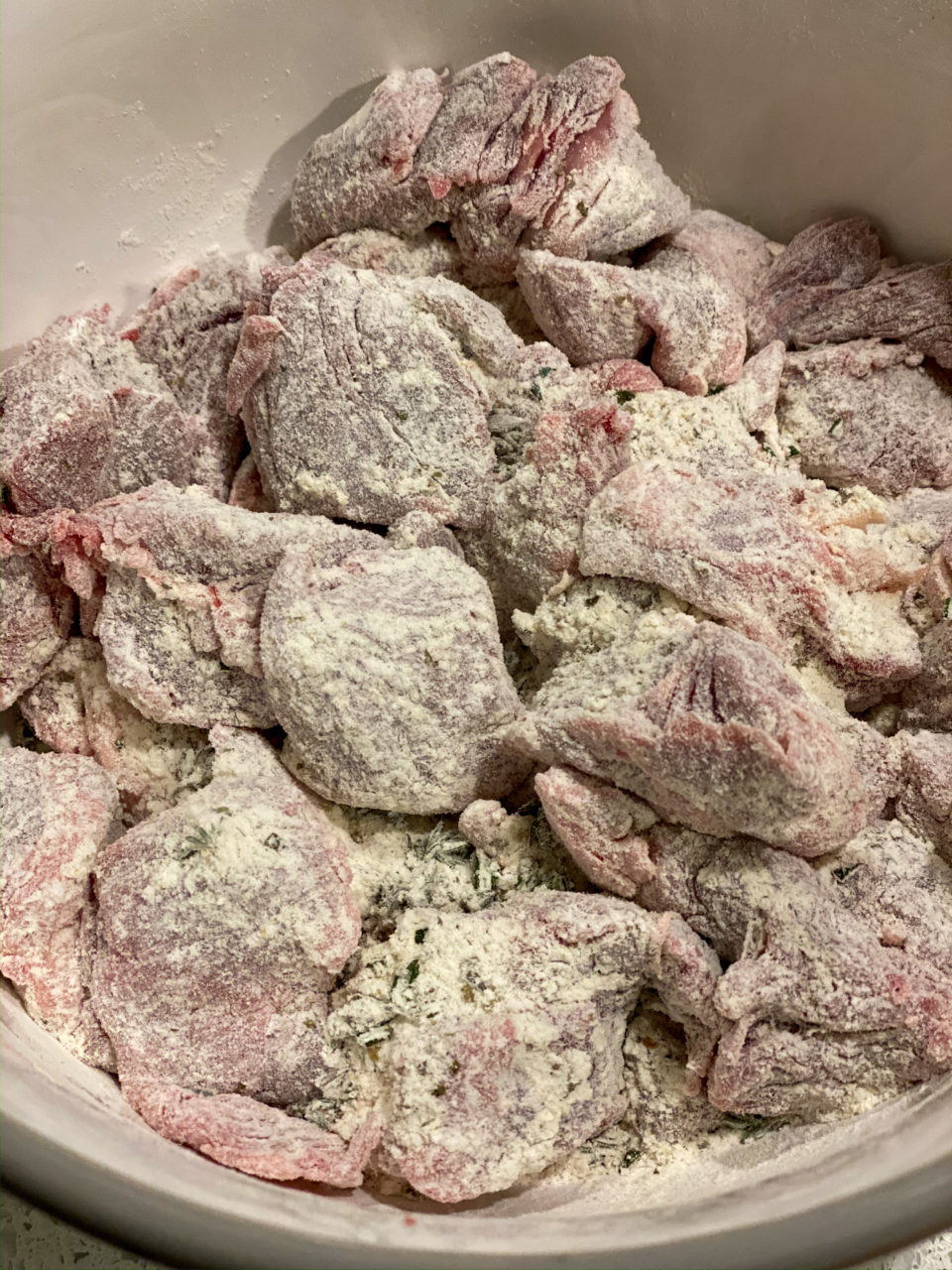 I love to use fresh herbs wherever I can. This dish is no exception. So I paired fresh rosemary with fresh thyme in my flour mixture that I use to coat the beef with. And this flour mix gives the beef great flavor, allows it to get nice and brown as well as acts as a thickening agent for the stew.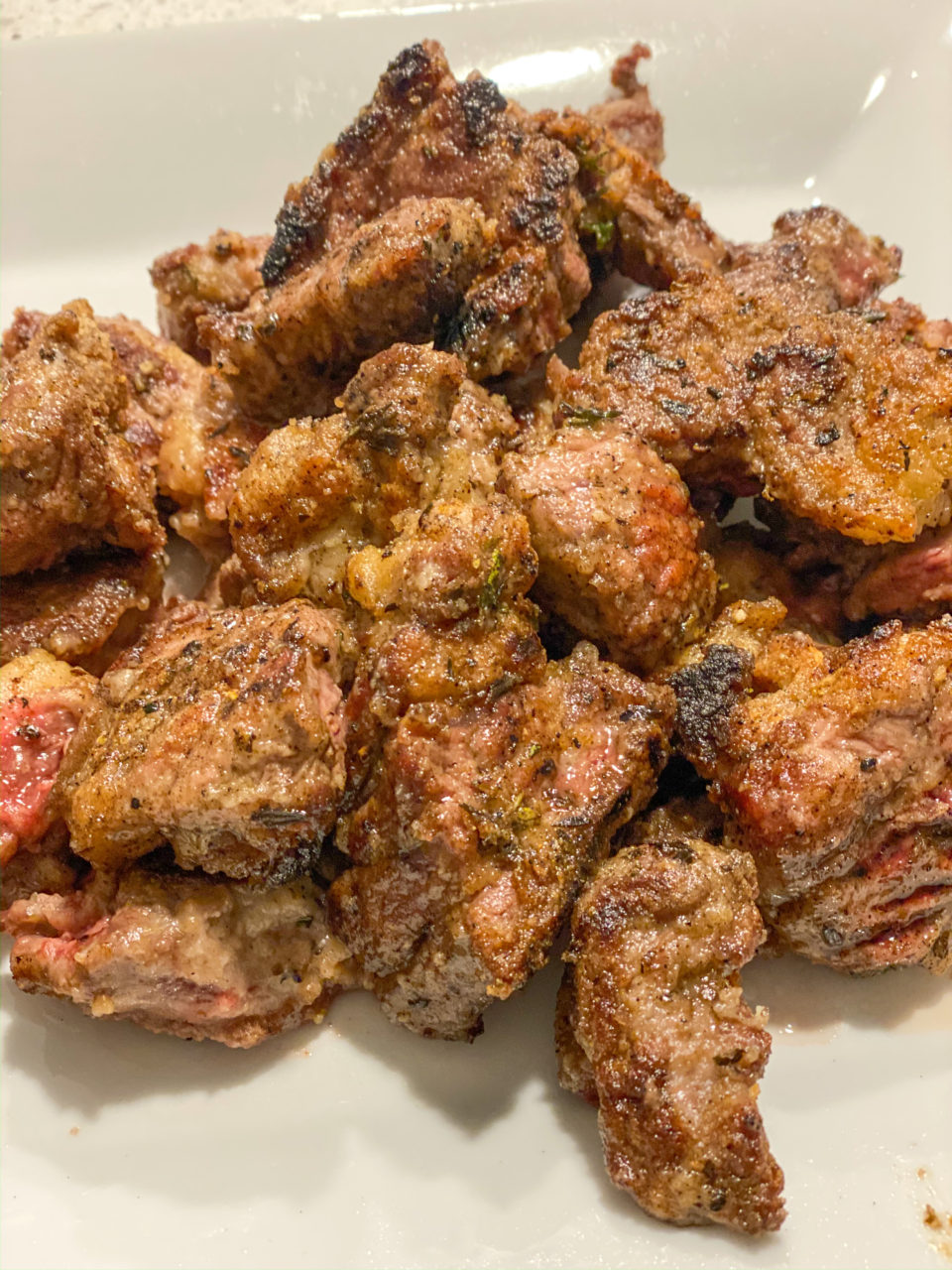 This Italian inspired beef stew does not lack in the vegetable department even though it's a comfort meal. I combine celery, onions, carrots, and since I wasn't using potatoes, parsnips as my base. Once the stew has cooked for a bit green peppers and green beans go in. These don't take as long to cook so I save them for the end so they don't break down and turn into mush.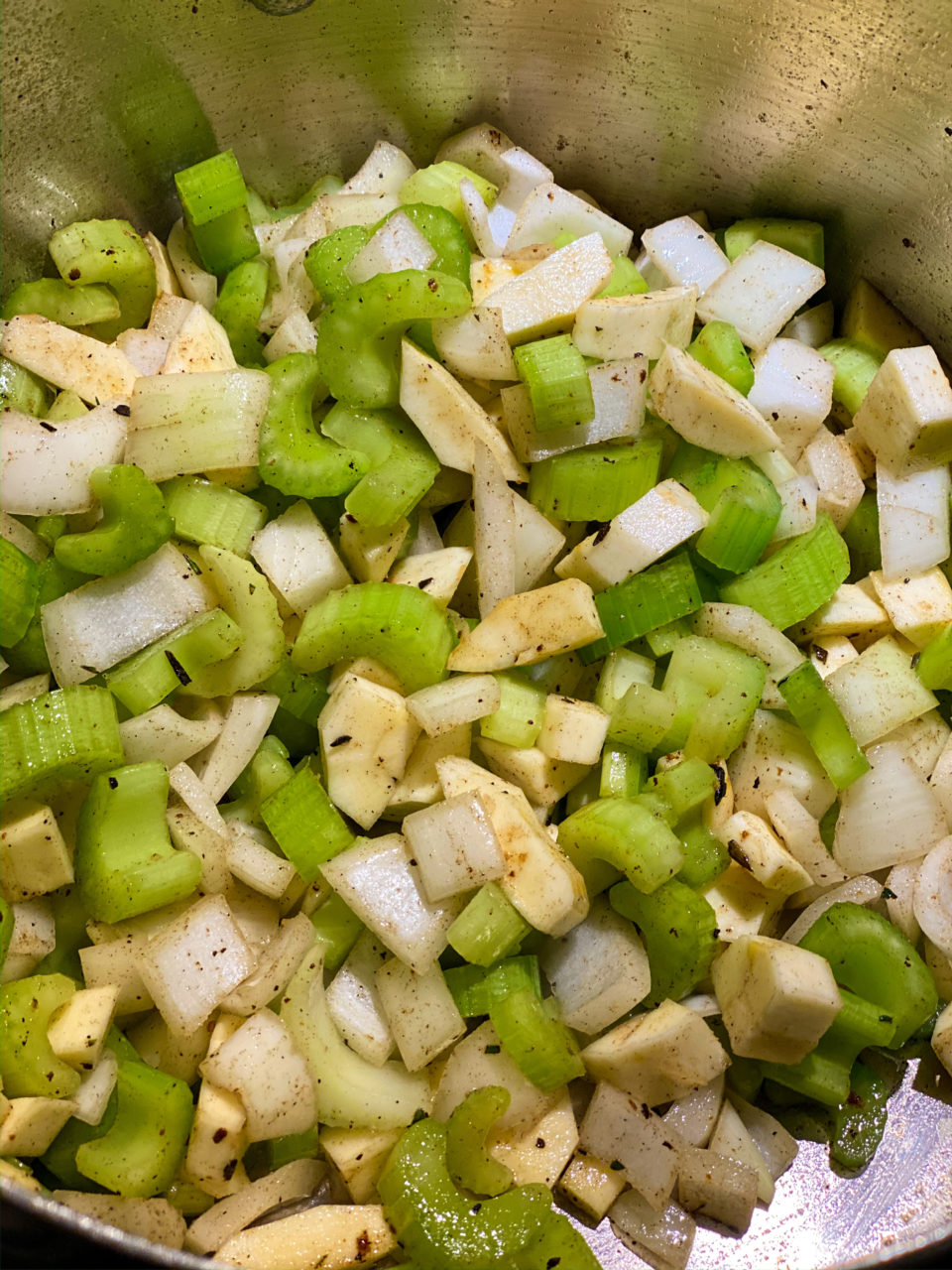 I love a good Italian inspired meal (we even tried to move there a few years ago!). I decided to use an entire bottle of Chianti as the main base for this stew. Make sure to get a bottle you actually like to drink. But it doesn't have to be crazy expensive. Most of the bottles of wine I use to cook with are eight to ten dollars and are perfectly good to drink. My other secret Italian-inspired ingredient – parmesan cheese rinds. I LOVE cooking with them when I make soup. It just gives the base a subtle hint of nuttiness.
So whether you are looking for comfort food, something to warm you up, or just a good recipe this Italian inspired beef stew will sure to hit the spot!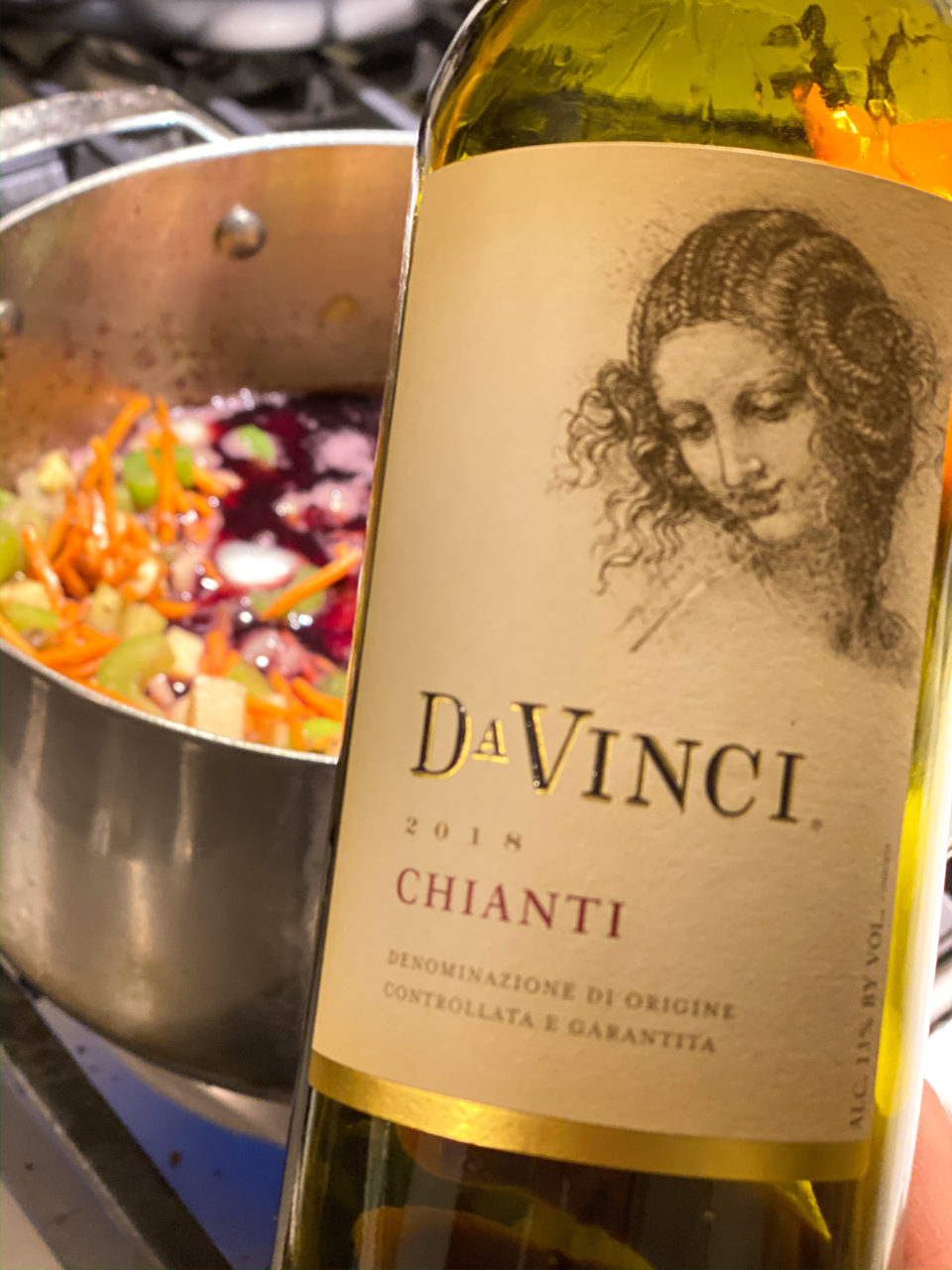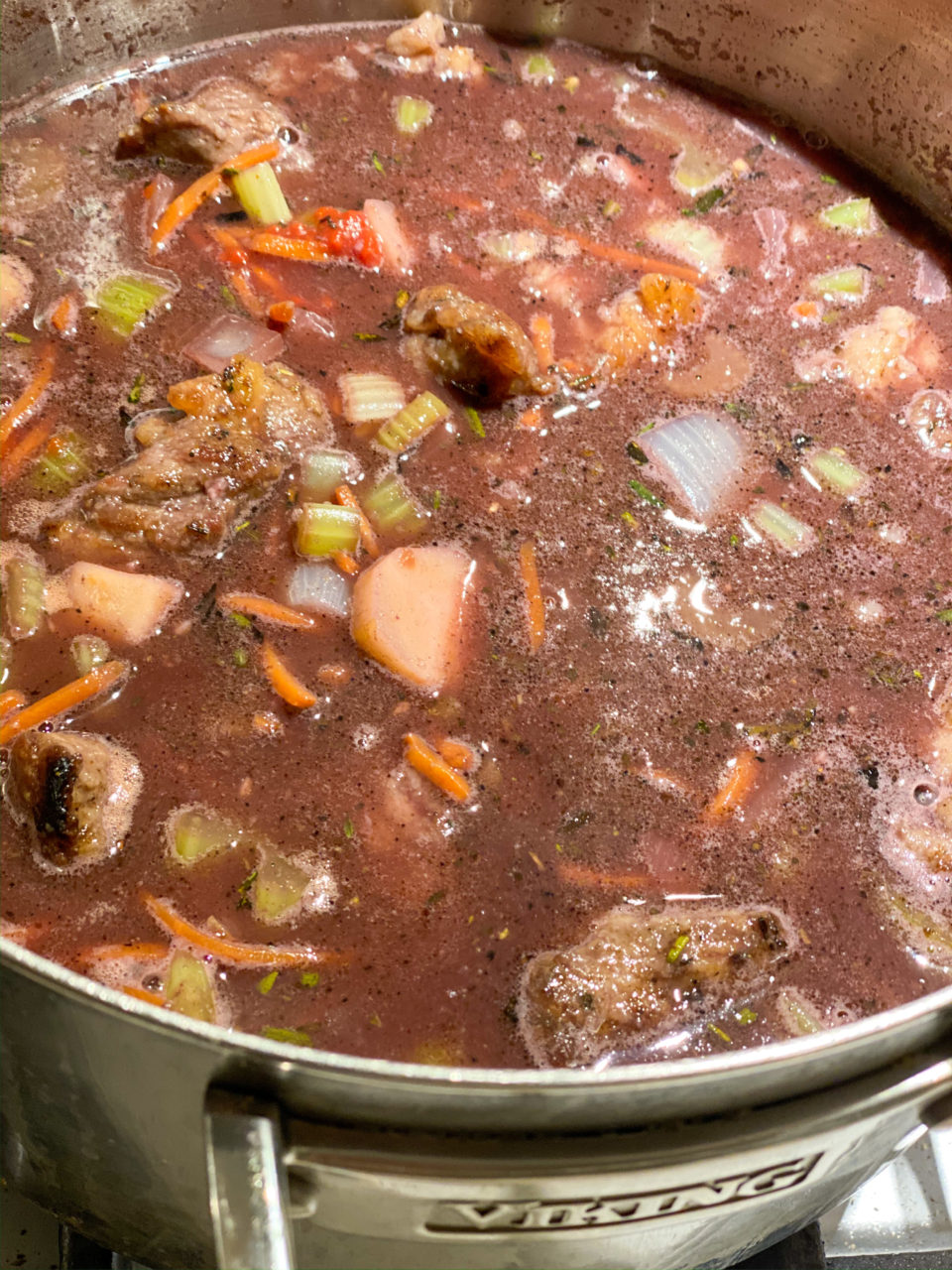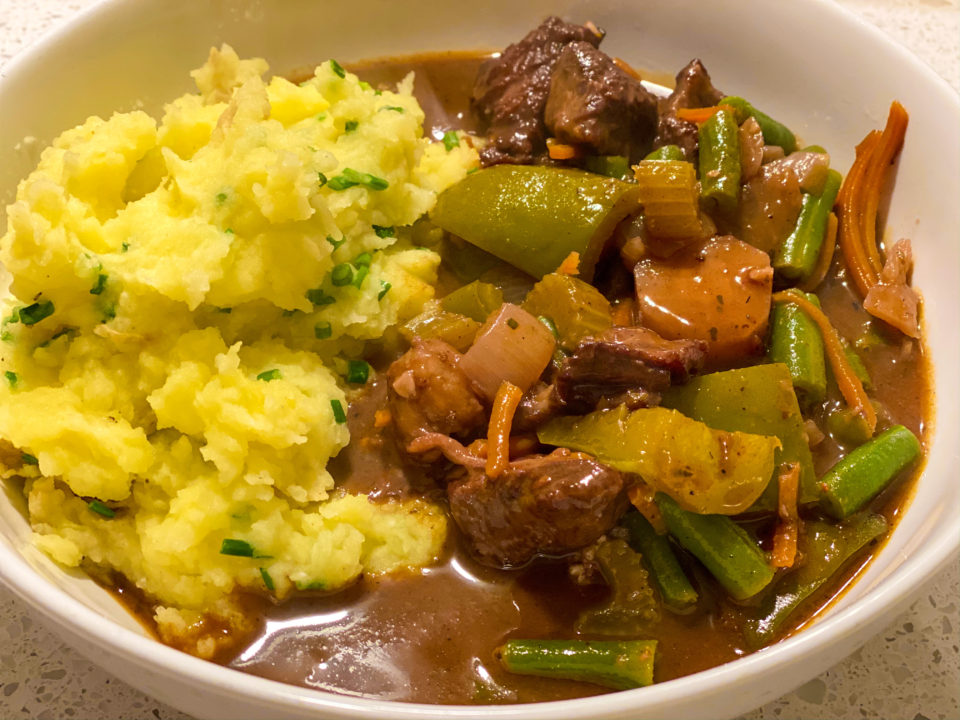 Print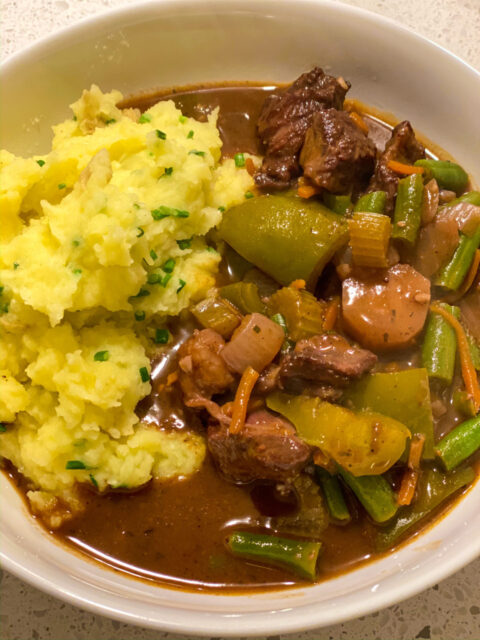 Italian Beef Stew
---
Total Time: 2 hours 15 minutes
1.5 lbs stew meat
1/3 c flour
1 TBS garlic powder
1 TBS dried basil
The leaves from 5-6 sprigs of thyme
1 TBS fresh rosemary, minced
6 ribs of celery, large dice
1 yellow onion, large dice
2–3 carrots (if they are large 2 will work), large dice
2 parsnips, peeled, core removed, cut into large dice (if you have never worked with parsnips before Youtube how to chop them!)
1 bottle of red wine, an Italian is perfect I prefer Chianti or Sangiovese for this
4–6 cloves of garlic, minced
2 c beef broth
1–2 parmesan cheese rinds (use 2 if they are small)
2 TBS tomato paste
1 c frozen cut green beans
2 green bell peppers, large dice
Italian parsley, minced for garnish
---
Instructions
In a large bowl combine flour, rosemary, thyme, garlic powder, and basil. Season liberally with salt and pepper. Add in meat and stir to coat the meat with the flour mix.
In a large soup pot over medium heat add in 2 TBS of olive oil. Take half of the stew meat with a slotted spoon and shake off as much flour as you can. Then add into the pan of oil. Turn the meat every 2-3 minutes browning on all sides. Remove meat and place on a plate. Add another TBS of oil and do the same with the second half. DO NOT THROW AWAY THE FLOUR!
Once the meat is cooked leave all those good brown bits. Add in celery, onions, parsnips and carrots. With a wooden spoon move the veggies around the bottom of the pan to scrape up those good brown bits of flavor. Cook veggies for 4-5 minutes.
Then add in the flour left from the meat. Cook for 2-3 minutes so the flour is not raw. Turn the heat up to medium high and add the whole bottle of wine in. Let the wine come to a nice gentle bubble and cook for 5 minutes to cook some of the alcohol out.
Next add in the tomato paste, parmesan rinds, garlic, beef broth and the meat back to the pot. Turn the heat down to medium low and cover. Be sure to stir every 10-15 minutes.
After the stew has been cooking for an hour and a half add in the green peppers. Let those cook 10 mins then add in the green beans. Cook another 5-7 minutes
Lastly, top the stew off with the parsley and serve over the smashed potatoes.
Prep Time: 15
Cook Time: 120
Print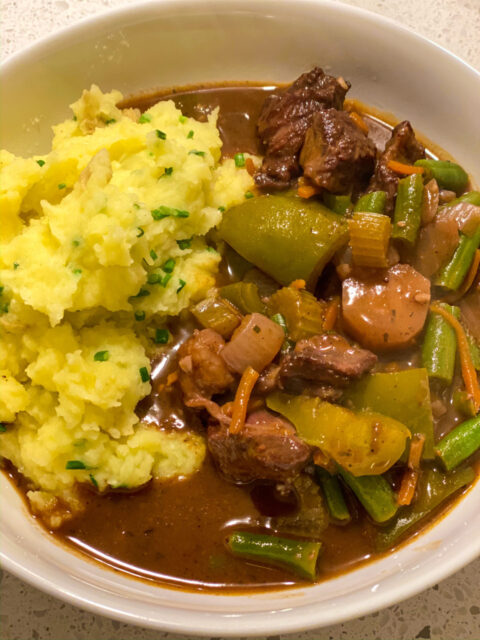 Buttery Mashed Potatoes
---
4–6 medium to large Yukon Gold Potatoes, washed well skin left on cut into large cubes
1/2 stick of butter
1/2 c heavy cream
1 c chicken broth
1/2 c parmesan cheese grated
1 package of chives or a large handful, cut into thin slices
---
Instructions
In a large sauce pan bring a pot of water to a boil. Once boiling season water liberally with salt like you would pasta water. Add in potatoes. Cook for 15-20 unto you can easily pierce with a fork. Drain potatoes.
Put pan back on low heat and add back the potatoes and butter. Season with salt and pepper. Once butter is melted start mashing the potatoes. Add in the cream to soften. If your potatoes are a good consistency you can skip the broth. If your potatoes need to be thinned out add a little broth at at a time to get the consistency you like.
Once your potatoes are at your desired consistency add in parmesan and chives.
Prep Time: 5
Cook Time: 30