I went to college about as north in Michigan as you could go to a school called Michigan Tech University. The school was smaller, located in Houghton, Michigan and was about a a two hour drive from my hometown. The population of the town is under 10,000 but it was right on Lake Superior which attracts a large amount of tourists. The winters get busy with snowmobilers traveling from the lower part of the state and really all over. In the summer people come up to their cottages or come take advantage of all the natural beauty the town has to offer.
There are quite a few restaurants for this small, touristy, college town. One of my favorites was the Library Bar which was a brew pub. They had a delicious creamy onion soup. Creamy onion soup is totally different than french onion soup. Typically it's made with chicken broth instead of beef broth and isn't very brothy but instead nice and thick. At the Library they would top their soup with swiss cheese and crutons (that is about the only similarity of the french onion version).
For years I have searched for a good creamy onion soup recipe. But every recipe that would come up was French Onion soup. Recently my husband and I vacationed in St. Maarten. We went to the French side for dinner most nights. One night I had probably the best version of french onion soup I have ever had. On our last night there we went to dinner and to my surprise, they had creamy onion soup on the menu. I hadn't had a creamy onion soup in years and I knew how good it was in college so it was a no brainer to try it.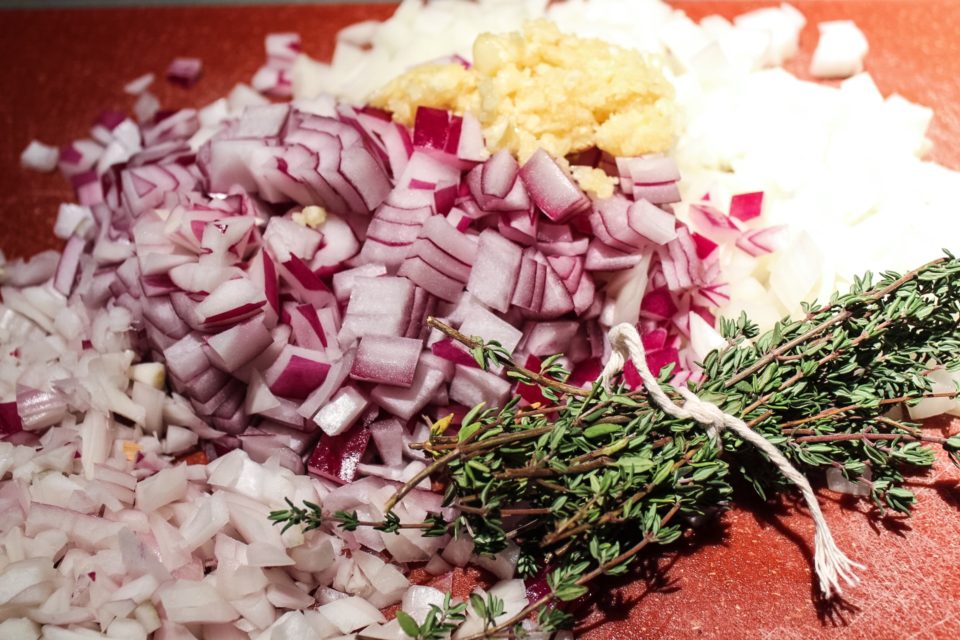 This version of the soup was wonderful. It was a good balance between thick and broth. The soup was seasoned with thyme and the onions were nicely carmelized. To me the soup tasted like there was a nice sweet and tanginess that came from some kind of wine. They served their soup with crutons and cheese as well. This was definitely a great version of the soup and brought me back to my college days.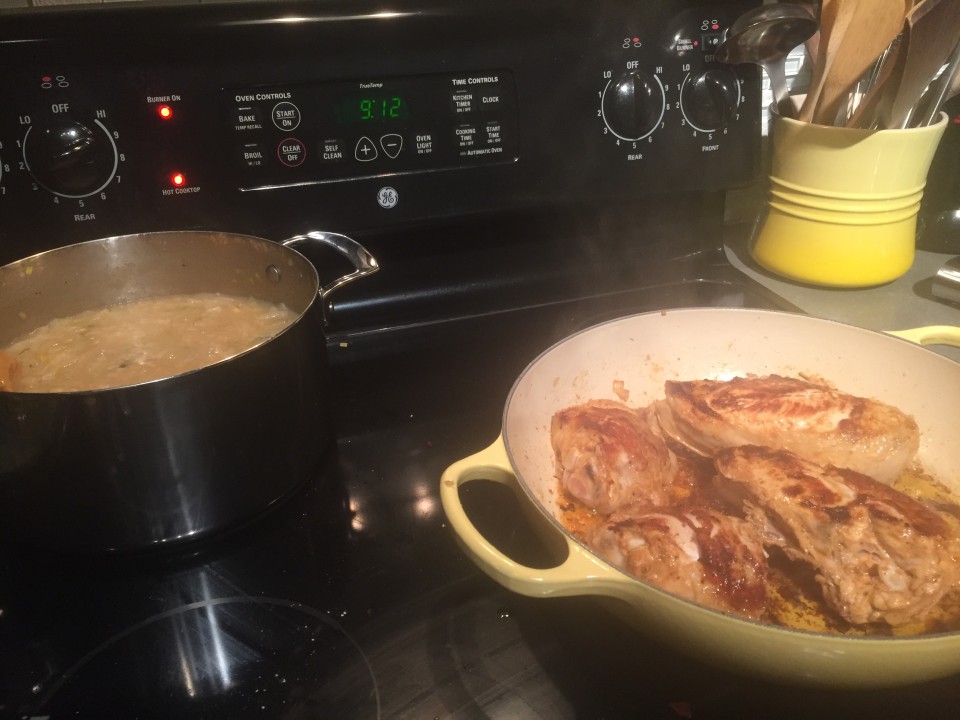 Once we got home I really wanted to replicate this soup. Often times I make soups on Sundays but this soup wasn't one that I wanted to eat all week at lunch. Normally my lunch soups are often loaded with vegetables (a way for me to get my servings in for the day) and this soup really only had onions in. Usually we have salads with our dinners on the weekends and I thought instead of salad this would be a perfect "first course" for our meal.
I tweaked my version of this soup a little bit. I love leeks and use them a lot in my soups. They are sweet and give off a great subtle onion flavor. I picked up 5 yellow onions and some leeks at the store. While I was shopping the shallots looked amazing. They were really large and would be a great addition to the soup. And why stop there? Lastly, I decided I would garnish my soup with fresh chives as well turning my version into a four onion version.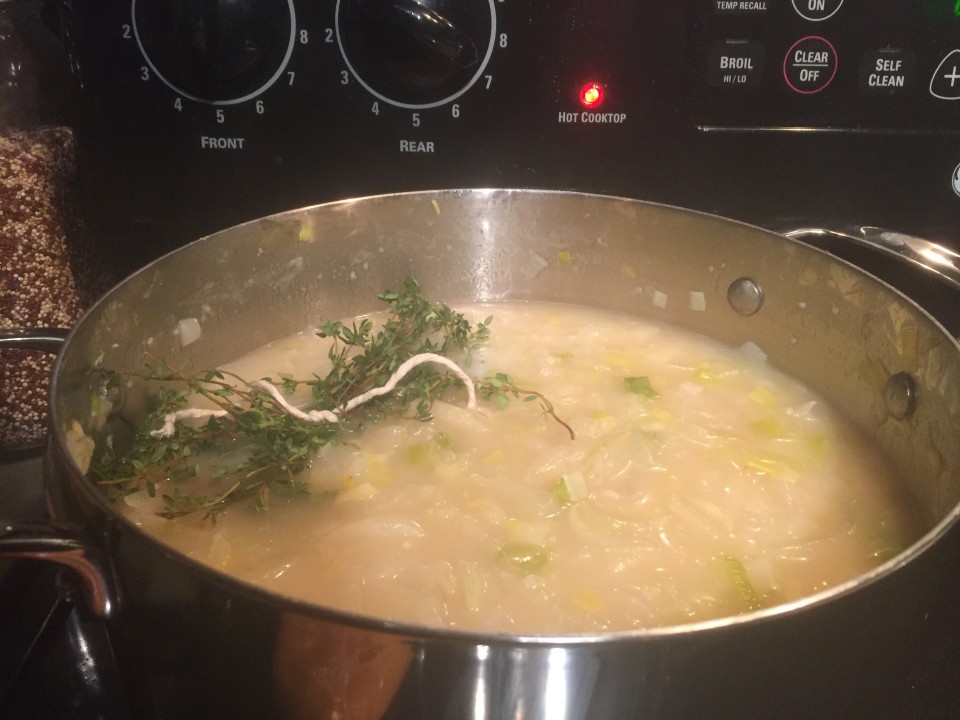 Also I tend to shy away from using a lot of milk or heavy whipping cream in my soups. In general, we don't drink much milk and when you make cream based soups as you can imagine, they have more fat and calories in them. I find that pureeing your broth based soups can give you a thicker version without using milk and saving the unneccessary calories. However, cream does add a nice sweetness to the soup so in this version I did a hybrid of what I would normally do. So I pureed some of the soup and added in a splash of cream at the end to give it the sweetness and creaminess of the versions I have ate.
This soup was a perfect starter to a good French inspired meal. I love being able to use our travels to inspire my cooking as well as re-live my past.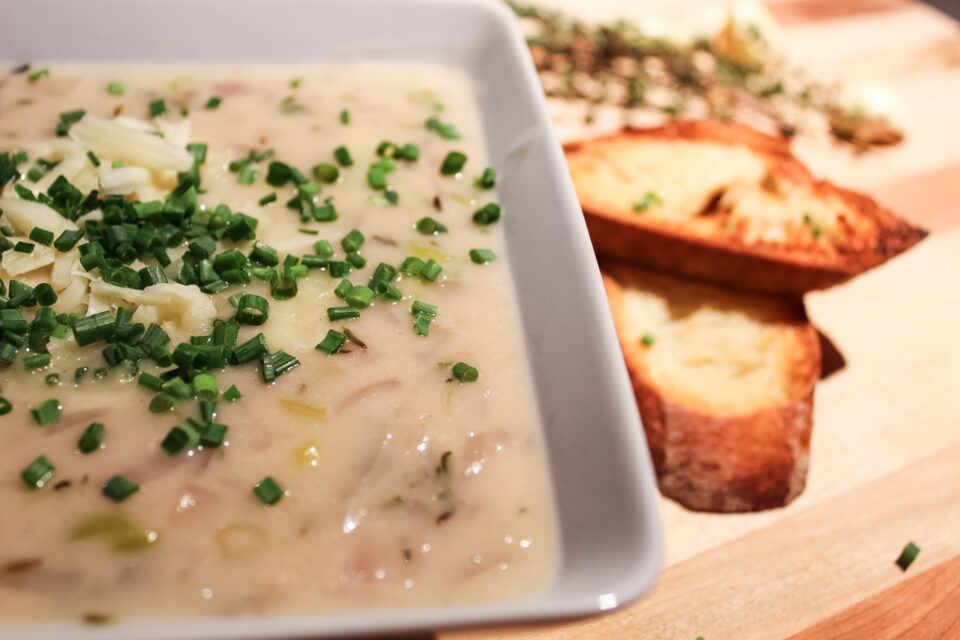 creamy four onion soup
---
4

yellow onions, cut in half and then slice very thin

2

leeks light green and white parts only sliced thin, rinsed very well to get all the sand out

2

large shallots sliced thin

4

–

6

cloves of garlic minced

1.5

c dry white wine (I used a Chardonnay)

2

boxes of chicken broth/stock (

8 cups

)
fresh thyme "bouquet" take 7-8 sprigs of fresh thyme and tie tightly with kitchen twine, if you cannot find fresh thyme use 1 TBS of dried thyme

3

TBS heavy whipping cream
fresh chives for garnish
gruyere or swiss cheese to top soup with
---
Instructions
In a large soup pan with a TBS of olive oil over medium low heat sauté onions, leeks, shallots and garlic. This is the most painstaking process, you do not want the onions to brown so this process will take about 40 minutes. Stir every 5-7 minutes. The onions will become soft and sweet. Once the onions are cooked all the way turn the heat up to medium high and add in the wine. Cook until most of the wine has cooked out (5 minutes or so). Add in chicken broth, salt and pepper (to taste) and thyme bouquet and bring to a gentle boil. Cook 25 minutes so flavors can blend. Turn the heat down to low. With an immersion blender pulse the soup about 7 times to puree some of the soup. Alternately if you do not have an immersion blender take one blender full of soup and pulse (be careful and make sure to vent the top of your blender). Add in heavy whipping cream and stir to incorporate. Remove the thyme bouquet. Most of the little leaves will have fallen off the steams and will have seasoned your soup. Top with cheese and chives.
---
SaveSave