There is something about the word "crockpot" that makes me cringe. Maybe because I think of pot roast or some kind of meal made with condensed cream of chicken soup. You know, the stuff that has those weird pink pieces of "chicken" in them? So I have never really been one to use my slow cooker. I made a few things in it. By a few I really mean chili and spaghetti sauce and that's really it. Recently my husband had been out of town for a week for business, eating crappy hotel meals all week.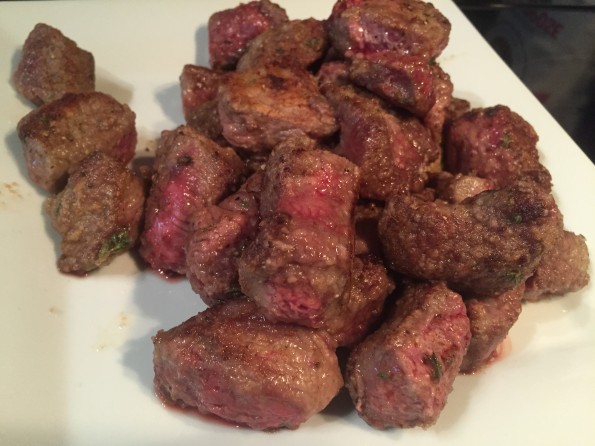 I love going on vacation but that is the one thing that starts to get me by the end too, all I want is a home cooked meal. He was going to get home at noon and he told me he would make me dinner. I felt bad that he had been gone all week and was going to come home and to make ME dinner. The only way for me to beat him to it was to make something before I left for work. Enter in the "crock pot". I don't make a ton of beef really but I know beef goes well in a slow cooker. I had a girlfriend cook dinner for me one night and she made beef bourguignon and even made homemade egg noodles to go with it. It was really good from what I remember so I decided to try it out.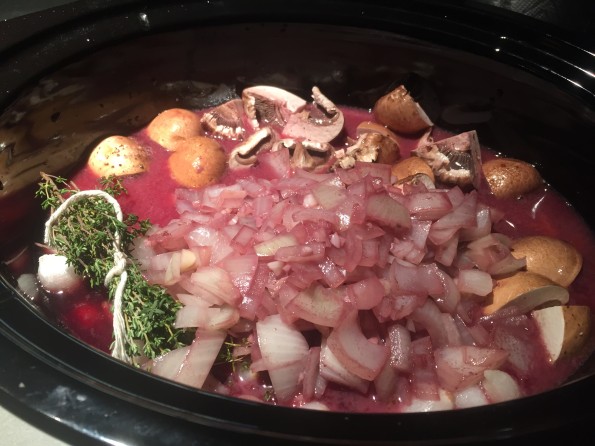 I took some inspiration from Julia Child and Ina Garten's versions of beef bourguignon but made it my own. For starters I left out the bacon (GASP!!) but it was only because I forgot it and at 7am on a Monday morning when I was cooking I was NOT running to the store to get it. I also am not a huge fan of carrots so I didn't include them. The one good thing about this recipe (for my husband that is) is it calls for mushrooms. I hate mushrooms. I pick them out/off of everything and even a small piece makes me cringe. But my husband LOVES them. So in a dish like this you can use mushrooms and cut them really large and then they give off some flavor but they are big enough to pick them out. I also searched high and low at the grocery store for a beef stock that did not contain "caramel color" or "natural flavor" to no avail. I FINALLY am now able to find a chicken stock that does not have any garbage in it (thank you Pacific Brand!!!!) so I used chicken stock in my recipe instead.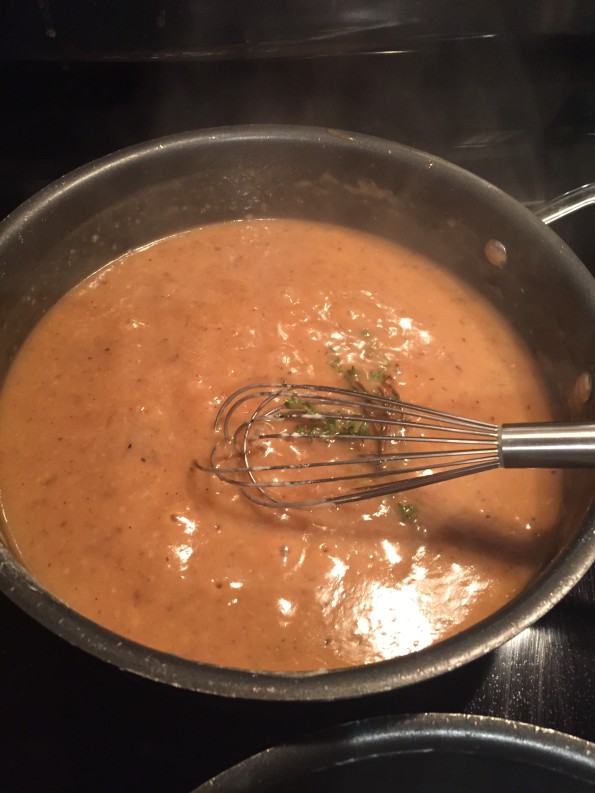 I had had pasta the weekend before and really didn't feel like noodles so I decided to make a potato of some sort to go with this dish. Meat and potatoes are always a good pairing and scream "comfort food" which is something I figured my husband would be happy to come home to. Like any potato I make I added in cauliflower. Also I wanted cheese that night so instead of making potatoes with cheese and milk I just skipped the milk altogether and used chicken stock. You won't even know it's missing.
There are small ways to modify recipes to make them a little healthier. You can sneak veggies in, take fat out and still have that rich flavor that I can only imagine comes with the real French version of this recipe. My husband loved it and I loved not having to come home to do much in the kitchen!
Print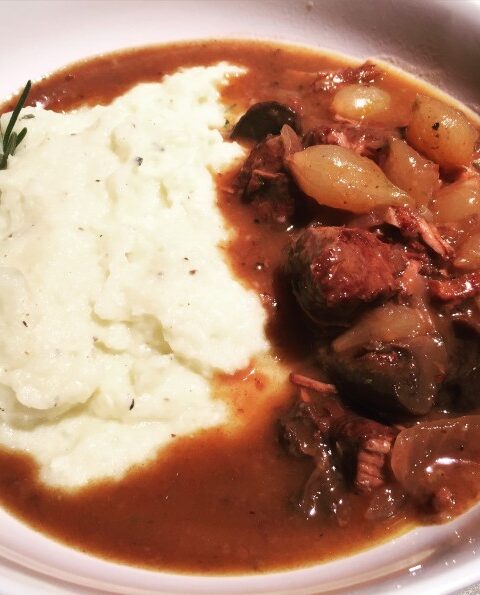 beef bourguignon – slow cooker version
Prep Time:

45

Total Time:

45 minutes
---
For the beef
2

lbs of beef (I used grass fed stew meat but I wish I would have got

ten

a roast because the meat started falling apart and I didn't have as many big chunks as I would have liked, if you buy chuck roast cut your meat into large chunks, much larger than stew meat, it will shrink down)

2

TBS olive oil

1

white or yellow onion diced

5

cloves of garlic minced

1

package of cremini mushrooms, wiped with damp towel, stems removed, quartered

1

bag of frozen pearl onions

3

TBS of tomato paste

1

bottle of red wine, something you LIKE the taste of because you will be concentrating the flavor, I used a nice Sangiovese

1

32 oz box of beef or chicken broth for the beef

1

package of fresh thyme

2

TBS of butter

¼ cup

plus 3 TBS of flour
Salt and pepper
For the potatoes
Salt and pepper to taste

2

sprigs of fresh rosemary

4

russet potatoes, peeled and cubed

1

head of cauliflower cut into florets

3

TBS of butter

1

32 oz box of chicken stock

5

cloves of whole garlic

1

–

1.5

cups of fresh grated gouda cheese
---
Instructions
In a large mixing bowl combine ¼ cup of flour with salt and pepper (maybe ¼ tsp of salt, ½ tsp of pepper) and strip the leaves from a few sprigs of thyme. Add your meat and coat with the flour mixture. In a large skillet, heat to medium high heat olive oil, add meat in batches (do not over crowd the pan) and get a nice sear on the meat flipping every 1-2 minutes a side to get the outside nice and brown. When one batch is done you can add the meat to your slow cooker. Once your meat is cooked add a little more olive oil and turn heat down to medium. Add in onions and garlic to soften slightly. Cook 3-4 minutes (it will cook in the slow cooker). Add in ½ cup of red wine and using a wooden spoon scrape up all the nice brown bits leftover from the meat (there is a lot of flavor there!). Add onion, garlic wine mixture to your slow cooker with the beef. Add in the rest of the wine, tomato sauce, pearl onions, mushrooms and beef or chicken stock. Season liberally with salt and pepper. With the rest of your thyme make an herb bundle by grouping the thyme together and tie with kitchen twine. Add to your slow cooker. Cook on low 6-8 hours.
Once the beef has cooked it will be somewhat liquidy. I like my meals like this a little thicker to make it like gravy. If you do too, follow the steps below. In a sauce pan over medium heat melt butter. Add in the 3 TBS of flour and stir together to start your roux. Cook the flour a few minutes so it doesn't taste ran. With a big soup ladle, add in a few ladles of the liquid from the slow cooker (equivalent to 2 cups of liquid, doesn't have to be exact). Whisk together to eliminate all of the lumps of flour. Turn the heat up to medium high and let everything cook together and the liquid start to thicken up. Once your liquid is thick you can stir this back into your slow cooker to thicken up your mixture.
For the potatoes
Add potatoes and cold water to a large pot. Turn the heat up to high to boil the potatoes. In the meantime – over medium low heat melt the butter, garlic and rosemary all together. Let the rosemary and garlic cook into the butter. Once the potatoes are boiling cook 5 minutes and then add in the cauliflower. Check the potatoes with a fork after the cauliflower has cooked 5-6 minutes. The potatoes and cauliflower should be fork tender. Drain and then add back to the pot. Add in the butter/rosemary mixture and add in 1 -1.5 cup of chicken stock. Start to mash your potatoes with a hand masher or if you like creamier potatoes use a hand mixer or immersion blender. Add in ¼ cup of chicken stock at a time to get to your desired level of thickness. Season with salt and pepper. Once your potatoes are mashed add in the gouda cheese and stir to melt. You can always thin out potatoes with more chicken stock if needed.
Serve beef alongside or on top of potato/cauliflower mix.
---
---