We don't eat a ton of red meat but sometimes I crave it. Beef braciole is one of those slow cooked meals that just make your house smell amazing. But finding the time to spend a few hours cooking seems to be hard to come by. That's what Sundays are for.
We have been eating a ton of vegetarian and chicken dishes lately. Sometimes our weekends are pure chaos and other times we actually have some down time. On the weekends where there is some down time I don't mind cooking something that takes a few hours. Plus when something is cooking that long your house is bound to smell good.
On Friday my husband had told me he had been craving some kind of Italian dish with red sauce. I started searching around for inspiration. I go to Pintrest often to find inspiration for meals. I never really follow recipes just more or less see a title or read a snippet and then make something my own. Beef braciole came up on my search. I really wanted to make it but saw that on average it took 2.5-4 hours to cook. I did not have that kind of time on a Friday night.
When I was checking recipes I came across some standard concepts in braciole which tended to be a the beef, a breadcrumb mixture of sorts then rolled up and cooked in a red sauce. I saw some recipes that had cheese in them (provolone or mozzarella), pinenuts, wine etc so I figured I would make my version a hybrid of what I saw from other recipes.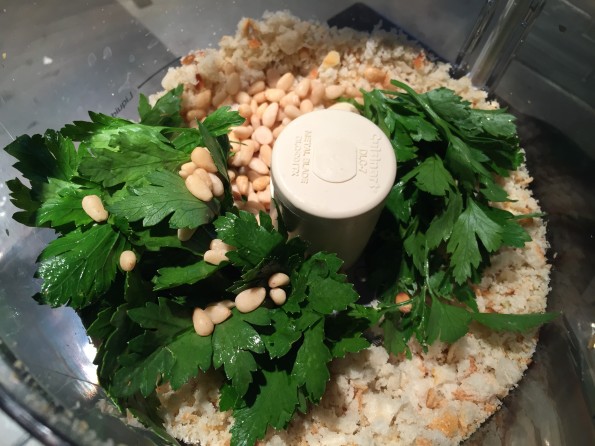 Most recipes called for flank steak or round steak. Unfortunately my grocery store did not have a grass fed version of either so I went with skirt steak. You need any cut of beef you can pound thin. You certainly don't need to make homemade tomato sauce but it's actually really easy so I figured why not?
I also decided to make my own bread crumbs. They had these great small ciabatta loaves at Whole Foods that I had made croutons with previously so I figured bread crumbs would be easy to make with this as well. Bread crumbs are easy if you have a food processor. I used the bread, pinenuts, garlic cloves, Italian flat leaf parsley and parmesan cheese in my mix. It's as simple as putting the ingredients in and pulsing. I would recommend saving the cheese for the very end so it does not start to melt due to the blade getting warm.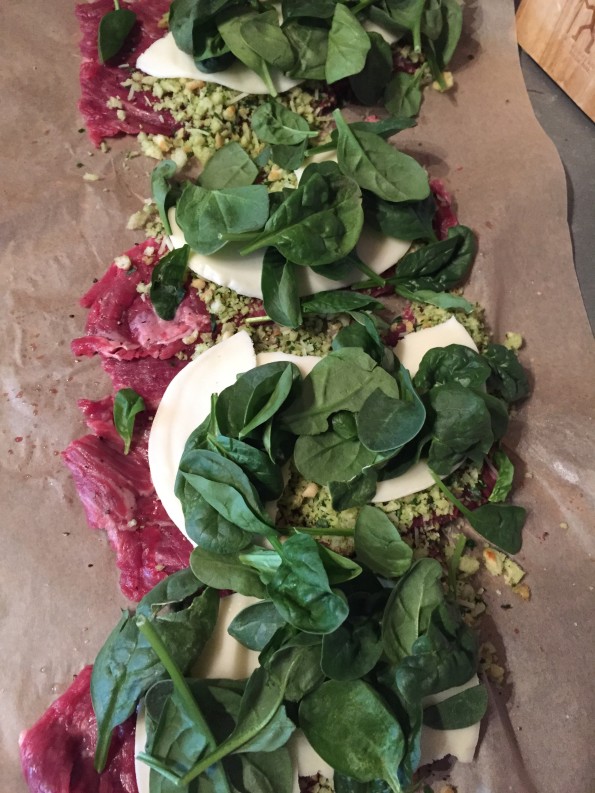 Then in my typical fashion I wanted some more veggies in the dish. I decided to layer in spinach and some provolone cheese before I rolled up my beef. Making the beef rolls was the most time consuming part of this recipe but that really only took 10-15 minutes.
Don't be discouraged when you see the cook time for this recipe. Once you get the food on the stove it pretty much cooks itself for a few hours. All you need to do is stir. You do need an afternoon or evening to let it all come together but trust me your house will smell amazing!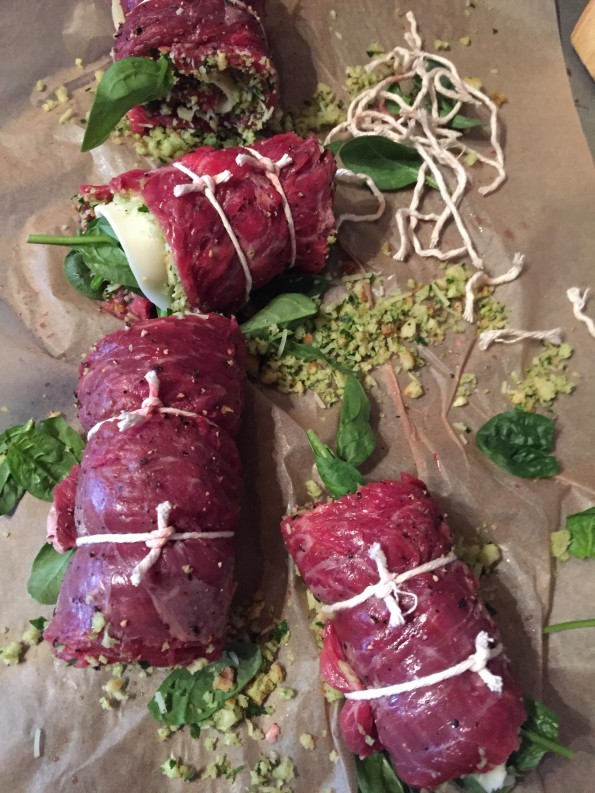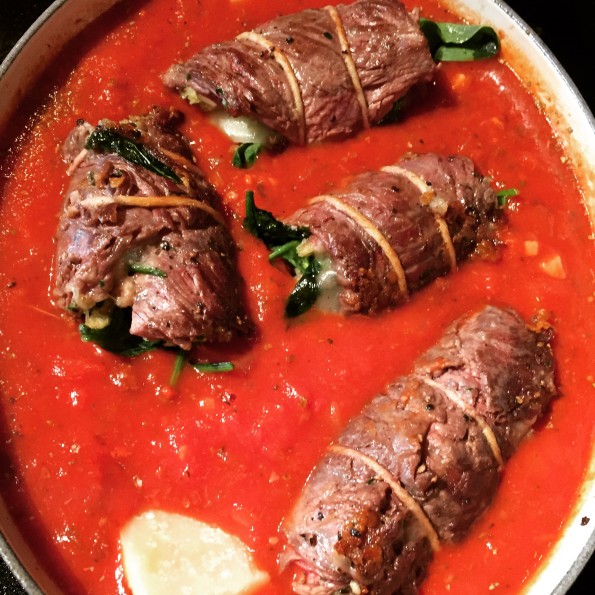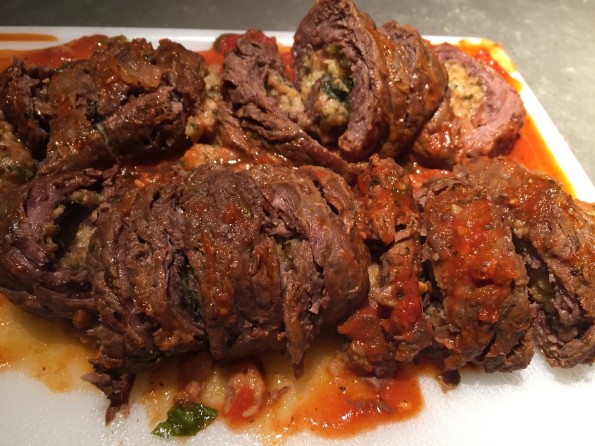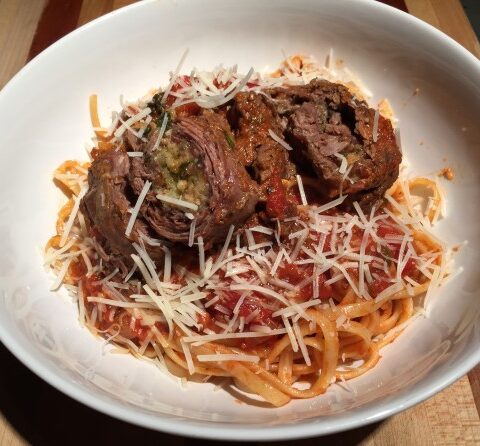 beef braciole
Prep Time:

30

Cook Time:

180

Total Time:

3 hours 30 minutes
---
Kitchen tools needed: twine and a food processor

1.5

lb. flank, round or skirt steak

3

–

4

pieces of stale bread or a mini-baguette cut into cubes

10

cloves of garlic, half minced half left whole

1/4 cup

of italian leaf parsley, fresh

1/4 cup

pinenuts (toasted – Trader Joe's sells them already toasted, good time saver)

1/4 cup

parmesan cheese

4

TBS olive oil

5

slices of provolone cheese

2 cups

fresh baby spinach

1

28 oz can of diced tomatoes

1

white onion minced

2

16 oz cans of tomato sauce

2

TBS italian seasoning

1

small package of basil leaves (

1/2 cup

to

1 cup

) chopped or torn into pieces

1/4 tsp

red pepper flakes

1 cup

dry white wine

1/2 tsp

sugar

1

parmesan cheese rind (usually you can find with the fresh cheeses, if you cannot find just leave out)

1

lb linquine
---
Instructions
Place meat in between 2 sheets of wax or parchment paper. Pound to 1/8 – 1/4 inch thickness with a meat mallet. If you do not have a meat mallet a heavy bottom frying pan will also work. Season both sides of the meat with salt and pepper. Set aside.
In food processor pulse the bread until it gets to a crumb like size. Add in pinenuts, whole garlic cloves, italian parsley and season with a few cracks of salt and pepper. Pulse a few times. When everything is chopped small add in paremsan cheese and pulse a few times to incorporate.
Take the meat and spread a layer of breadcrumbs on the meat followed with a slice of cheese and some spinach. Start to roll the meat into logs. If you have one big piece of meat you can roll into one big log but roll using the long ends so it is one long piece of meat. Tie the meat up with kitchen twine to prevent the filling from oozing out.
In a large dutch oven or soup pot heat up 2 TBS olive oil over medium high heat. Place beef rolls into pan. Do not crowd the pan with your meat, you can brown the meat in batches. Sear the meat for a few minutes on each side letting the meat get nice and brown. Once beef rolls are browned move to a plate and set aside.
Turn heat to medium and add in remaining olive oil, onions, minced garlic, red pepper flakes and Italian seasoning. Sauté until onions and garlic are tender about 10 minutes. Add in white wine and turn heat up to medium high. Make sure to get all the nice brown bits from the meat up off the bottom of the pan when the wine is cooking. Let wine come to a gentle boil and reduce out. Once most of the wine is evaporated add in tomatoes, tomato sauce, sugar, parmesan rind, salt and pepper to your taste. Stir everything together and add beef back in the sauce pot. Turn the sauce to low and cover with a lid. Stir every 30 minutes or so. Let cook 2-2.5 hours.
After 2-2.5 hours cook linguine according to package directions. Add basil into the sauce and let wilt down. Remove beef from pan and take off kitchen twine. Cut into slices. Serve linguine topped with sauce with the beef on top. Sprinkle with more parmesan if desired.
---
---