It has been a crazy fall here in Michigan. Normally this time of the year we have a nice crisp breeze which makes staying inside on Sundays to watch football that much better. Not this year. Lately it's been seventy and sunny out which makes staying in on a Sunday sad because you know what is to come. It also makes Soup Sunday a little different. But lucky for me I could eat soup all summer long.
Since my aunt and uncle were getting ready to head to Italy, I spent a lot of time the past week typing up emails as to where they should go and eat. It has reminded me of our trips over there and how GOOD the food is. Therefore, this Soup Sunday I wanted to make something Italian inspired. We had a really good soup while in Florence which was a tomato bread soup. The bread cooked into the soup and as it fell apart it made the soup nice and thick. So I thought I could do the same thing with beans.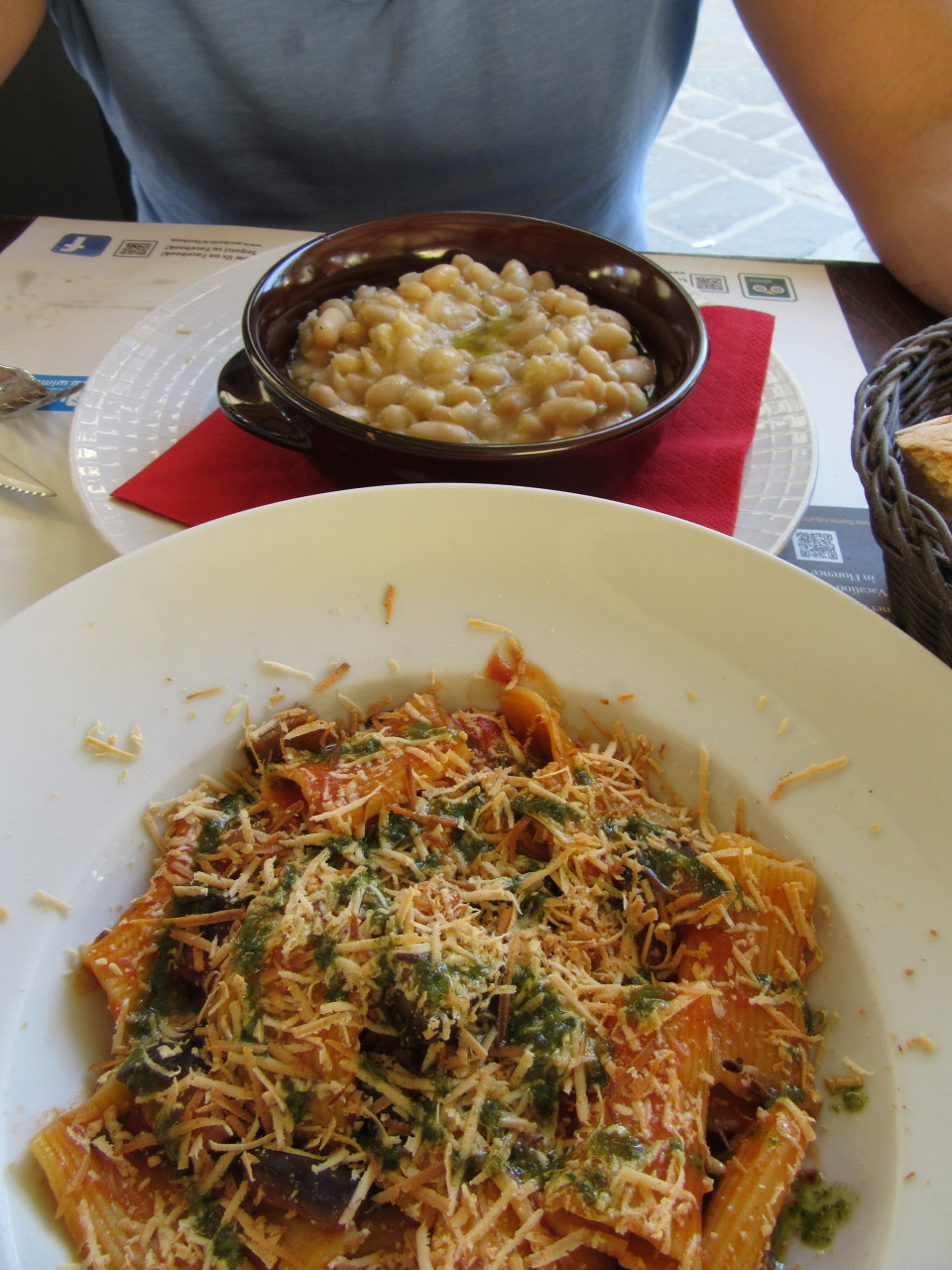 Pasta e fagioli soup is just a simple pasta and bean soup. I know that Olive Garden has commercialized it but from what I know and have read it's not as crazy as they have made. It's simply just the beans and pasta. However, I wanted a little more nutrition to my version. So I still loaded it with veggies I just hid them!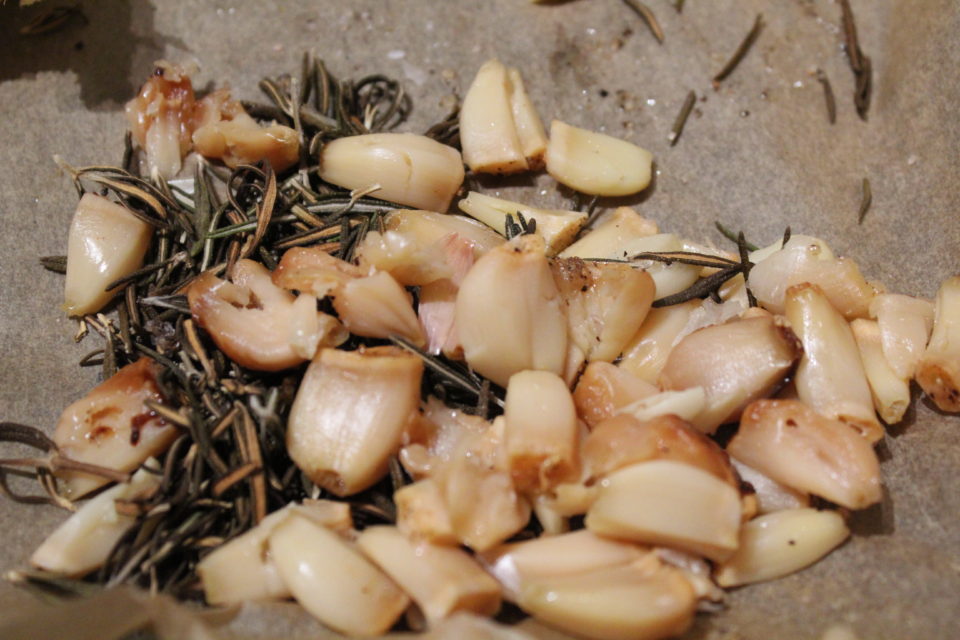 I took a base of onions, carrots, and celery (in culinary terms this is a mirepoix) and sauteed until nice and tender. Then I added a bag of frozen cauliflower, a can of beans, tomatoes and chicken stock and just heated until everything was warmed through. Oh and don't forget the roasted garlic and rosemary. Roasted garlic gives off a nice sweet flavor. When I make the garlic in the oven I also lay sprigs of rosemary on top. The rosemary crisps up and gets a nutty flavor to it. All of this gets blended together to become my "creamy" soup base.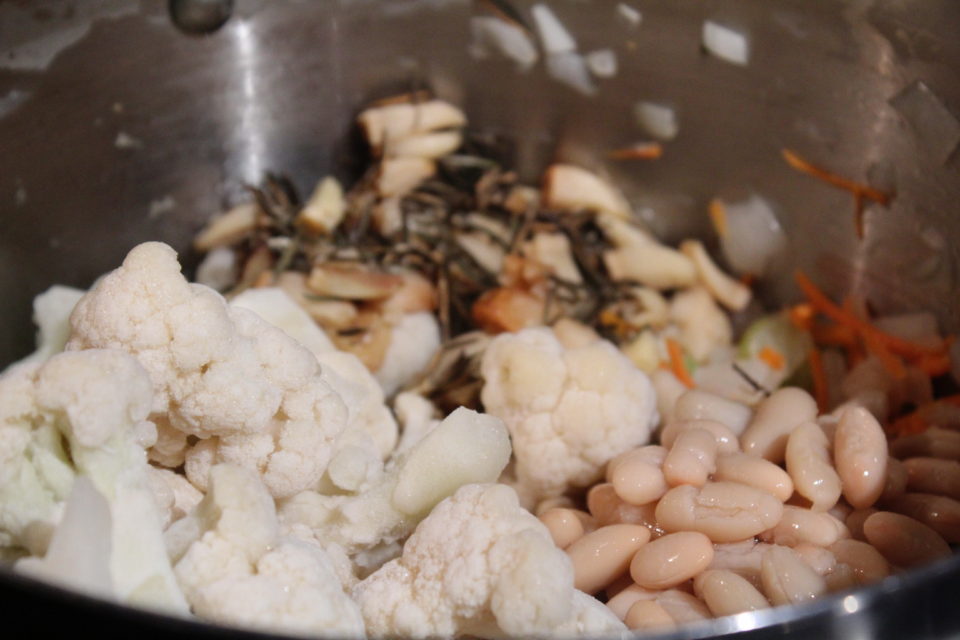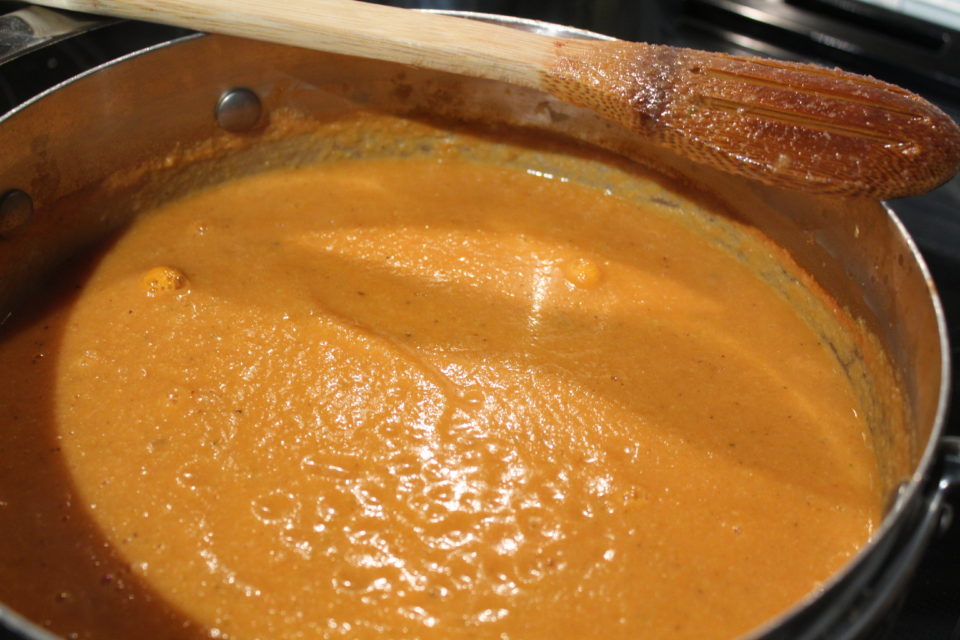 The rest is easy! A few cans of beans and a few cups of pasta get put into the base and cooked until the pasta is done. In the mean time that gave me time to whip up my grilled cheeses. Instead of bread being added to the soup I made a sandwich. They were super easy to make but elevated with homemade pesto and good cheeses. The combination of fontina and mozzarella gave the sandwich that pull apart melted cheese texture.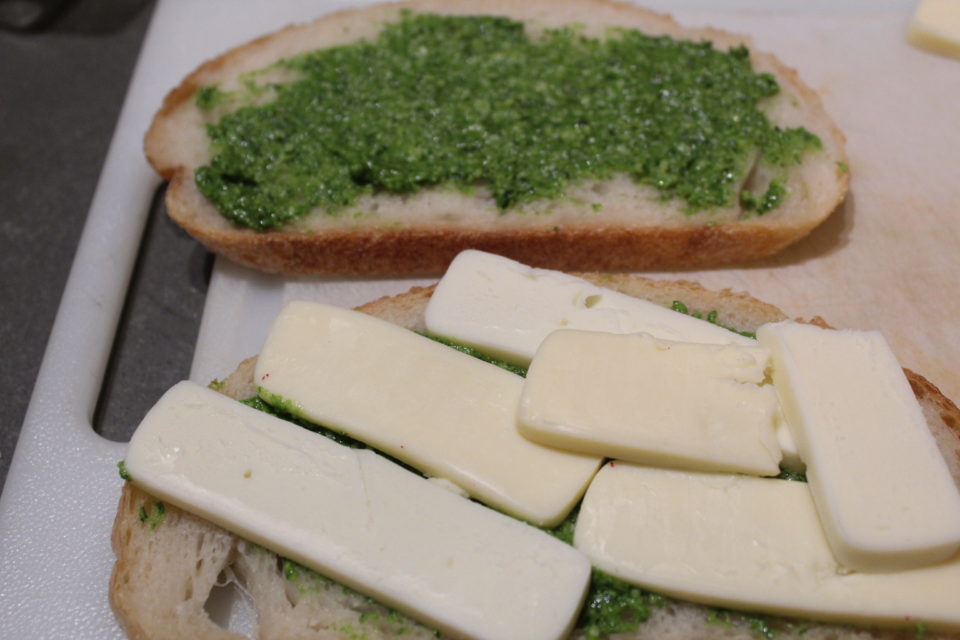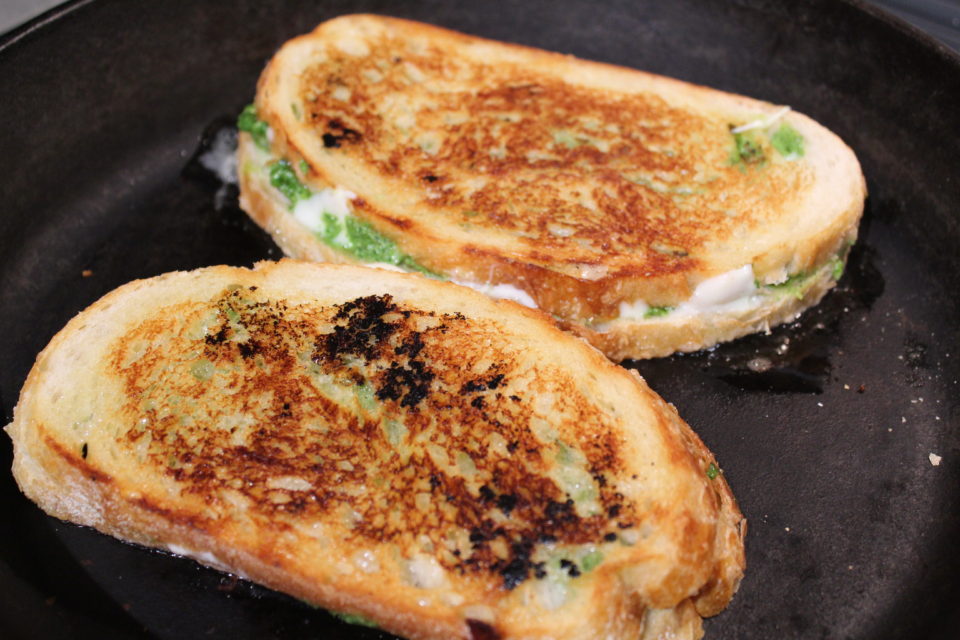 While the meal lacked the ambience that Florence has to offer it did not disappoint the taste buds. The pureed vegetables made you forget the soup didn't have cream in it. Even though it was seventy and beautiful out the grilled cheese and soup combo really made it seem like fall. And my team beat my husband's so it made for a happy chef! Buon appetito!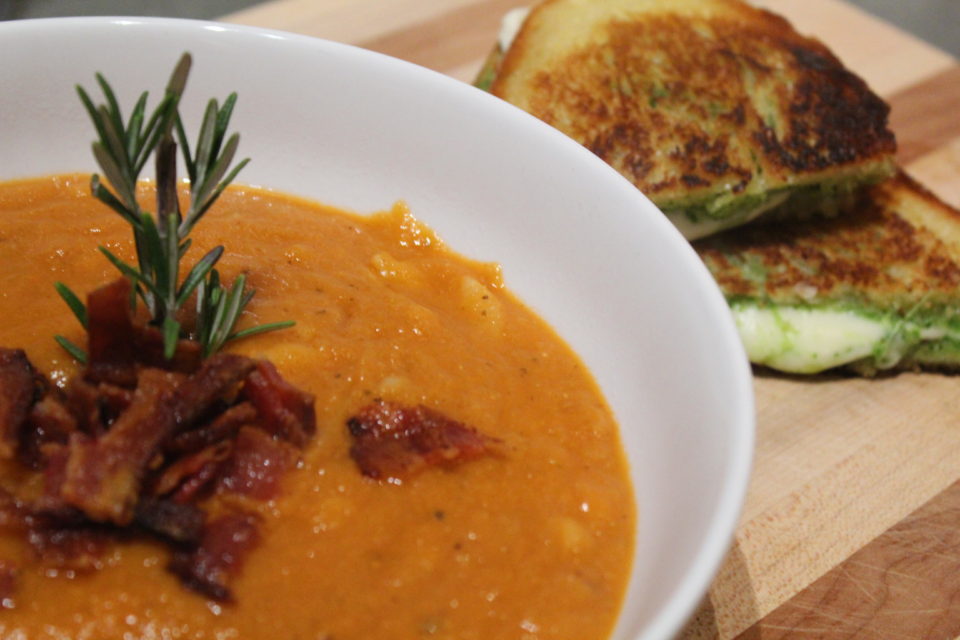 Print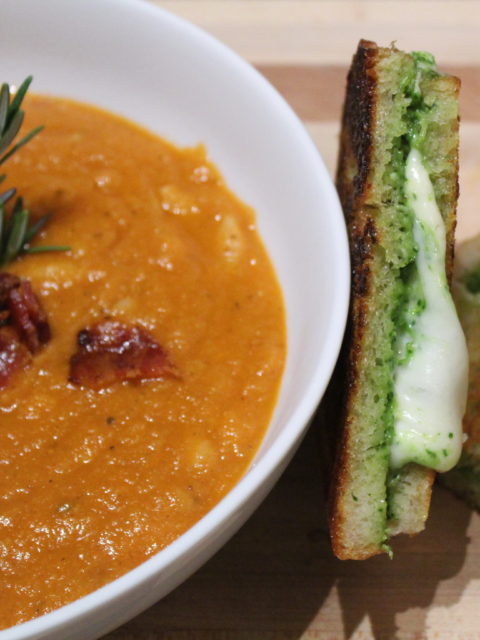 pasta e fagioli soup
---
Total Time: 2 hours 15 minutes
3 heads of garlic left in the skin with the top 1/4 sliced off
4 sprigs of fresh rosemary
8 slices of bacon
1 yellow onion, diced
1 c shredded carrot
5–6 ribs of celery, thinly sliced
1 16oz bag frozen cauliflower
4 cans of cannellini beans
2 c dried small pasta (I used cavatelli but elbows, small shells, ditalini would all work well)
6–8 cups of chicken or vegetable broth
red pepper flakes (optional if you like a little spice)
Paremsan cheese for topping
---
Instructions
Pre-heat oven to 400
Lay garlic bulbs on a cookie sheet. Drizzle with a small amount of olive oil, season with salt and pepper, drape rosemary sprigs on top. Bake for an hour. Remove the roasted garlic from the garlic peels. Strip the rosemary leaves from their stem. Set both aside.
After garlic is done you can bake your bacon on a cookie sheet at 400 degrees. This is my favorite method because your house does not get smoky. I check the bacon every five minutes and flip it. After 10 minutes check more frequently so your bacon doesn't burn. Once bacon is done reserve to the side and keep a few TBS of the bacon grease. For a vegetarian soup, skip this step.
In a large soup pot combine the reserved bacon fat, onion, celery, and carrot over medium heat and sautee until tender (10-12 minutes). Add in one can of the beans, the cauliflower, tomatoes, and 4 cups of broth. Add in rosemary and roasted garlic and bring the heat up to medium high to heat the cauliflower through. Season with salt and pepper and the red pepper flakes if you are using. Cook 5-7 minutes.
Blend the soup completely using an immersion blender, a regular blender or a vitamix. If using a blender or vitamix be sure to vent the top of the blender so it does not explode. Transfer pureed mixture back to your soup pot. Add 2 cups of the remaining broth, the remaining beans and the pasta. Keep the temperature up around medium high to cook pasta. Be sure to stir frequently so the beans and pasta do not stick to the bottom of the pan.
Once pasta is cooked through if soup is too thick add in more broth to thin out to your liking. I personally like my soup thick so I did not add any broth to mine.
Top with the reserved bacon and parmesan cheese.
Notes
For a vegetarian version – omit the bacon and saute vegetables in olive oil. Use vegetable broth
For a vegan version – do the above and omit the Parmesan cheese
Prep Time: 15
Cook Time: 120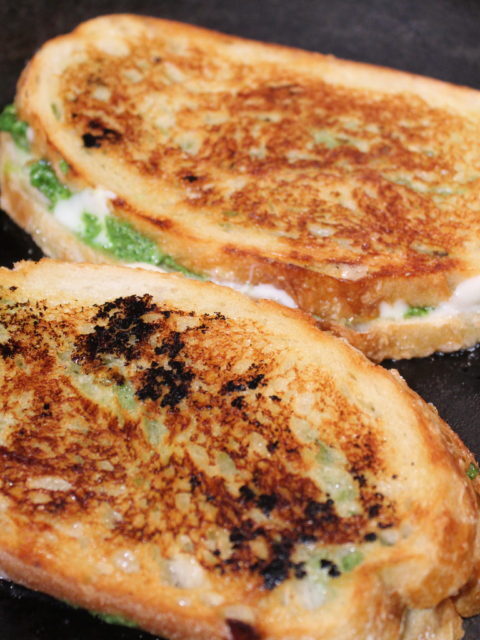 pesto grilled cheese
---
8 slices of good bread (I used sourdough and it was amazing!)
6 slices of cheese per sandwhich (I used a combination of fontina and mozzerella for an Italian version)
1/2 cup pesto (homemade or pre-made, if using pre-made the packaged stuff in the refrigerator section of the store with the fresh pasta is better than the jarred stuff personally)
2 TBS butter softened or olive oil
---
Instructions
Pre-heat a cast iron pan over medium heat on the stove. If you are using a regular frying pan you can skip this step so your pan does not get too hot.
Brush the outside of your bread with the softened butter or olive oil. Spread each piece of the inside of the bread with the pesto. Lay cheese on top of the pesto and top with the second slice of bread to make your sandwich.
Depending on how big your pan is either 2 at a time or one at a time make your grilled cheese. Check the bread after 3 minutes to see if it is golden brown. I find the first side might take 3-4 minutes. Flip your sandwich. The second side goes a little quicker so check after 2-3 minutes to ensure bread gets golden brown and not burnt. If your grilled cheese is taking a little longer DO NOT TURN THE HEAT UP. Just wait. I find that once you turn the heat up the cook is inconsistent causing bread to burn.
Prep Time: 10
Cook Time: 10
Save
Save
Save
Save