I love stuffed bell peppers, but I don't love stuffing them. I find that there is a lot of time wasted by pre-baking the pepper and then stuffing it. So I have found a way to remove some of the time and keep all the great flavor. My go-to now is my one-pan unstuffed bell peppers recipe.
Same great flavor in the filling
Stuffed peppers are usually stuffed with a mixture of ground meat, rice, maybe some veggies and a sauce. I have seen different versions out there from Mexican inspired to more traditional Italian/Greek based peppers. This version uses one of my favorite rice – Minnesota wild rice. I love using wild rice in this dish. It gives the filing some texture with it's nutty flavor and slightly crunchy bite. You can definitely just use whatever rice you have on hand but if you can I would recommend the wild rice.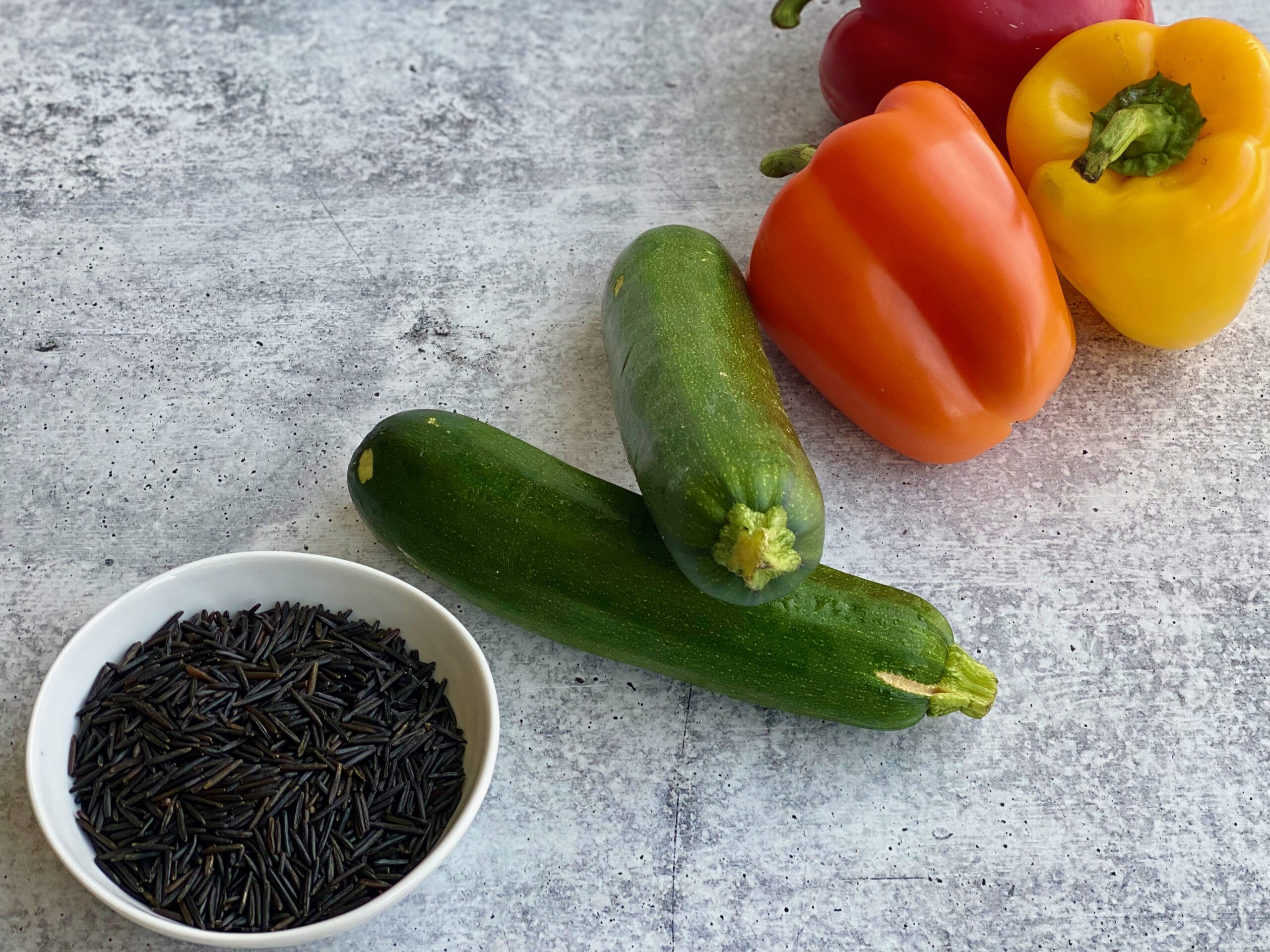 In this version I don't use meat but I use a TON of veggies. If you are new here – we don't eat a ton of meat. Especially during the week but we DO eat a lot of veggies. Since we aren't stuffing actual bell peppers in this recipe I include (a lot) of them in the filling. I dice the peppers smaller. I find a larger dice isn't great for this dish since the rice is so small and I want everything to be similar in size. In addition to the peppers I add in onions, garlic, zucchini and fresh baby spinach.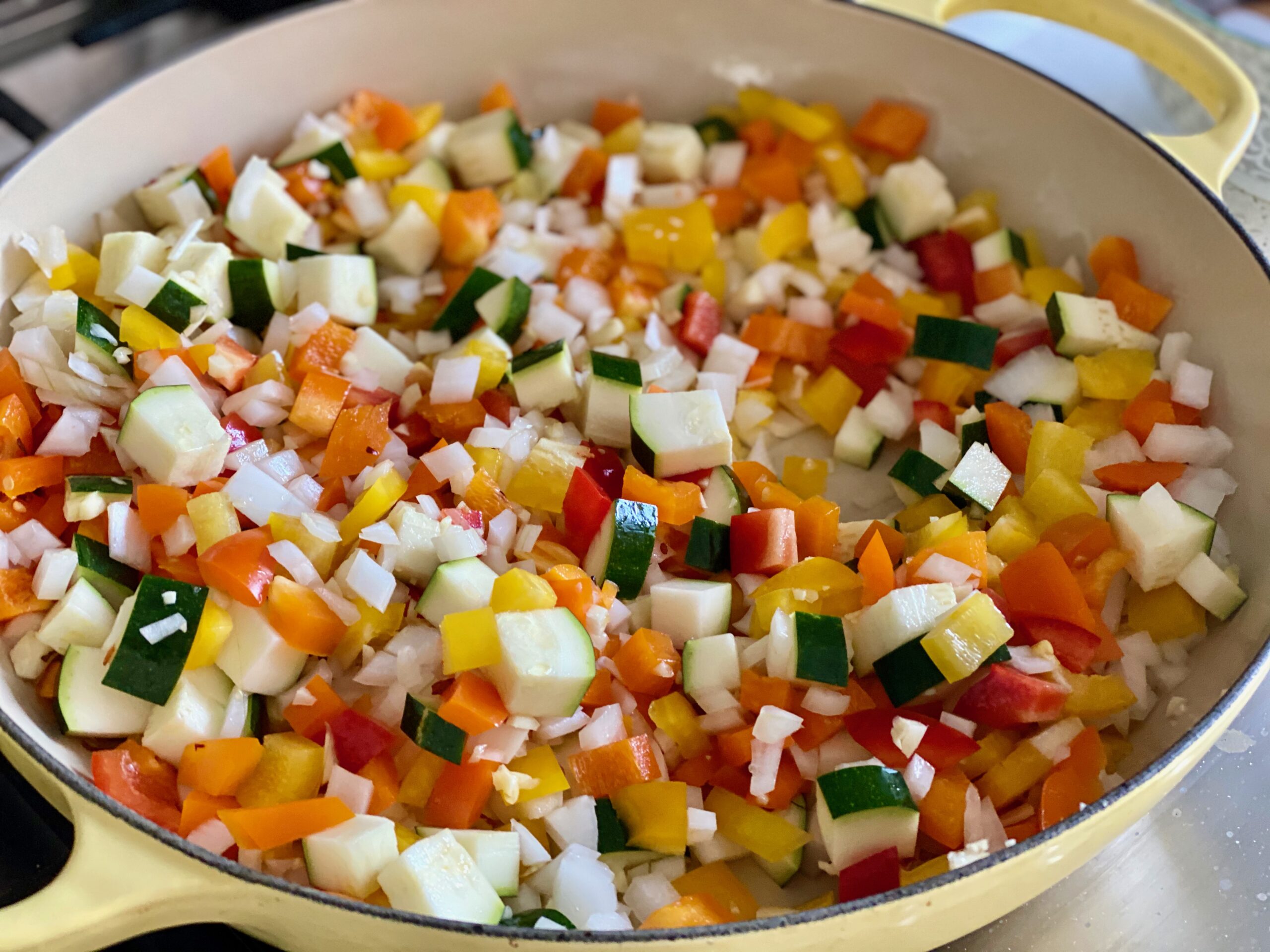 One pan wonder
The beauty about this dish is everything gets thrown into one pan to save time, and clean up. Traditional peppers you would make the filling, then stuff the peppers and put them in a separate baking dish. Not in this one pan version! I use a large braising dish to cook my peppers in like this one or even a high sided frying pan would work great. Just make sure it is oven safe since you will be putting it under the broiler.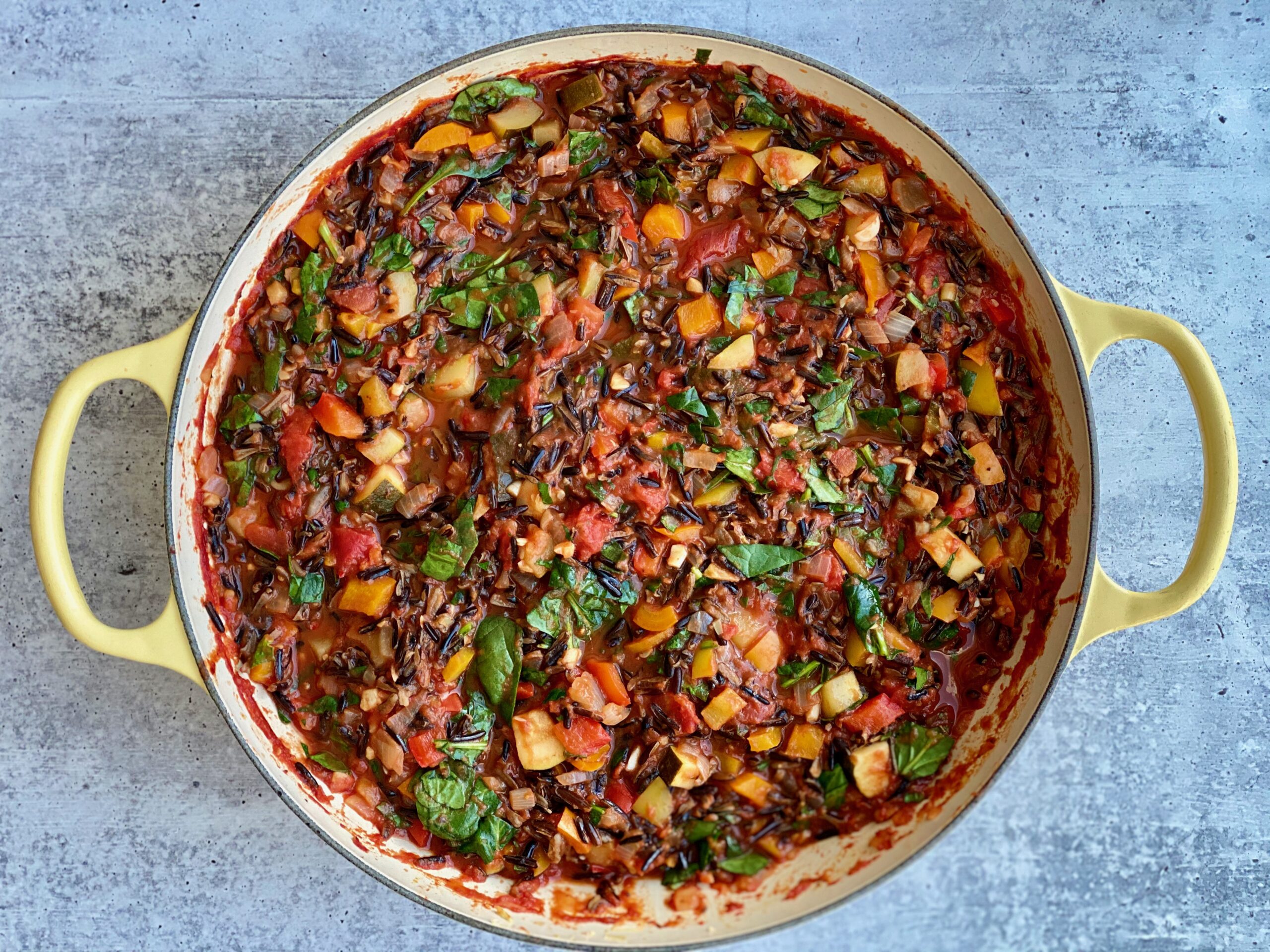 I start by sautéing all the veggies. Once they get soft I add in the tomatoes and tomato sauce and cook a little longer. I find cooking canned tomatoes for a bit really gets that raw, acidic flavor out of the tomatoes. Then I add in my cooked rice and spinach and let the spinach wilt down a bit.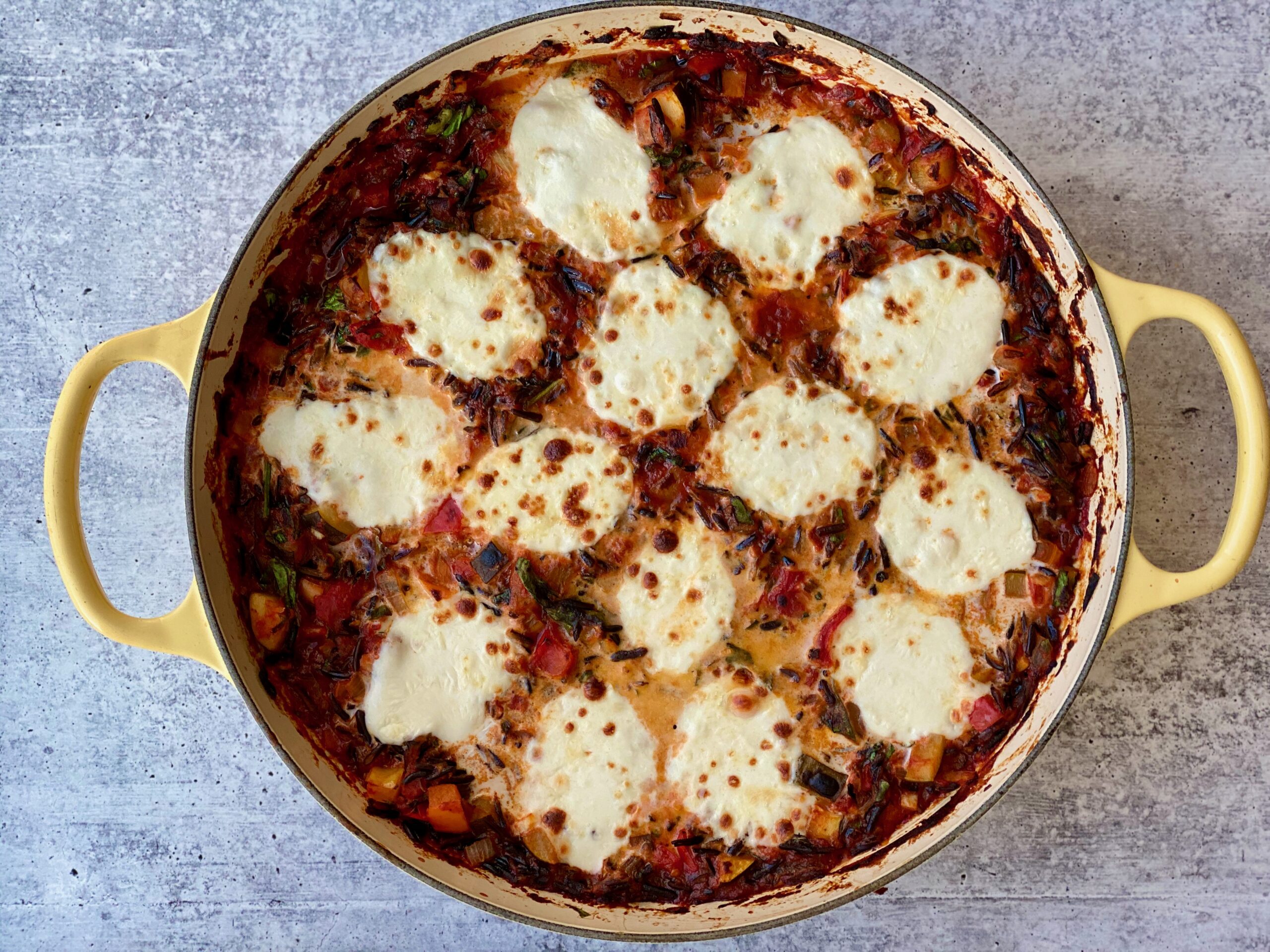 Last comes the best part, the fresh mozzarella medallions. I top of my filling with the cheese and put under the broiler for a few minutes until the cheese is bubbly. If you can splurge use fresh mozzarella here. I find when the cheese is fresh and packed in water, while it's melting it releases some of the water and almost makes the veggie and rice mix a little creamy.
So while you don't get the pretty presentation that comes with stuffing the peppers you save the time. These one pan unstuffed bell peppers will be a go to when you don't care as much about appearances and just want to get dinner on the table!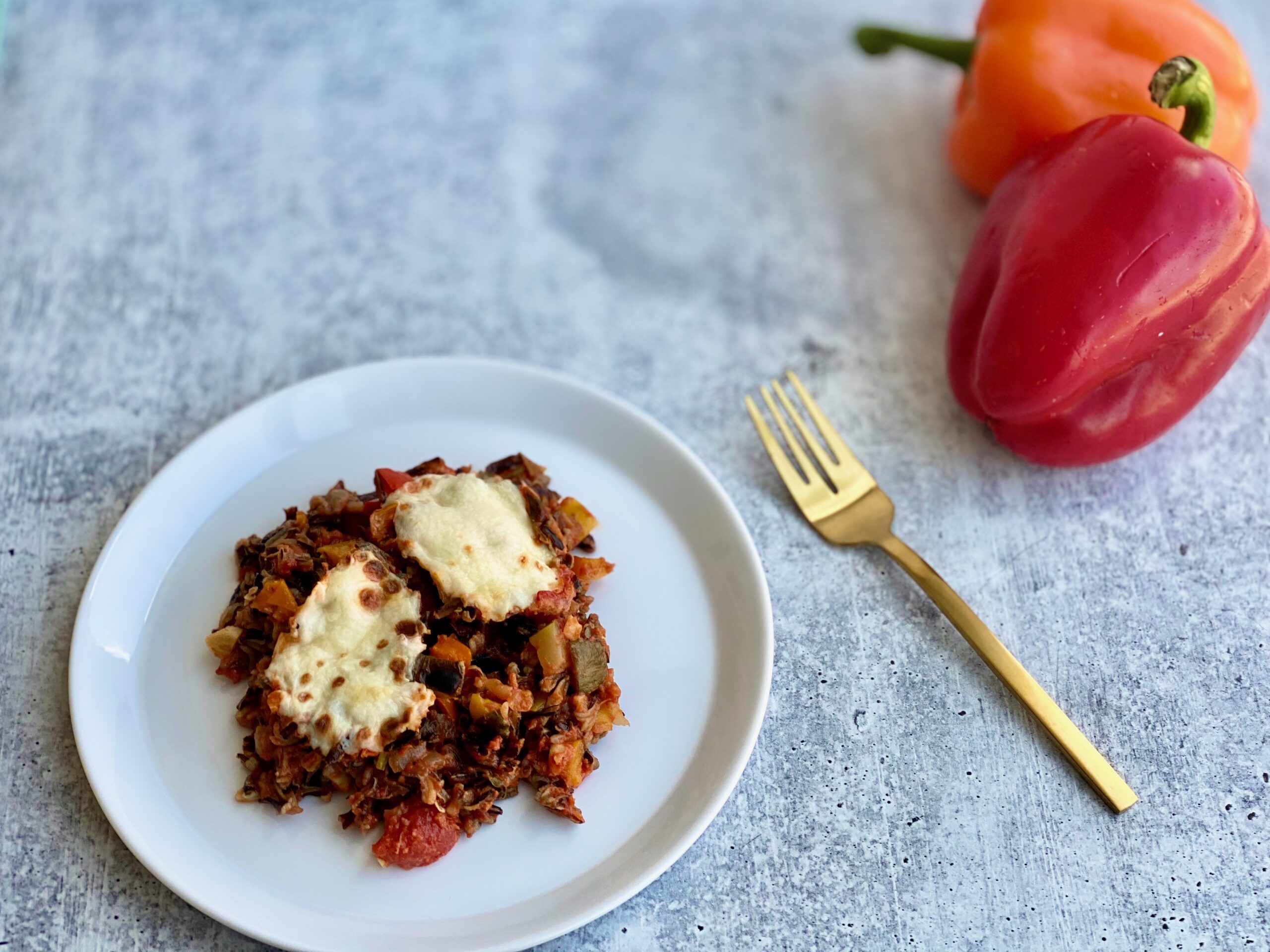 For more wild rice recipes check these out:
And remember, if you try this recipe be sure to leave a comment below and let me know how you like it or tag me on Instagram!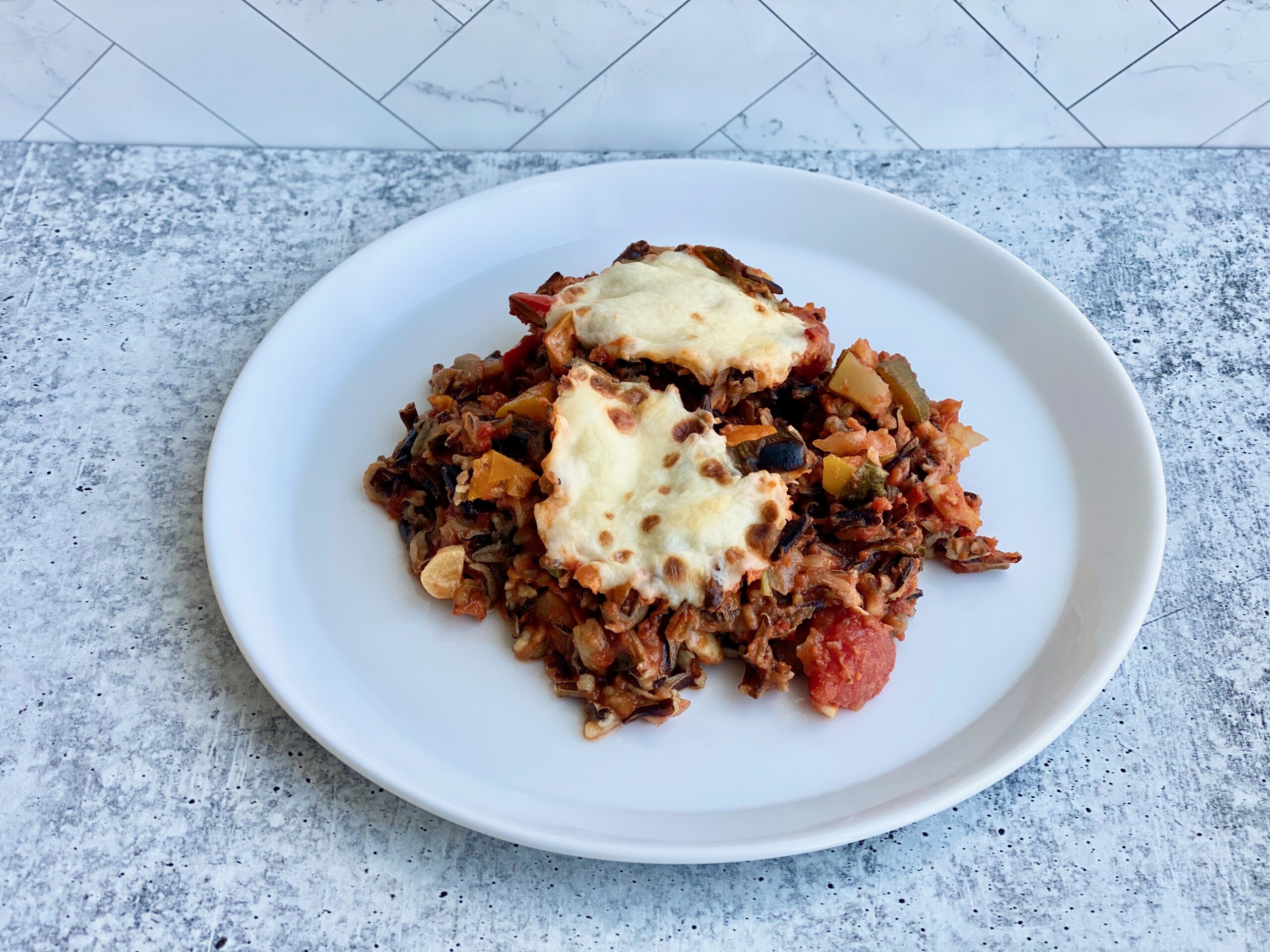 Print
one pan unstuffed bell peppers
---
Description
These one pan unstuffed bell peppers are a great way to save time but keep the same great taste of a stuffed pepper. You won't miss the work!
---
1.5 c wild rice, uncooked
2 bell peppers, small dice
1 yellow onion, small dice
2 small or 1 medium zucchini, small dice
6–8 cloves garlic, minced
1 TBS Italian seasoning
28 oz can crushed tomatoes
14 oz can diced tomatoes
3 cups fresh baby spinach, rough chopped
12 oz container fresh mozzarella medallions (small mozzarella balls will work as well)
---
Instructions
Cook wild rice according to package instructions. Usually this takes 45-50 minutes to make so I always start my rice first. For extra flavor in the rice I replace the water with chicken or veggie broth.
In an oven safe large skillet sauté peppers, onions, garlic and zucchini in a TBS of olive oil or butter for 10-12 mins over medium low heat until veggies have softened. If you like a little heat season with crushed red pepper flakes.
Once veggies are soft add in Italian seasoning, diced tomatoes and crushed tomatoes. Season well with salt & pepper. Cook 10 minutes over medium heat so the tomatoes do not taste raw.
Stir in spinach, cook a few minutes to let the spinach wilt down.
Stir in wild rice to the veggie mix.
Top with mozzarella medallions or mozzarella balls. Place under the broiler on high for 5-7 minutes until cheese is golden brown. I set my timer for 2-3 minutes to keep checking the cheese so it does not burn.
Notes
If you want to make this a meaty meal first brown up 1 lb of your favorite ground meat (pork, beef or chicken), remove from pan and add back in once you add in the rice.
Prep Time: 10M
Cook Time: 1H
Category: vegetarian