This Mexican vegetarian quinoa skillet is a quick and easy meal. Fresh veggies and quinoa are paired with a store bought sauce to save time!
During the week time is short. We get done working (either at home or in the office), I pick my daughter up, come home feed her, bath time, stories, bedtime and then MY night finally starts. My husband and I usually eat dinner after she goes to bed because I am not hungry at 6. So by the time I get started it's 8:30ish. No one wants to be in the kitchen for hours at that point so I rely on quick meals. The other night I decided to make a Mexican vegetarian quinoa skillet for dinner because I knew it wouldn't take long.
Queen-wah? Kiwi-nah? Keen-noah? KEEN-WAH….
As someone who eats mostly vegetarian I get asked about protein a lot. Most people think the obvious when it comes to protein – beans and nuts. But most grains actually have protein in them too. Brown rice, oatmeal, whole wheat pasta and quinoa.
Quinoa became trendy I feel like maybe five to seven years ago. It was all over restaurants and there was even some commercials making fun of the name. But quinoa has actually been around forever. It is high in protein, contains lots of vitamins, and lots of antioxidants. Plus what I love about this grain is that it is sturdy. So it holds up well in sauces and doesn't get mushy like an overcooked pasta. Perfect for my skillet!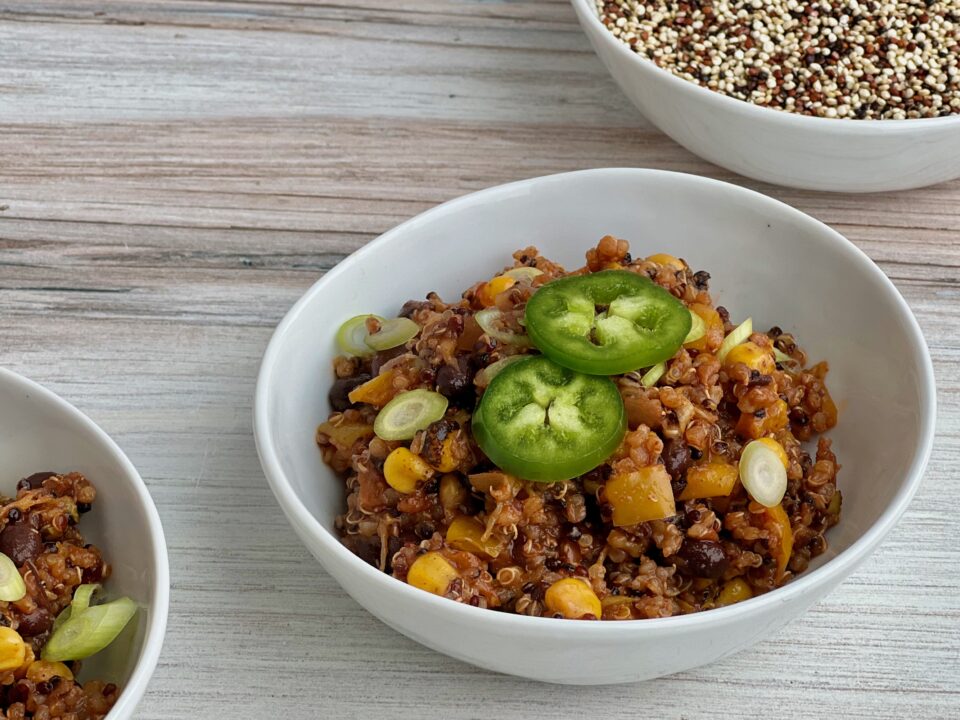 BUT if not cooked right quinoa doesn't taste good! It can be kind of bitter. So thanks to my husband I have learned how to cook quinoa so that I actually love it. For starters, like most grains I cook with, don't cook it in water. You want to infuse the quinoa with flavor so I always use broth when cooking. You can use veggie broth or chicken broth just please don't use water.
Next use aromatics. I like to throw in a few cloves of garlic, fresh herbs, seasonings etc. No wonder quinoa doesn't taste great if no one has taught us to flavor it! In this version since I am going Mexican I use bay leaves, fresh oregano and then for something a little extra – a few tablespoons of tomato paste. So with a little extra work you can make quinoa that tastes good!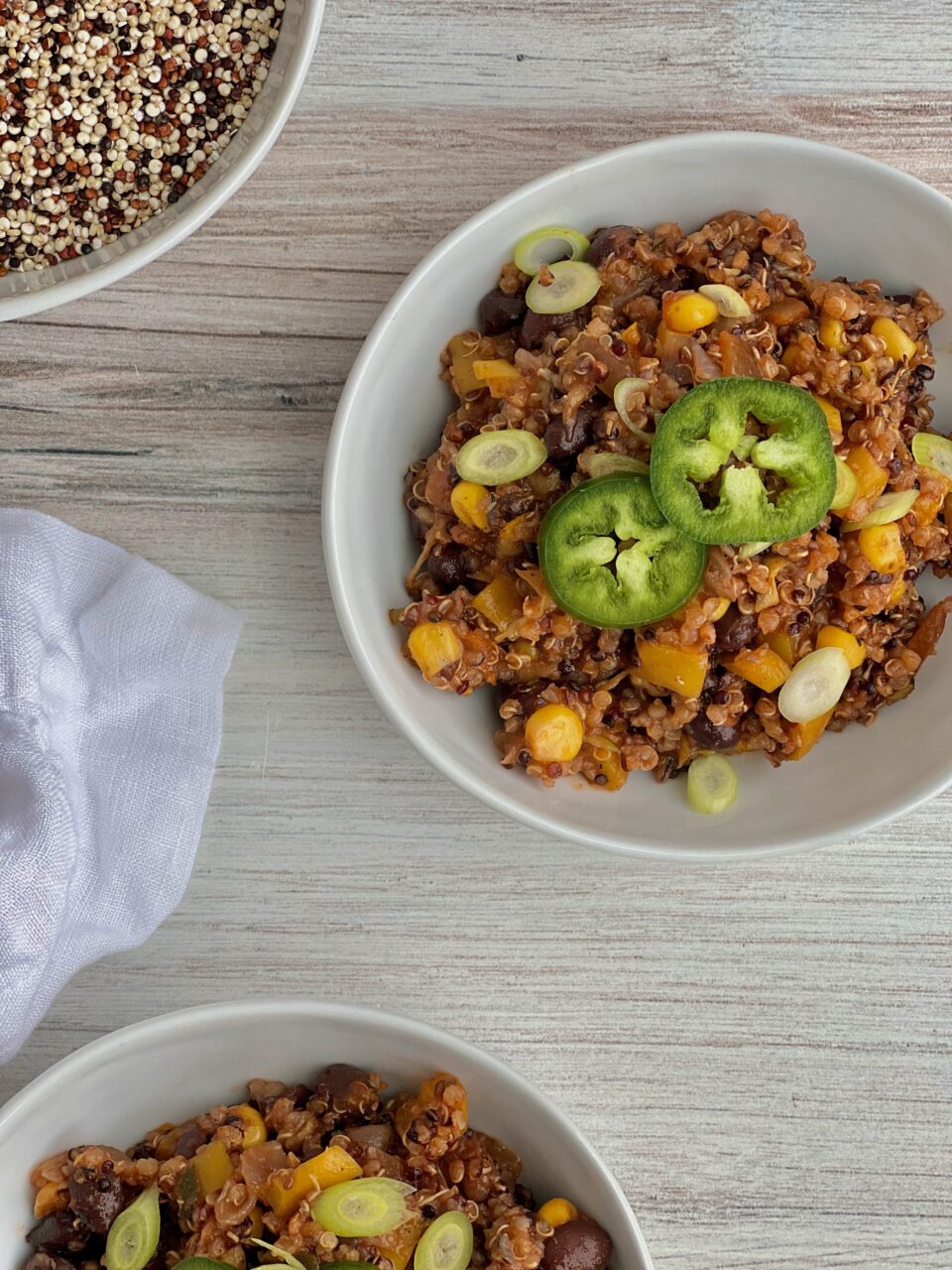 Cheating with store bought products
While we cook a ton and mostly make things homemade like our salad dressings and sauces sometimes you just need a little help from the store. I LOVE pre-made sauces by Frontera. For those of you not familiar, Frontera Grill is a restaurant in Chicago by chef Rick Bayliss. He is a renowned chef of Mexican cuisine. So if you are in Chicago I highly recommend trying to book a reservation but in the mean time for the next best thing you can buy his sauces in the grocery store.
I love the skillet sauce! My favorites are the red chili and cumin [3] and the chipotle and garlic [4] sauces. For this Mexican vegetarian quinoa skillet I prefer a red sauce. I just think it goes better with the beans and veggies. Also quinoa does tend to be a little dry so the sauce not only adds flavor but also helps the dish have more of that true taco like texture.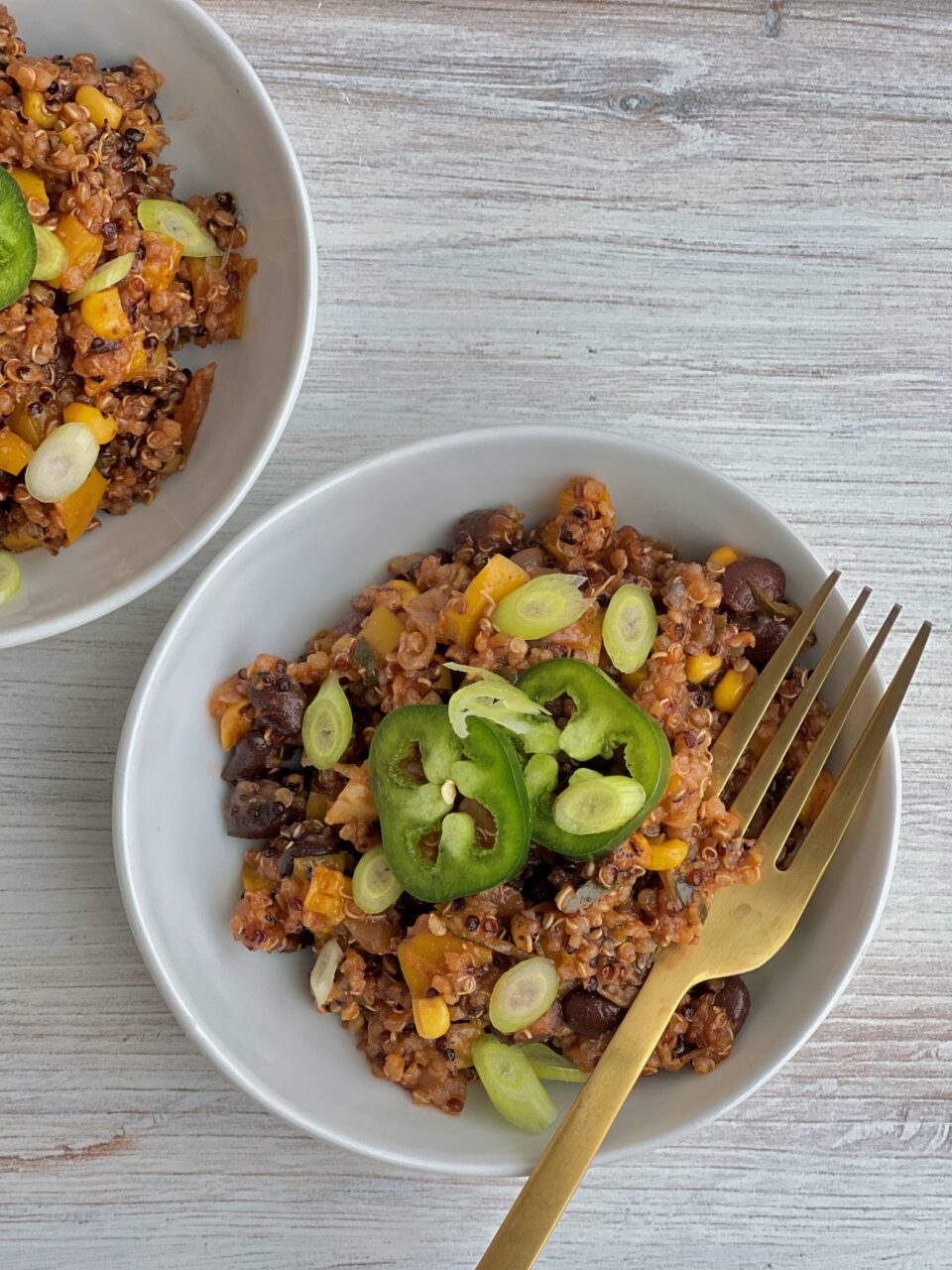 In addition to the sauce I use canned beans. It saves a lot of time and makes the dish super easy. While the quinoa is cooking the veggies get sautéed. Then everything gets added together, cooked for a few minutes mainly to warm up and that's it! The simple easy Mexican vegetarian quinoa skillet is done.
For more easy Mexican inspired recipes:
If you like one pot meals try this Mexican orzo and veggies [5]
If you need a side dish for tacos this easy Mexican rice [6] is a perfect pairing
And remember, if you try this recipe be sure to rate it and leave a comment below and let me know how you like it. Or tag me on Instagram! [7]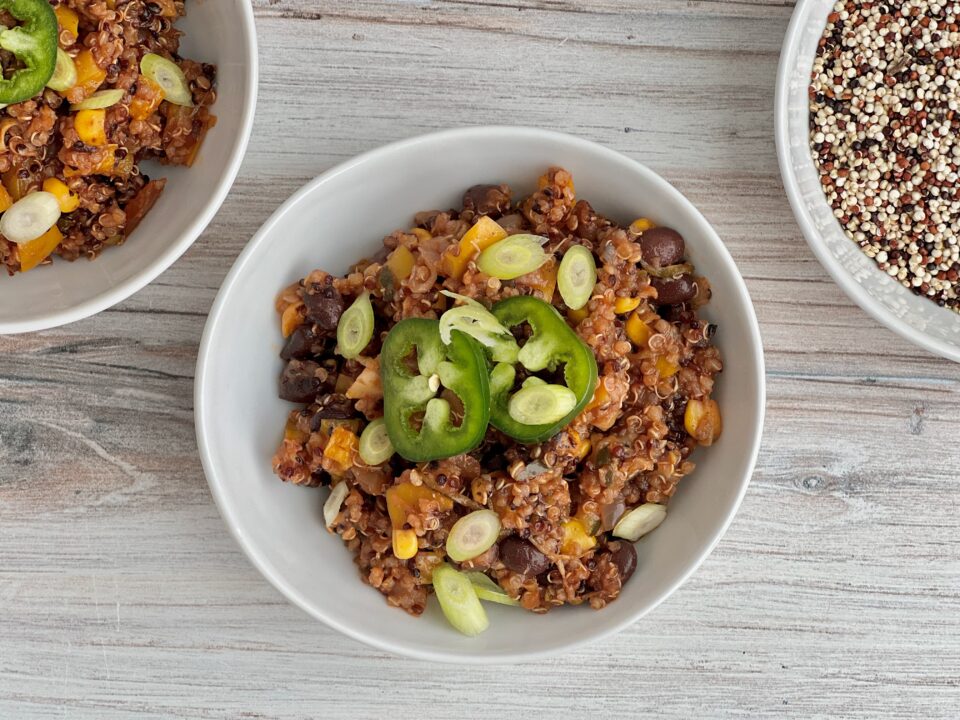 Print
[2]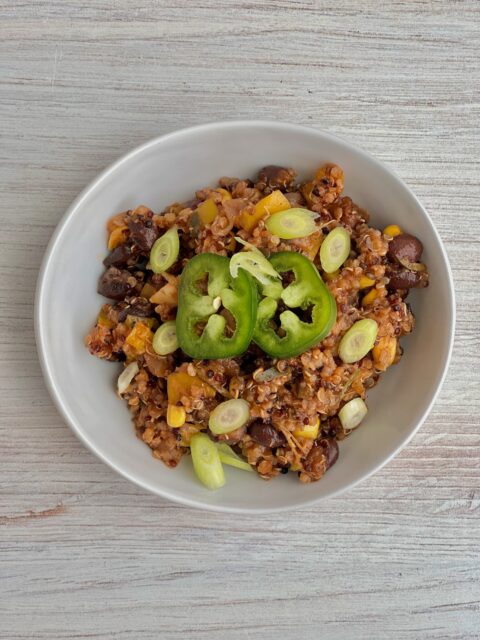 Mexican Vegetarian Quinoa Skillet
---
Author:

Karissa P [8]

Total Time:

25M

Yield:

4

-6

1

x
Description
This Mexican vegetarian quinoa skillet is a quick and easy meal. Fresh veggies and quinoa are paired with a store bought sauce to save time!
---
1

dry c quinoa or 3 c precooked quinoa (I prefer dry to add flavors!)

1

shallot, minced

2

cups

veggie broth

1

TBS cumin

4

cloves of fresh garlic sliced in half

1

sprig of fresh oregano minced

2

tbs tomato paste

2

bell peppers, small dice

1

red onion, small dice

2

small zucchini (or

one

medium to large zucchini) grated

2

cans black beans, drained and rinsed

1

c

frozen fire roasted corn
2

8

oz

packages of Frontera skillet sauce
Additional toppings for skillet: pepper jack cheese, scallions, avocado, jalapeños, cilantro
---
Instructions
Rinse quinoa for 30 seconds
Add quinoa, shallots, garlic and oregano with 1 tsp of olive oil to a sauce pan. Over medium heat toast up quinoa for a few minutes stirring so the quinoa does not burn
Next add in broth, cumin, tomato paste, season with salt and pepper. Turn heat up to high to come to a boil.
Once boiling, cover and turn heat down to low. Let cook for 15-18 minutes until quinoa is cooked
While your quinoa is cooking, in a large skillet sauté peppers and onions over medium to medium low heat for 5 minutes.
Add in zucchini, corn and beans to skillet. Cook a few more minutes until the zucchini is cooked the beans are warmed through. Season with salt and pepper.
Once quinoa is cooked add to the skillet with the veggies and stir in sauce
Let everything cook for 2 more minutes so the flavors come together
Serve with toppings of your choice
Notes
This makes a lot! If you are only serving 2-3 you most likely will have leftovers which is perfect for lunch the next day or multiple meals.
Prep Time:

5m

Cook Time:

18M