[dropcap]S[/dropcap]o if you have been following my previous recipes you probably think I am some health nut that is borderline vegetarian. You aren't far off base on that. Before I met my husband there would be weeks that would go by and I honestly couldn't remember the last time I had meat of any sort. Red meat was an extreme rarity for me. I never cooked it at home really because I do not like ground beef so for a single person the most logical consumption to avoid leftovers would be a steak and I didn't want to deal with making steaks for myself. Bison was something I had tried once. I didn't know how to cook fish really so my meat options were usually turkey, chicken, shrimp and scallops. Most of the time I didn't feel like bothering. So yes I could be a vegetarian probably quite easily.
Vegan is a whole different story. I LOVE cheese. It is my favorite food group! As much as I love it though I don't eat it a ton. I know how sneaky cheese is. A little bit and you have a TON of extra calories and extra fat into a dish. My husband likes cheese on his salads but he used to put a LOT of cheese on his salads. We read an article about being "healthy fat" like you think you are doing everything good and healthy like eating salads but then you load them with dressing and cheese and your salad becomes the equivalent to a burger! I at least have very strong willpower and I can use just a little. That doesn't lessen my love for this food though.
And I DO love me some macaroni and cheese. If I go to a restaurant and they claim they have "the best macaroni and cheese" they better be prepared to back it up. I judge a restaurant on this claim. People think mac and cheese is easy. Maybe that is because we grew up our whole lives making it out of a box with some bright orange powdery substance that we were taught to call "cheese" in 10 minutes or less. Homemade mac and cheese isn't terribly hard. It definitely intimidates some people but it is 100 times better than anything that comes in a box. To me it's a treat. It's a comfort food that I absolutely love but only let myself have on special occasion. It has also become a go to for me to make for large amounts of people for special events. Holidays, birthdays, parties, etc. It takes just as much effort to make a small batch as a big one so it's easy to feed a lot of people with it. I have experimented left and right with combinations of mac and cheese. I have made broccoli and cheddar, gouda and cauliflower, beer and bacon, green mac and cheese (lots of spring time veggies), lobster mac…..you name it I have probably tried it. Some have definitely turned out better than others.
For a long time I had issues with my cheese sauce. Sometimes the cheese would separate and the sauce would turn gritty. Sometimes it would be a smooth sauce and then I would pour it over the noodles and this would happen (I am totally convinced it was the whole wheat pasta I was using that was causing this….) I have read many different articles on this particular subject (so clearly I am not the only one) and now try EVERYTHING I can to prevent this from happening. It still tastes ok if this happens but the texture is just off. I would definitely tell you I have experimented with perfecting the art of making mac and cheese.
Now that I have the tricks all down, mac and cheese is really simple and once you nail the foundations you can really start to mix it up. Essentially mac and cheese starts with a béchamel (white) sauce which is a roux (fat and flour) and milk. From there the possibilities are endless. What types of cheese you use, what flavors you add to the sauce, what kind of noodles do you use, do you add in meat or veggies, is it a stovetop mac or do you put it in the oven with breadcrumbs…so many possibilities. The point is get the béchamel sauce down and then play!
My husband is from the south. He loves all food spicy and really likes Mexican food as in could eat it EVERY DAY. So on his Birthday this week I knew that I would make him some kind of meal like that. I can whip up basics when it comes to Mexican. I make what he has said is "better pico than a Mexican makes", enchiladas, rice and beans but I don't know how to cook meat like they do in Mexico. Probably because I don't eat a lot of meat on my own. Since I know he LOVES barbacoa beef and I wanted to make him some for his birthday. Also I didn't think winging it or changing a recipe would really work in this case. I actually followed a recipe for the first time cooking in awhile. I don't know what beef barbacoa is supposed to taste like but he said it was really good. The recipe I used is found here.
However, I did decide to make a "Mexican" mac and cheese. To make the mac Mexican inspired I found some spicy cheeses that worked well together. Whole Foods has an awesome 3 Pepper Gouda (I think this is so much better than a standard pepper jack) and a hatch chili cheddar so I used both of these along with some random Trader Joe selection that had a sign saying "great in mac and cheese" which was a Red Leicester Cheddar with chili and red bell pepper. I am not sure what it really was but it tasted good.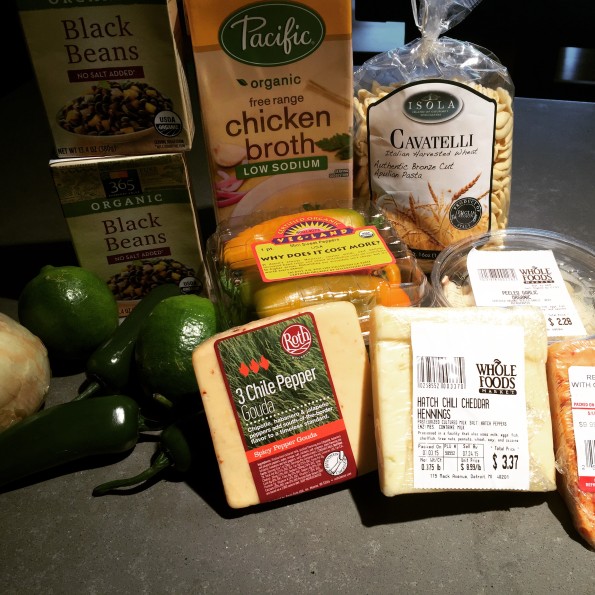 Of course I wanted more veggies in it (my attempt to make anything fattening healthy) so I used baby bell peppers, onion and jalapeños in my sauce.
I seasoned with a lot of cumin, chili powder and cayenne. When I use liquid for a béchamel my other secret to cutting down calories and fat is to use chicken broth for the milk. I usually use half milk and half chicken stock or sometimes 100% chicken stock. Once you stir the cheese in the sauce gets creamy anyway so you don't even realize you are missing the milk. For this recipe I also added in some beer when I was making the roux which gave a little something extra.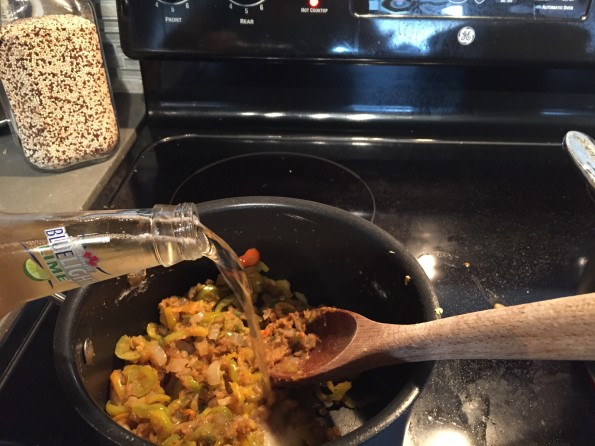 Once the cheese sauce was done I poured over my noodles and added in black beans.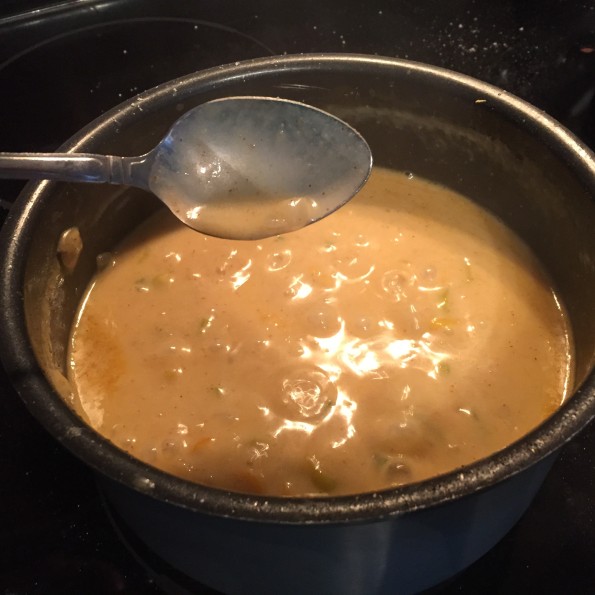 I then topped with heirloom tomatoes, scallions and avocado. Everything turned out amazing. If you wanted you could turn this into a one pot meal and add in some grilled chicken or ground meat of your choice. If you want to go 100% vegetarian you could use veggie stock instead of chicken. It's all about the METHOD and not so much the exact ingredients.
Feliz Cumpleaños Chase!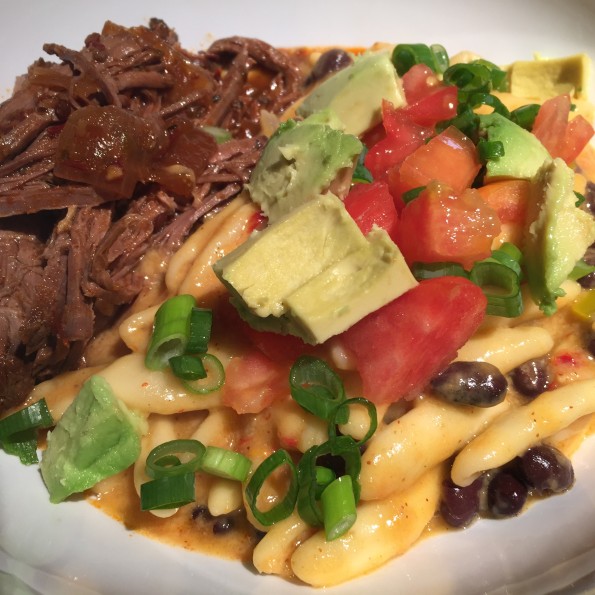 Print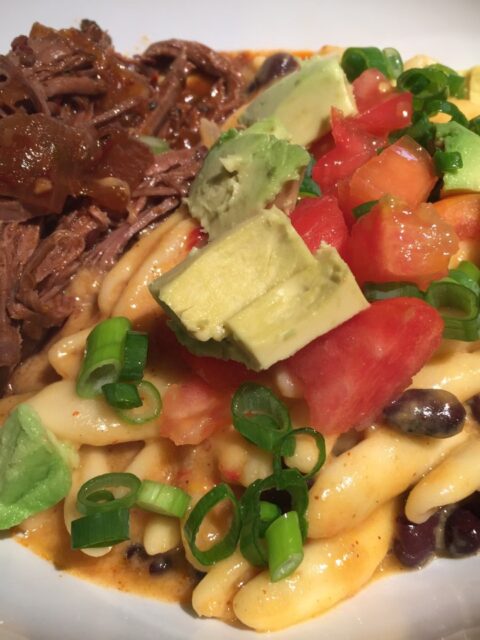 southwest mac and cheese
Prep Time:

25

Cook Time:

25

Total Time:

50 minutes
---
1

yellow or white onion diced very small

2

bell peppers any color diced (my store didn't have the normal sized bell peppers so I used

5

–

6

baby bells sliced in rings)

2

–

3

cups of shredded cheese (I used

3

chili pepper gouda, hatch chili cheddar and a Red Leicester Cheddar, you can use any combination of cheese you like, pepper jack would be good in this mix as well)

6

cloves of garlic minced

1

jalapeño diced small (I used the seeds and ribs, if you don't like any spice omit or remove seeds and ribs of pepper)

4

TBS of "fat" (olive oil or butter or a combination of the 2)

6 oz

of light beer (I used a lime beer to go with the theme)

2

c. of chicken or vegetable

1.5

c. of milk (I recommend at least 2%, if you are going to use skim milk you should skip milk and use

4 cups

of stock instead)

3

TBS cumin

1

TBS chili powder

1/8

–

1/4

tsp cayenne pepper (depends how hot you like your food, start with a little you can always add more, you can't remove what you put in!)
Salt and pepper to taste (I typically use 6 cracks of salt in a grinder and 7-8 of the pepper, this is a hard one for me to measure because salt is a total preference, start with a little of each and add in as you taste your food)

¼

c. flour

2

cans of black beans rinsed and drained

1

lb of dried pasta

1

lime
Optional toppings
Diced tomatoes
Scallions
Cilantro
Avocado
Tortilla strips
---
Instructions
Bring water to a boil for your pasta in a big soup pot (you will use this pot to make the mac and cheese after pasta is cooked).  Start making the sauce (below) while your water heats up.  Whenever your water is boiling cook pasta according to directions (usually 8 minutes for al dente) and drain.
In a small saucepan combine chicken broth and milk and heat over low.  In a large saucepan (something that will hold 3-4 quarts) over medium heat combine "fat", bell peppers, onion, garlic jalapeños, cumin, chili powder, cayenne and salt and pepper.  Cook until the veggies are tender, 8-10 minutes (my test is if the onions are done.  You don't want a raw onion in this sauce so take a little nibble to see!).  Once veggies are cooked through sprinkle flour into the veggie mix and mix well.  Let the flour cook at least 2-3 minutes.  (this prevents your sauce from tasting doughy).  Turn the heat up to medium high.  Add in the beer and whisk.  You will notice right away as the alcohol cooks out of the beer the veggie mixture starts to get really thick.  Once the alcohol in the beer has cooked out add your chicken stock and milk.  Start to whisk to get all of the flour clumps smooth.  Continue to whisk every few minutes while the mixture is heating up.  The mixture will eventually come up to a slow boil.  Continue to whisk.  This part is important once the liquid is gently boiling especially if you are cooking with milk.  You do not want the milk to scorch.  There is nothing worse than the taste of burnt milk.  Continue to whisk over medium heat for a few minutes.  You will notice that the sauce is going to start to thicken up.  You want the sauce to coat the back of a spoon nicely.  Remove this pot now from the heat.  Add in 1/3 of the cheese.  Whisk to melt the cheese and incorporate into sauce.  Continue to do this 2 more times until all cheese is added.  Leave off the heat, squeeze in juice of one lime and stir.  If you find your sauce is too thick you can thin out with 1/8 c. of chicken stock at a time.
Place cooked pasta back into the big pot.  Add in black beans.  Slowly add in sauce and stir to combine (I added in a half at a time).  If you cook your pasta al dente the pasta will cook a little more in the sauce.  If you wanted to add in some kind of meat you could add it here.  Let everything sit and come together for a few minutes.  Serve with fresh tomatoes, scallions, avocado and cilantro if you like.
---
---