This lemon chicken rice soup is easy to make. Roasted chicken provides extra flavor while the lemon gives the soup a little something extra!
When I think lemon chicken rice soup my mind instantly goes to the Greek style avgolemeno soup. It is traditionally made with rice, lots of lemons and eggs for a thickening agent. I was making soup and wanted something lemony but didn't really feel like the eggs so I put a brothy spin on a soup I love and made this version.
No more poached chicken
For any soup I make, this lemon chicken rice soup included, if I want chicken I no longer poach it. To me poached chicken comes out kind of rubbery. I feel like it's never juicy either. So now I ONLY roast my chicken in the oven.
Keys to a flavorful and juicy roasted chicken:
Season the outside LIBERALLY with salt and pepper. I don't mean a few cracks I mean enough so you can clearly see there is lots of salt and pepper on it
Season UNDER the skin with aromatics – loosen the skin against the breast to create a pouch. Then stuff your fresh herbs and garlic cloves under the chicken
Don't OVER bake it – I check my chicken after 25 minutes always and see what the temperature is at. More times that not one breast will be done and the other won't be. So I take the one that's done out and check the other one every 3 minutes to make sure I don't overcook it. Overcooked chicken makes for a dry chicken. When my meat thermometer reads 165 I know I am good.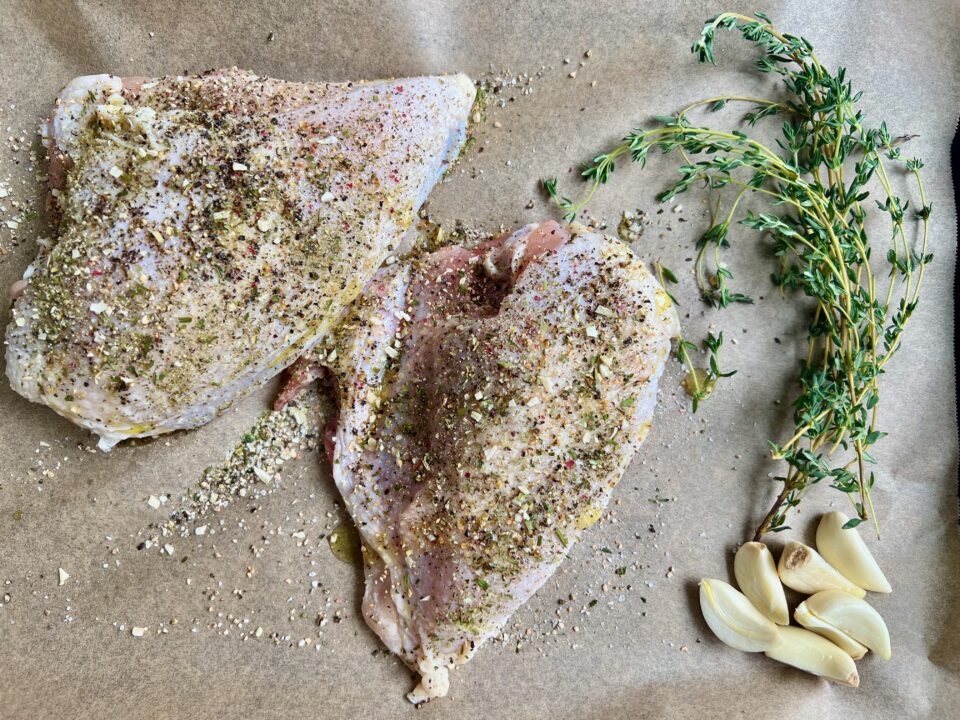 Veggies, veggies and more veggies
Per usual this soup is loaded with vegetables. With this soup I like the veggies chopped very small. Think grated carrots and zucchini, very thin cut celery, small diced onion and small pieces of fresh baby spinach. Remember, we are using rice in this soup. So I like the veggies to be small because the rice is going to be small. It makes the soup more consistent and uniform.
Be prepared
Once the rice is added to the soup it will start to absorb a lot of the broth. When I made this soup initially almost ALL my broth was gone. Lucky for me I had just made a bunch of homemade chicken broth so I had some extra on hand.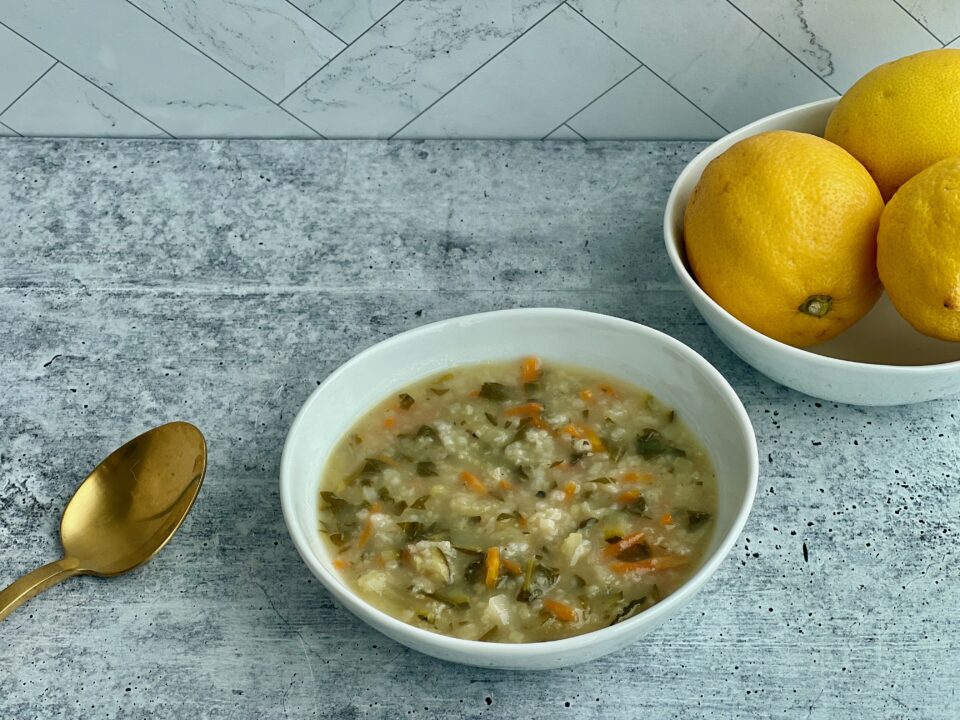 Buy an extra box or two of broth just in case. That way if the soup thickens up (especially the next day) you can thin it out a little. Alternatively you can also just add water but water doesn't have all the great flavor that chicken broth does.
While this lemon chicken rice soup isn't the classic avgolemeno version that I know and love it's still really delicious. The lemon gives it a little something extra that a regular chicken with rice soup just doesn't have. I hope you enjoy it as much as we did!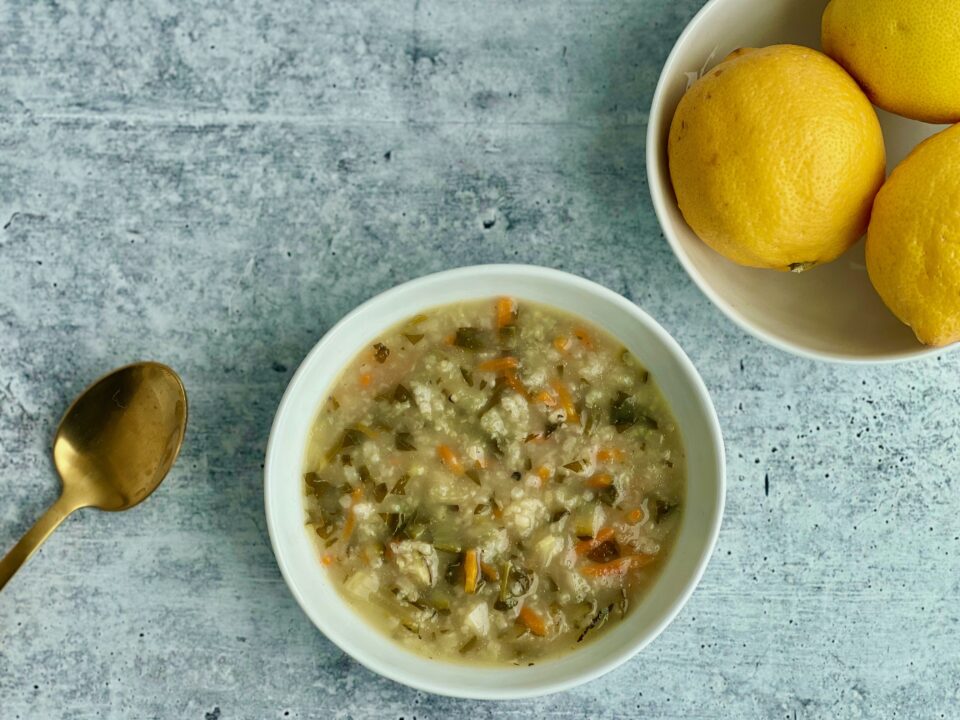 For more lemon inspired recipes be sure to check these out:
For another easy soup this lemon couscous soup [3] is one of my regular go-tos
The most searched recipe on the blog is this easy lemon garlic parmesan rice [4] which makes a great side dish
For a lemony basil pasta try this recipe out [5]
And remember, if you try this recipe be sure to rate it and leave a comment below and let me know how you like it. Or tag me on Instagram! [6]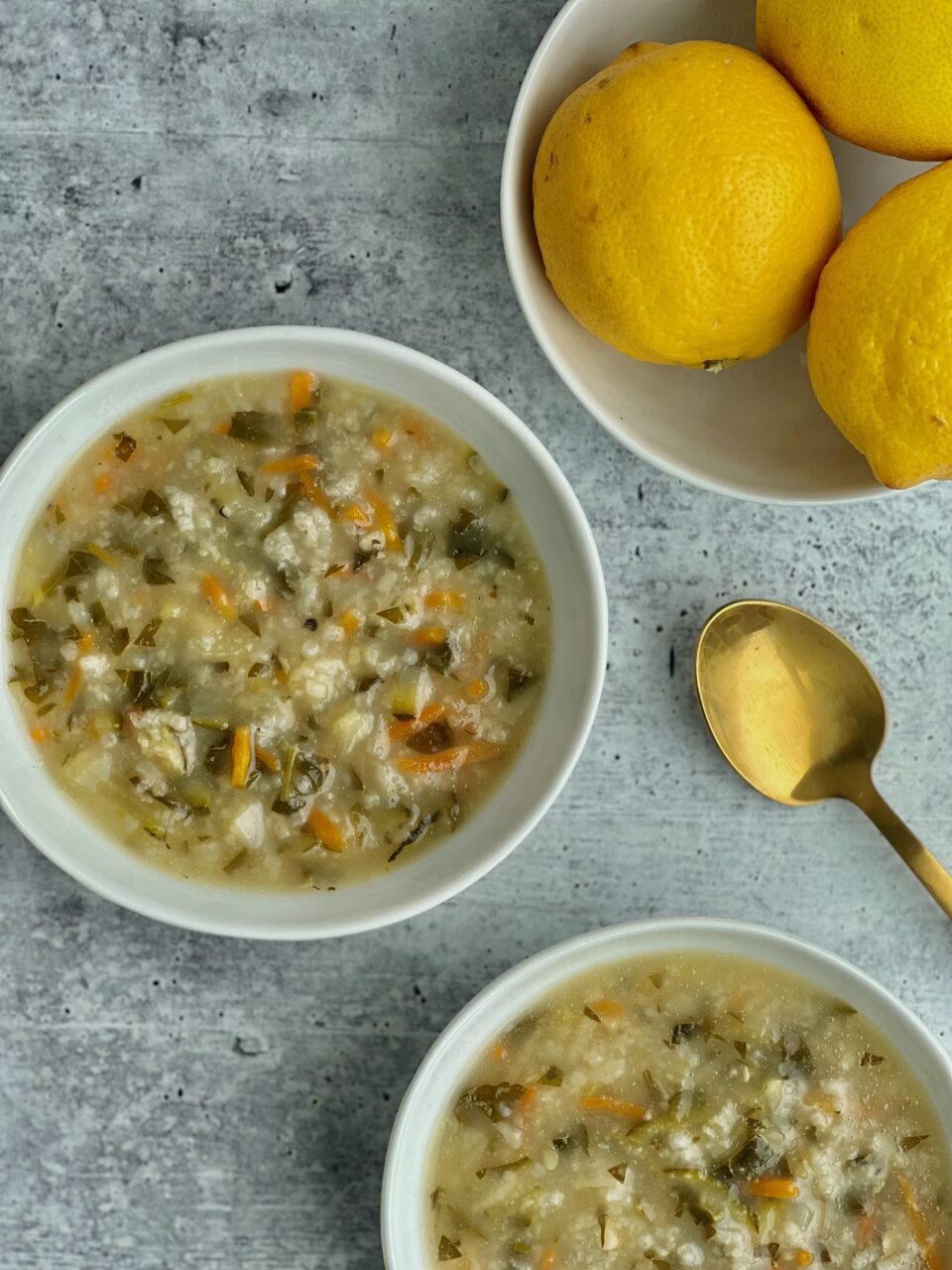 Print
[2]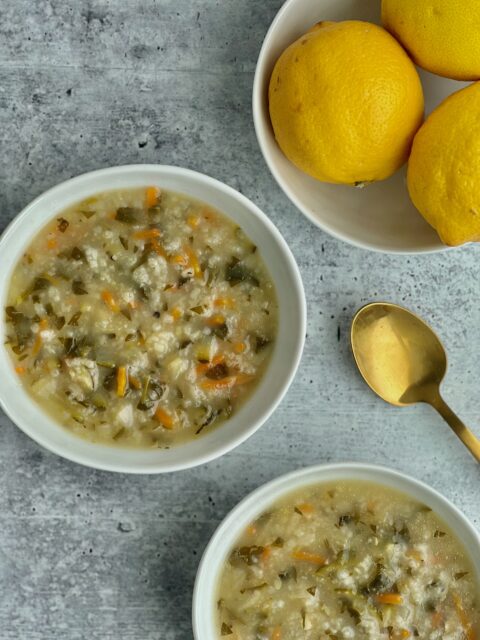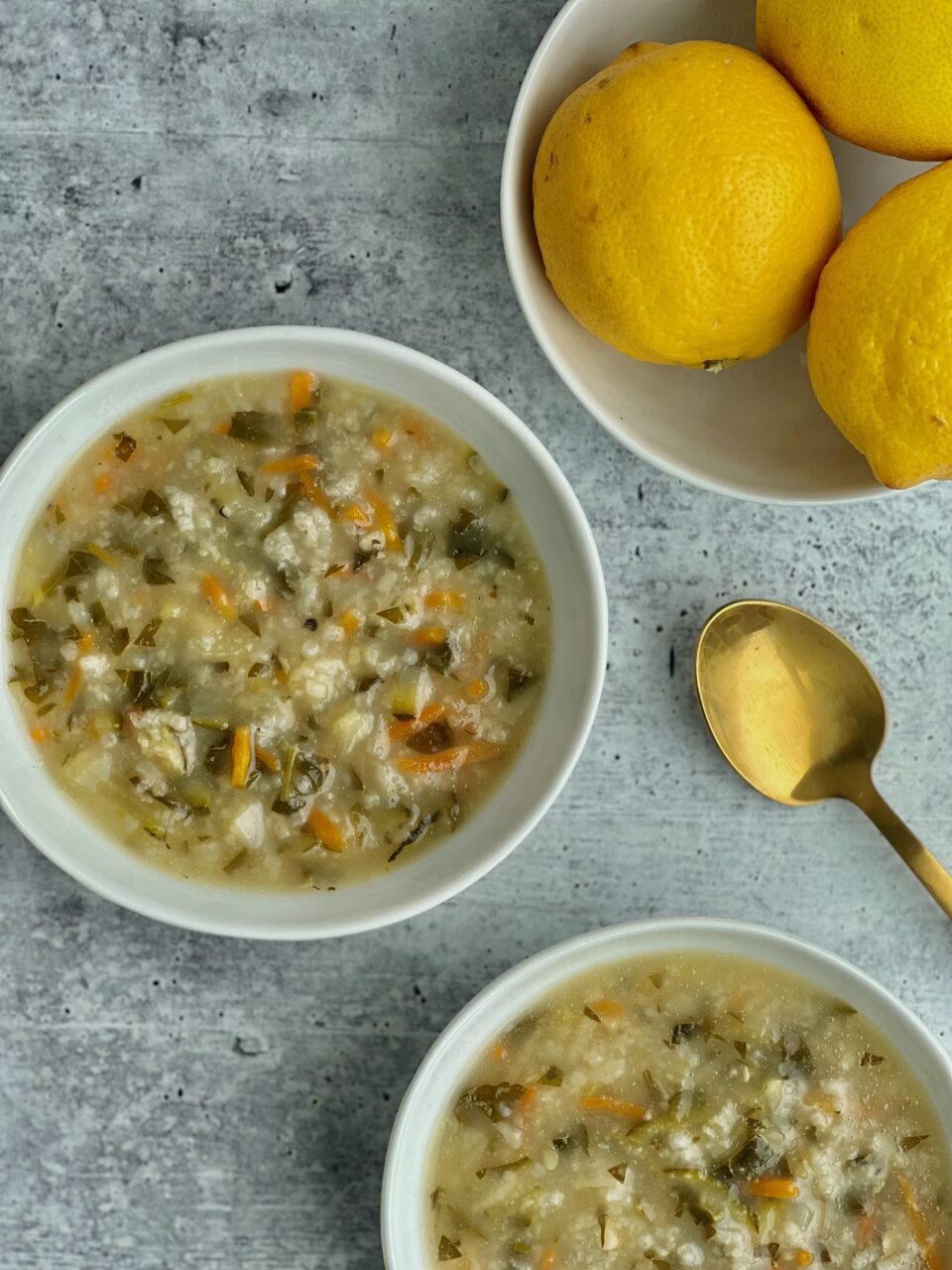 Lemon Chicken Rice Soup
---
Author:

Karissa P [7]

Total Time:

45m

Yield:

6

-8

1

x
Description
This lemon chicken rice soup is easy to make. Roasted chicken provides extra flavor while the lemon gives the soup a little something extra!
---
For the chicken:
2

bone on skin on chicken breasts

6

whole garlic cloves sliced in half

6

–

8

sprigs of fresh thyme
salt and pepper

1

TBS olive oil
For the soup:
6

–

8

stalks of celery, thinly sliced

3

carrots, grated (or

1

c already grated carrots)

1

yellow onion, diced small

5

cloves of garlic, minced

2

bay leaves

2

medium zucchini, grated

12 – 16

c

chicken broth (4 32 oz boxes of broth)

2

–

3

large handfuls of fresh baby spinach chopped small

1

c

white rice, rinsed (I used basmati in this, if you want to use brown rice I would recommend cooking separately and then adding to the soup)
Juice of

3

lemons
A large handful of Italian parsley, minced
Parmesan cheese for topping (optional but really good!)
---
Instructions
Pre-heat oven to 425
Place chicken on a parchment lined cookie sheet or baking dish. Prior to touching the chicken set out your thyme and garlic cloves. Season the outside of the chicken LIBERALLY with salt, pepper and the 1 tbs of olive oil.
Using your hands separate the skin from the breasts of the chicken to create a pocket. Place the thyme sprigs and garlic cloves under the seasoned skin.
Bake at 425 for 25 minutes. At the 25 min mark check the temperature of your chicken with a meat thermometer. The chicken should read 165. I find usually one breast will be done before the other. If the chicken is not cooked thru place back in the oven and check every 3-5 minutes so the chicken does not dry out. Example if the chicken was at 125 I wouldn't check in 5 minutes but if it was at 150 I would check at 3 minutes. Once cooked set aside.
While the chicken is cooking in a large soup pot sauté celery, onions, carrots, garlic and bay leaves over medium low heat for 10-12 minutes until veggies have softened.
Add in 12 cups of broth (3 quart sized boxes) and zucchini. Bring up to medium high heat for to a gentle boil. Season well with salt and pepper. If you are not using low sodium broth don't add to much salt without tasting broth first.
When soup is gently boiling add in rice and spinach. Turn heat down to medium. Cook until the rice is cooked thru depending on what type of rice you are using continuing to stir occasionally.
Stir in Italian parsley and juice of the lemon
At this point if your rice has absorbed a lot of the broth add in a few cups until you get your soup the consistency to your liking. I like this soup on the brothier side.
Shred the cooked chicken and add to your soup bowl or directly to the soup pot.
Top each bowl with a little squirt of fresh lemon juice and some parmesan cheese and serve
Notes
For a vegetarian version omit chicken and use veggie broth
This soup will thicken up overnight because of the rice – to thin out the next day add more broth or water to the soup
Prep Time:

10m

Cook Time:

35m

Category:

soup
Keywords: soup, chicken, rice, lemons, veggies