[dropcap]I[/dropcap]am not sure if I have mentioned enough my LOVE for travel. Especially international travel. I don't regret too many things in life really because I believe that whatever experiences you go through, good or bad, will teach you a lesson. You will learn something about yourself through your experiences. However, one thing I wish I would have done that I can't go back and change, is study abroad in college. I had taken 4 years of Spanish in high school. My friends and I had gone to Mexico for 2 ½ weeks summer going into senior year for school even. When I got to college my Spanish teachers were crazy. I felt like I wasn't learning anything in class. I did my year of Spanish to satisfy my international business certificate and that was about it. Then I met my college boyfriend. Being the crazy 19/20 year old who didn't want to be away from a boy for 6 months I never pursued going abroad.
In hindsight this is something I definitely would do over again. So I made a vow to myself as I got older to travel. I decided life is too short to not live it RIGHT NOW. I am good about saving money for retirement. Probably better than some people my age. I also realized I was saving a lot of money. Money that is all wrapped up in a 401K that I can't touch until I am 62.5 years old. That is a long time from now! I decided I wanted to enjoy the life I have while I have it. Life is short and you never know when things will come up and change everything. My bucket list was always Spain, Greece and Italy. I made my dreams come true recently with 3 European vacations in the past 4 years. I finally have a good balance to enjoying this present moment and saving for the future.
If you are reading this you also know I have a passion for food. I love good quality food. It doesn't have to be a 5 course meal, just good food with good ingredients. When we were in Italy I decided to keep a food journal. I knew I would be eating some of the best food over there and I wanted to remember how to make it. My husband and I are both foodies so we would talk to our servers to find out what is in the food we were eating (the language barrier made that interesting) Often times we would wind up in the kitchens at restaurants talking to chefs and seeing the food cooking. It was a great experience.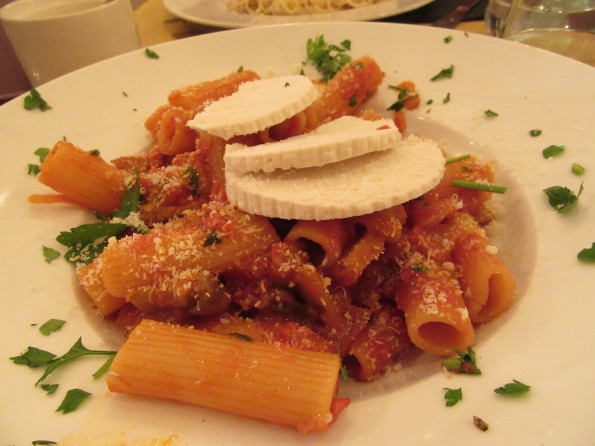 While in Italy we ate a lot of eggplant. Eggplant is one of those veggies where sometimes I like it sometimes I don't and I think that is 100% dependent on how it is prepared. Sometimes it can taste very bitter. When we were in Italy it was prepared in pasta dishes mainly. Usually cubed up and put into a pasta with a tomato sauce. Stay tuned because I will be making dishes to re-create what I ate over there at some point. This dish was just an inspiration, not a re-creation. My husband and I were talking about how much we liked it and how we needed to try it at home. I started reading online how you should prepare eggplant. I knew you were supposed to salt the eggplant before you cooked it to draw all the moisture out so the eggplant doesn't become mushy and soggy. What I didn't know is some people salt eggplant to draw the bitterness out as well. (maybe that's why I sometimes don't like eggplant, because it's bitter!).
We also recently received a veggie spiralizer for one of our wedding gifts. This has quickly become my new favorite kitchen gadget. We have been doing a lot of no carbs at dinner and this is a good way to do a carb fake out. I have been making "zoodles" with my spiralizer (zucchini noodles) and thought how a good "not-sa" (not-pasta) meal would be good. This meal turned out to be a total fake out meal. The eggplant was hearty and replaced the "meat" in the meal and the zoodles were almost like eating pasta without the gluten and carbs. ALMOST….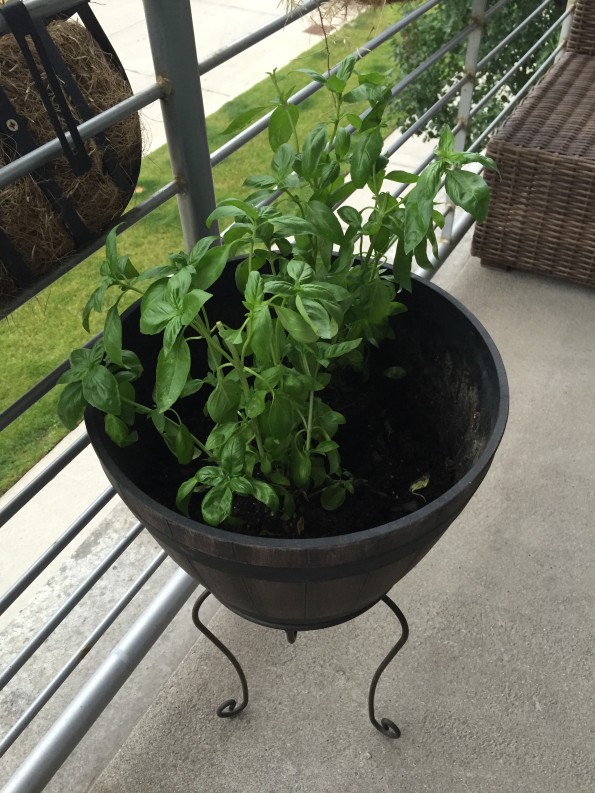 To make the eggplant my husband (he probably thought I would take ALL the credit!) sliced the eggplant in ½ inch thick circles. We liberally salted them and let them rest on paper towels for 30 minutes. In the mean time I put some olive oil on the stove with 2 cloves of smashed garlic and a ton of fresh minced basil. (from my patio planter and for those of you how know me, I have kept basil successfully alive this summer for 3 weeks. Biggest basil accomplishment yet!) I put that mix on low just to infuse the olive oil with a really good flavor. Once the olive oil cooked for a little bit I brushed the eggplant slices with the oil mix, salt and pepper and my husband grilled them for me outside.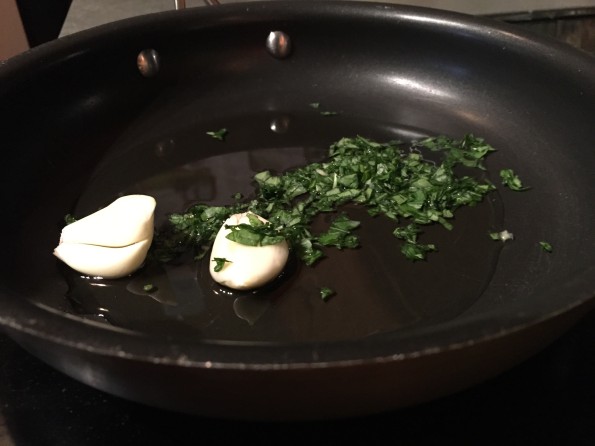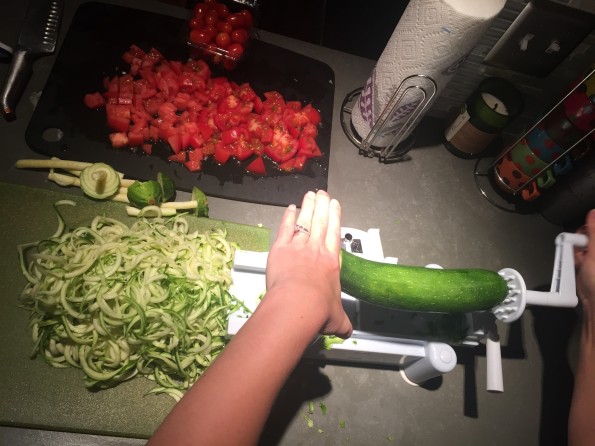 I used the spiralizer on 5 medium zucchini which wound up making too much. If you are cooking for 2 and even want leftovers 4 would have been plenty. If you don't want to spend the money on a spiralizer I used to use a julienne peeler like the one found here that worked just as well.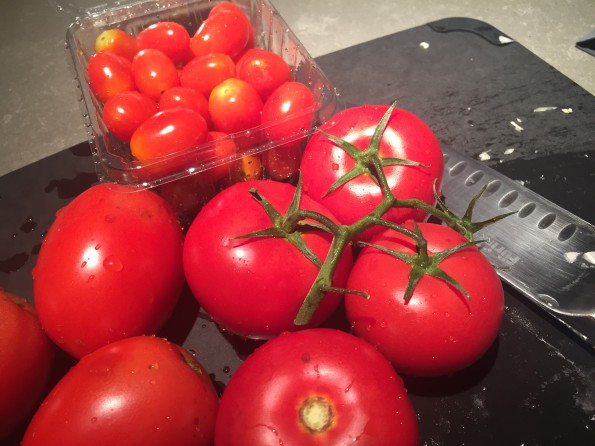 I then made a really simple rustic tomato sauce. I love this time of year when tomatoes are in season. Heirlooms are my favorite but tend to be super expensive especially if you buy organic. They didn't have any at the store that day anyway so I used romas, camparis and grape tomatoes (grape/cherry tomatoes are a dirty dozen vegetable) for this sauce.
I started by sauteeing a ton of garlic, minced yellow onion and red pepper flakes in olive oil.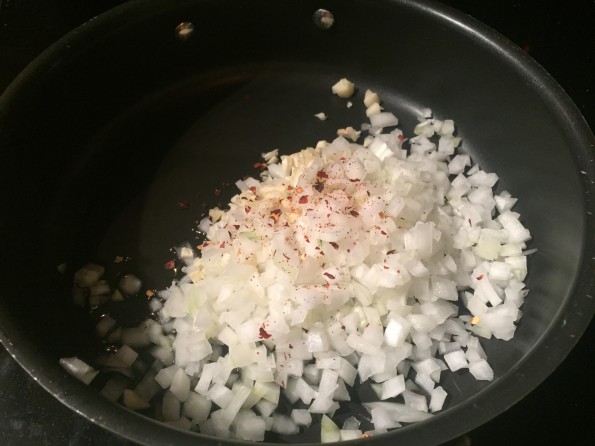 Once the garlic and onions were tender I added in ½ cup of white wine (why not??) and let that almost reduce.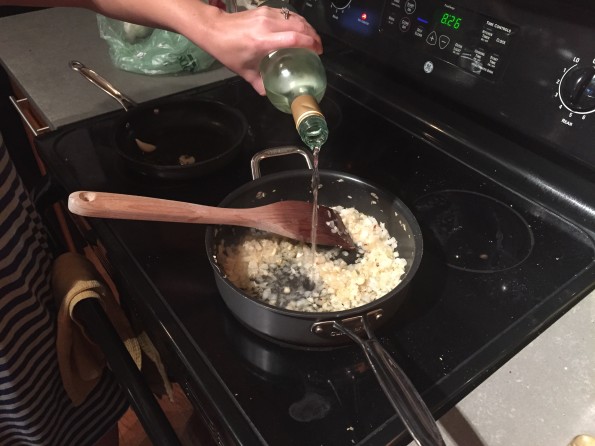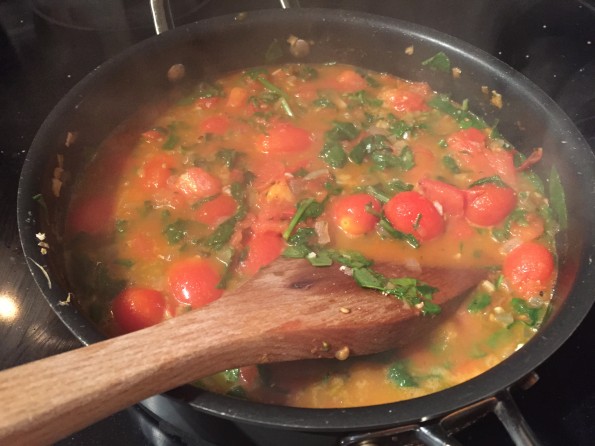 Then I added in all the tomatoes and their juice and seasoned liberally with salt and pepper and let it all cook together to make a sauce. Next I added in chopped spinach for extra nutrients (even if you don't like spinach if you chop it small and let it wilt in you can't taste it I promise and then you get all the anti-oxidants and nutrition benefits this super green provides).
To finish I took more fresh basil from my patio planter and added in a heaping tablespoon of goat cheese to give the sauce a creaminess without a ton of fat.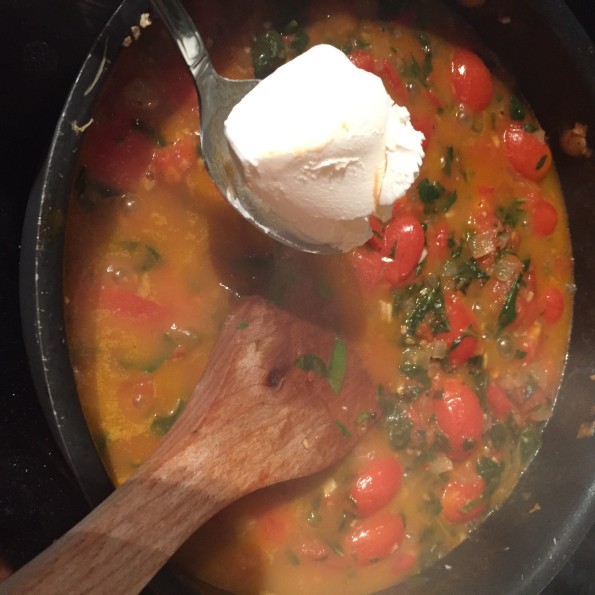 A lot of sauces call for half and half which can quickly amp up the caloric and fat content of a dish. If you don't like goat cheese another great cheese that I use a lot is marscapone which is an Italian version of cream cheese. It is often used in desserts but can be used in savory dishes as well because it does not have a strong flavor. Once the sauce was done I added in my "zoodles" and let them cook for a few minutes in the sauce.
Let me tell you this is where the recipe didn't go as planned. The zoodles have a lot of water in them naturally. Once I heated up the zoodles in the sauce it got a little runny. If I were to make this meal over again I would probably do this part differently. I am not fan of the raw zoodles I do like them cooked for a few minutes to soften up. If you do like them raw you could just serve the sauce over them and be done. Another option would be cook the zoodles in a little water for 2-3 minutes and drain them like you would another noodle. I also could have salted the zoodles while they were raw and drew the moisture out like I did the eggplant, pat them dry and then put in the sauce. OR you can always skip the fake out and use real pasta instead. The meal was really good, the sauce just got a little runny. Live and learn!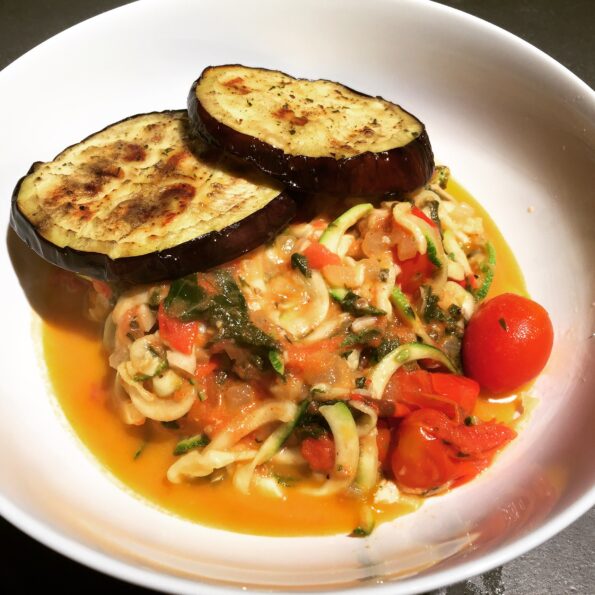 Print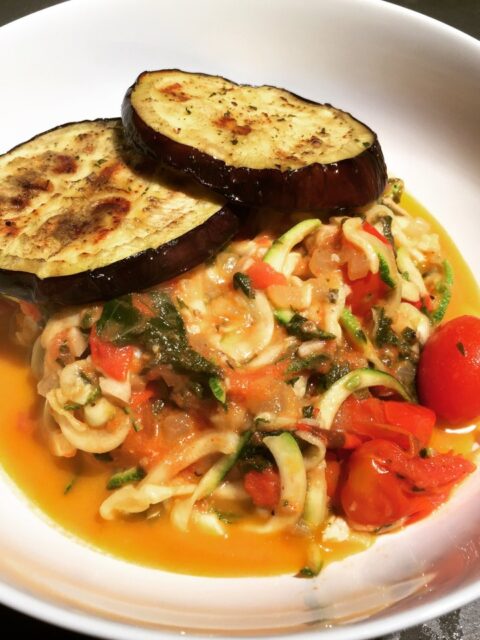 basil grilled eggplant with three tomato druken goat sauce over zoodles
---
2

medium sized eggplant sliced in ¼ – ½ inch round slices
*4 medium sized zucchini

1

yellow onion diced very small

8

cloves of garlic, 2 left whole the rest minced

¼

c. plus 3 TBS olive oil

1 ½

TBS goat cheese
*1 box of cherry/grape tomatoes

7

–

8

tomatoes of any combination roma, heirloom, Campari rough chopped into chunks

1

package of basil (or fresh if you have a garden) 4 TBS minced the rest rough chopped or torn

½

c. dry white wine
Parmesan cheese for topping pasta

3

c. fresh baby spinach chopped
Optional: crushed red pepper flakes for your pasta sauce, I like my sauces with a little kick and probably use ½ tsp of red pepper flakes, you can omit all together or add more if you like a lot of spice
*indicates fruits and vegetables that are labeled by the EWG as Dirty Dozen(Enviornmental Working Group www.ewg.org) as the fruits/vegetables that contain the most pesticides or are commonly known to be GMO fruit/vegetables
---
Instructions
Preheat grill
Place eggplant slices on paper towels and season very liberally with salt (I prefer to use pink sea salt for everything I make).
Using a spiralizer or julienne peeler, make "zoodles" on whatever blade setting you like. Set aside or see paragraph above. If you like raw zoodles do nothing. If you like them cooked a little season liberally with salt to draw out moisture.
In small frying pan on low add ¼ c olive oil, 2 whole cloves garlic and minced basil.
In a deep sautee pan combine 3 TBS olive oil, minced garlic, onion and crushed red pepper flakes if you like a little spice over medium for 12 minutes or until the onions and garlic are soft and fragrant, stir occasionally to not let onions brown.
While the onions cook I used this time to pat off my eggplant slices of any moisture. Brush both sides of eggplant with the basil infused olive oil and season with salt and pepper. Grill over medium heat 4 minutes a side.
Once veggies are soft in your sautee pan, turn heat up to medium high and add in white wine. When wine is almost reduced completely, add in all tomatoes season with salt and pepper to taste. Leave heat between medium – medium high so the tomatoes cook down and the cherry tomatoes start to "burst". Cook 10-12 minutes, then add in chopped spinach until wilted. Once the spinach is wilted add in chopped basil and goat cheese, turn the heat to low.
At this point if you decided to salt your zoodles to draw out moisture pat them dry with a clean kitchen towel or papertowels. Add to tomato sauce and cook for 2-3 minutes until they soften up. If you want to cook your zoodles separately you can take a shallow pan with a ¼ inch of water and steam zoodles for 2 mins. Drain the zoodles and then add to the sauce. Or add raw zoodles to a plate or bowl and top with pasta sauce. Top with fresh grated parmesan cheese if you wish and top with grilled eggplant. Enjoy!
Prep Time:

20

Cook Time:

25