In our house we use chicken broth for a lot of different things. Anything that calls for water such as rice or quinoa we cook in chicken broth to give it an extra dimension of flavor. Also if you follow this blog, you know that I tend to make a lot of soups. Soup Sundays are a common thing in our household even in the summer. Because we go through so much of it it's easy for us to just buy at the grocery store.
What I have found over the years though, are not all broths or stocks are created equal. You have to be careful and really read the labels of these broths. Many broths include "natural flavors", caramel color and even added sugar. Even the old Whole Foods recipe had a bunch of this stuff in it – despite being organic. They have recently changed their recipe to eliminate all of this. I am now waiting for them to do the same with their beef broth.
So on the weekends when I have a little more time and I am going to make a pot of soup, I like to make homemade broth as well. It is amazing the difference in flavor and COLOR that homemade broth has. It becomes this deep rich dark yellow color. Not like the see through stuff from the box.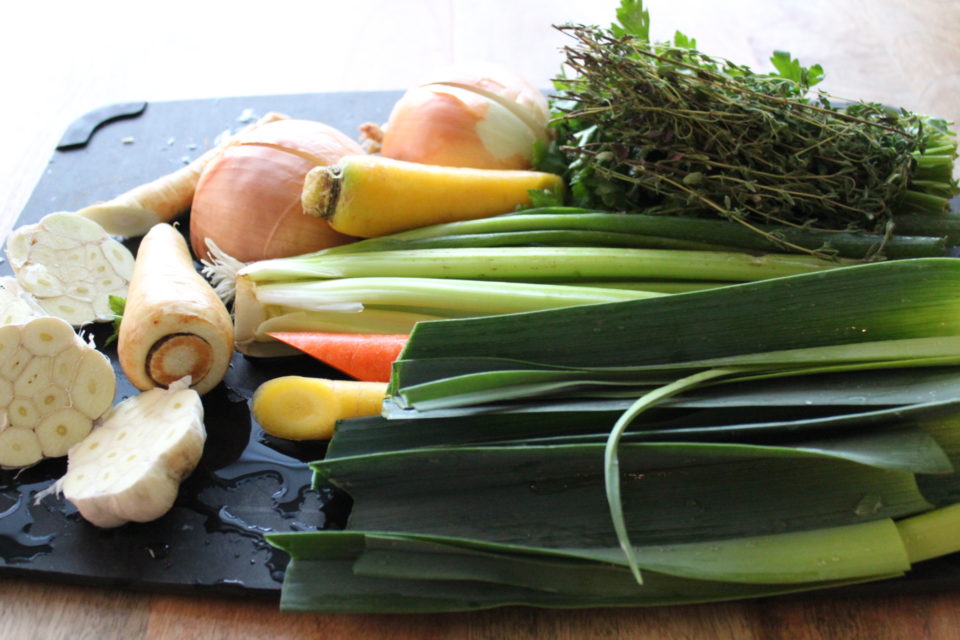 When I make stocks I usually tend to clean out my fridge. In addition to an entire chicken I load my broth base with lots of veggies. Since you are going to drain the stock you can get away with being less meticulous with your veggies. You can leave the skin on your onions and heads of garlic. I use the inside parts of the celery that I would typically throw away. Carrots don't need to be peeled or even have the tops cut off. When I have herbs in the fridge on the verge of going bad, those go in as well. When I cook with leeks I only use the light green and white parts, the dark green pieces get cleaned and thrown in my stock too instead of wasted.
The one key when making broth is time. If you want a more intense flavor it takes more time. I usually put my whole chicken in a large stock pot (an 8-10 quart pot is great, I often times I wished mine was bigger though so I could make more) with all my veggies and then fill the pot with water. I like to cook this for a good hour and a half. Then I take the chicken out and remove the meat from the bones. If you cook it too much the chicken meat will dry out. I set the meat to the side to use for my soup later. Then I take the bones from the chicken and throw them back into the soup pot, fill it back up with water and cook for another hour or two.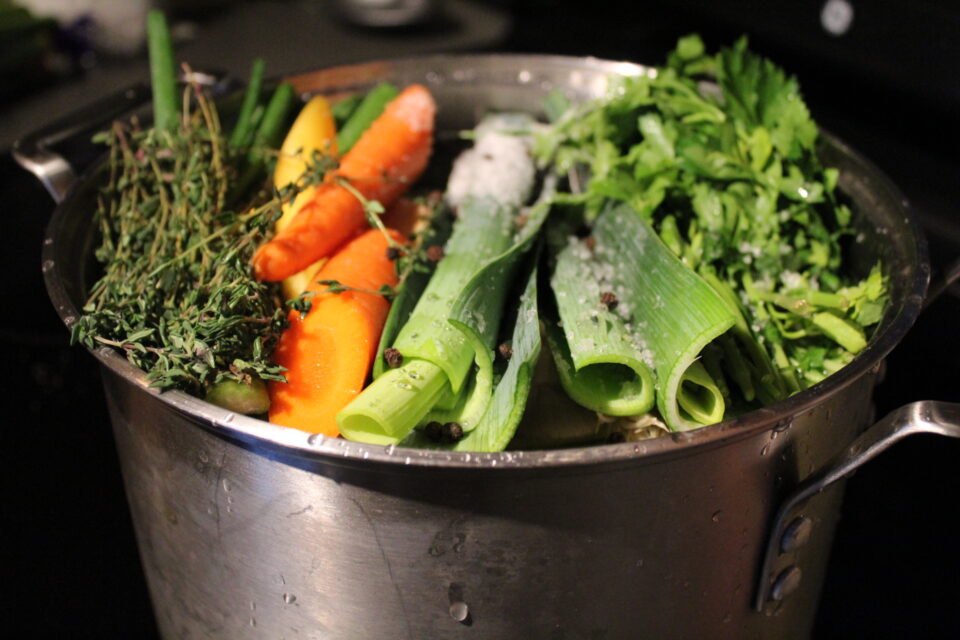 If you want to make a vegetable stock you can use the same process. I would use use double the amount of vegetables to really flavor the soup. A fine mesh sieve will drain all the stuff out of the broth once the stock is done cooking. All you are left with is the amazing flavored water that you then can do whatever with. Most of the time I use it the same night for a rich brothy soup. Like I said before, if my pot was larger I would probably wind up with leftovers!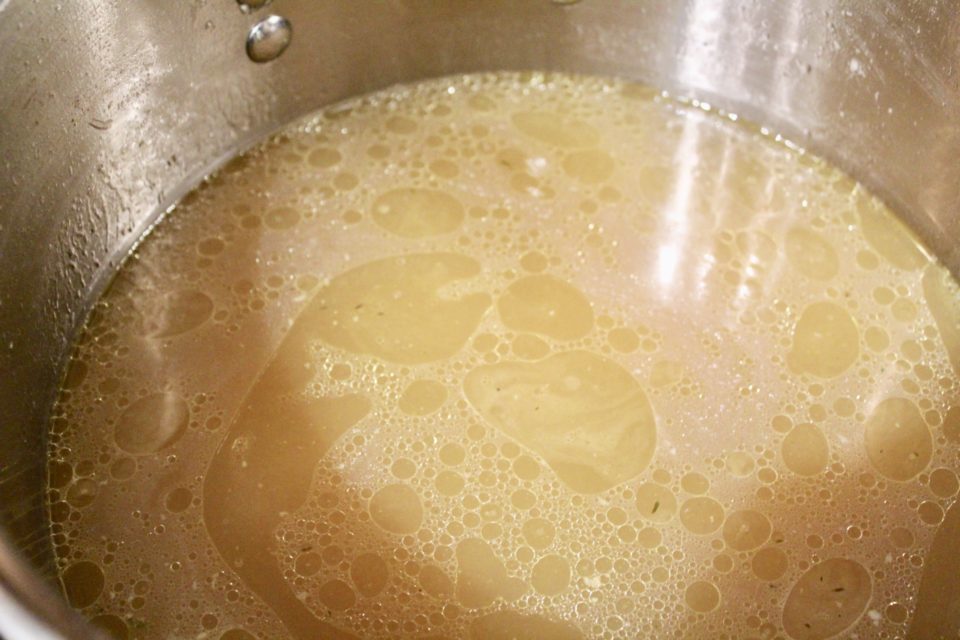 Taking the extra time to make broth from scratch is worth it when you can. Not only does it taste good it's a chance to use up things you would normally throw away!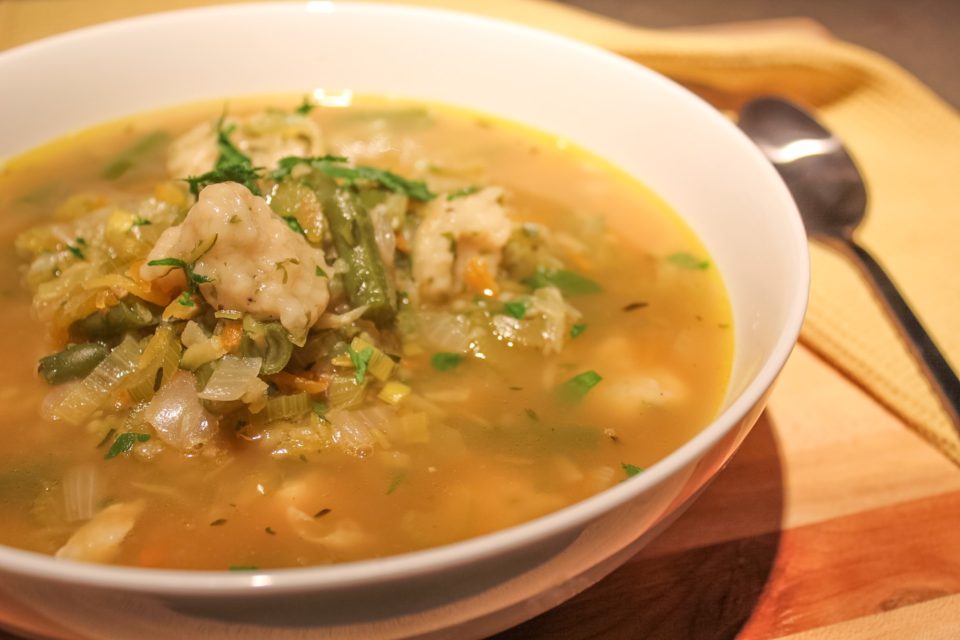 Print
[2]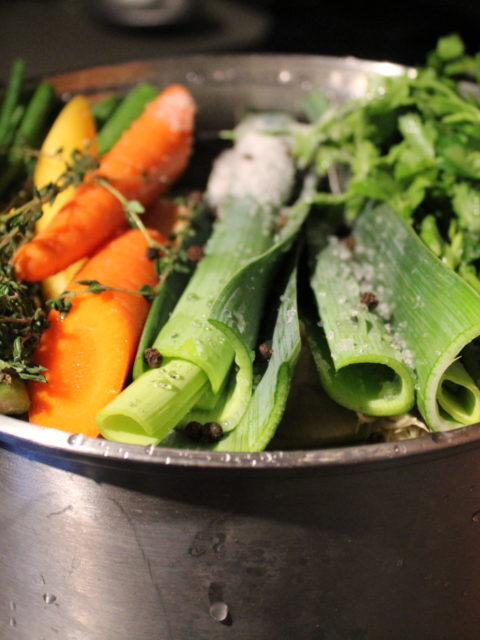 Homemade Chicken Broth
---
1

whole chicken (we use organic), rinse chicken off

1

leek, cut the dark green stem off (this is what you will use), wash and leave whole, reserve the light green and white part for something else

2

–

3

carrots, rinsed no need to peel

1

–

2

onions (if your onions are small use 2) quartered, leave the skin on

2

heads of garlic, leave all the skin on and slice in half width wise to expose all the cloves

1

parsnip, washed, no need to peel

2

–

3

ribs of celery or the inside section that you would normally throw away

3

TBS whole peppercorns

1/8

c sea salt (it sounds like a lot but you will be using LOTS of water!)
any fresh herbs, thyme, rosemary, Italian parsley, bay leaves, sage whatever you prefer, I usually use whatever is left in my fridge
if you like a little spice you can throw in a whole jalapeno sliced in half length wise
---
Instructions
In a LARGE soup pot (8-10 quarts is the best) place chicken and everything else in it. Fill the pot with water almost to the top. Make sure to leave a little room because once it boils it will bubble up.
Cook on medium high for an hour and a half to 2 hours. (doesn't have to be exact). Remove chicken and let cool down slightly. Some of the meat might start to fall off the bone into the water which is ok. Remove meat from the bones and reserve for a later use (I use mine usually the same night for soup). Place the bones back in the pot and fill back up with water. (the water will naturally evaporate and cook down). Turn heat down to medium and cook another 1.5-2 hours.
Using a fine mesh sieve drain stock into another large pot or very large mixing bowl. I usually strain my stock at least 2 times. Discard bones and veggies. Taste your stock, this version is definitely lower sodium so you can add in more salt if needed or when you cook with it.
If you have the time, refrigerate your stock overnight. The fat will solidify to the top of the pot and you can skim it off and discard. If you want to use your stock that night a little fat won't hurt you!
Notes
You will want to have a fine mesh sieve or colander to drain the stock with