This creamy tomato meat sauce tastes like meatballs in tomato cream sauce but without all the work. Simple to make yet big on flavor!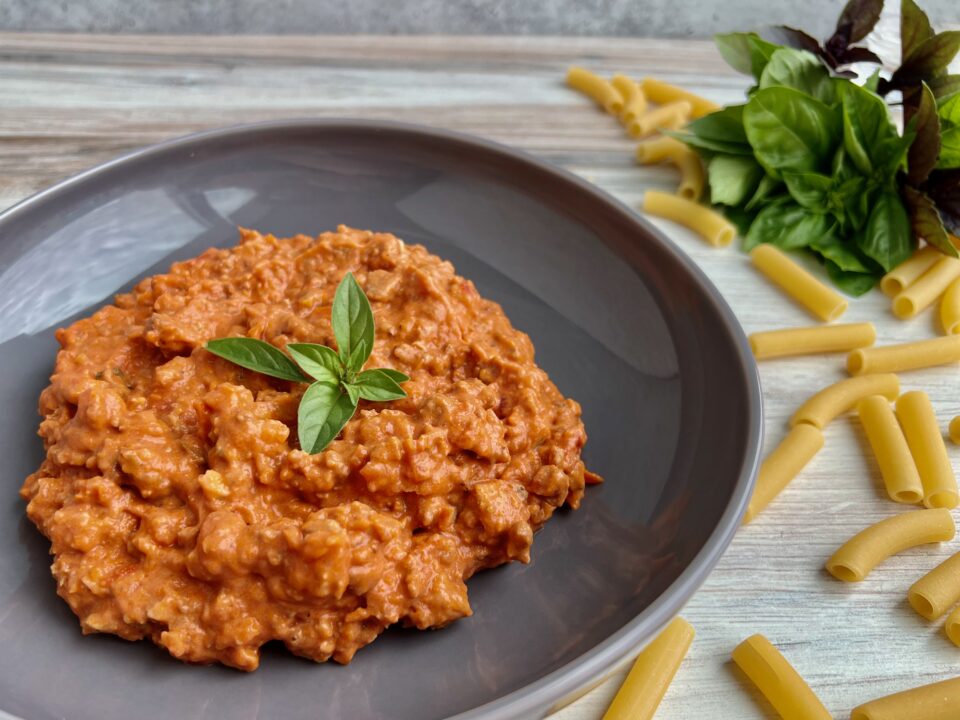 Every now and then I get a craving for meatballs. It's so weird and it happened to me a lot when I was pregnant. I think it's my body's way of telling me I need some extra iron. But as much as I love making meatballs I really didn't want to spend the time actually making them. So I decided to try to infuse two of my favorite pasta sauces that I make – my tomato meat ragu [3] and my creamy tomato sauce [4] to create a delicious creamy tomato meat sauce.
The keys to maximizing flavor
Like I said, I don't cook with meat a ton. But I have learned a few tricks thru my years of cooking that helps maximize the flavor for this simple creamy tomato sauce. Starting with the meat.
I remember when I used to cook things with meat I would constantly stir the meat around. I would add all my veggies to the meat as I cooked it so everything cooked together. Sound familiar? It wasn't until I was in Italy taking a cooking class with Maribel [5] that I learned I was doing it all wrong! While we were making bolognese sauce she taught me that you always want to let your meat brown and carmelize in a pan FIRST. If you add your veggies in with the meat the meat doesn't get a chance to brown up nicely due to the water in the vegetables. And all those nice golden brown bits left in your pan – those are little flavor bombs.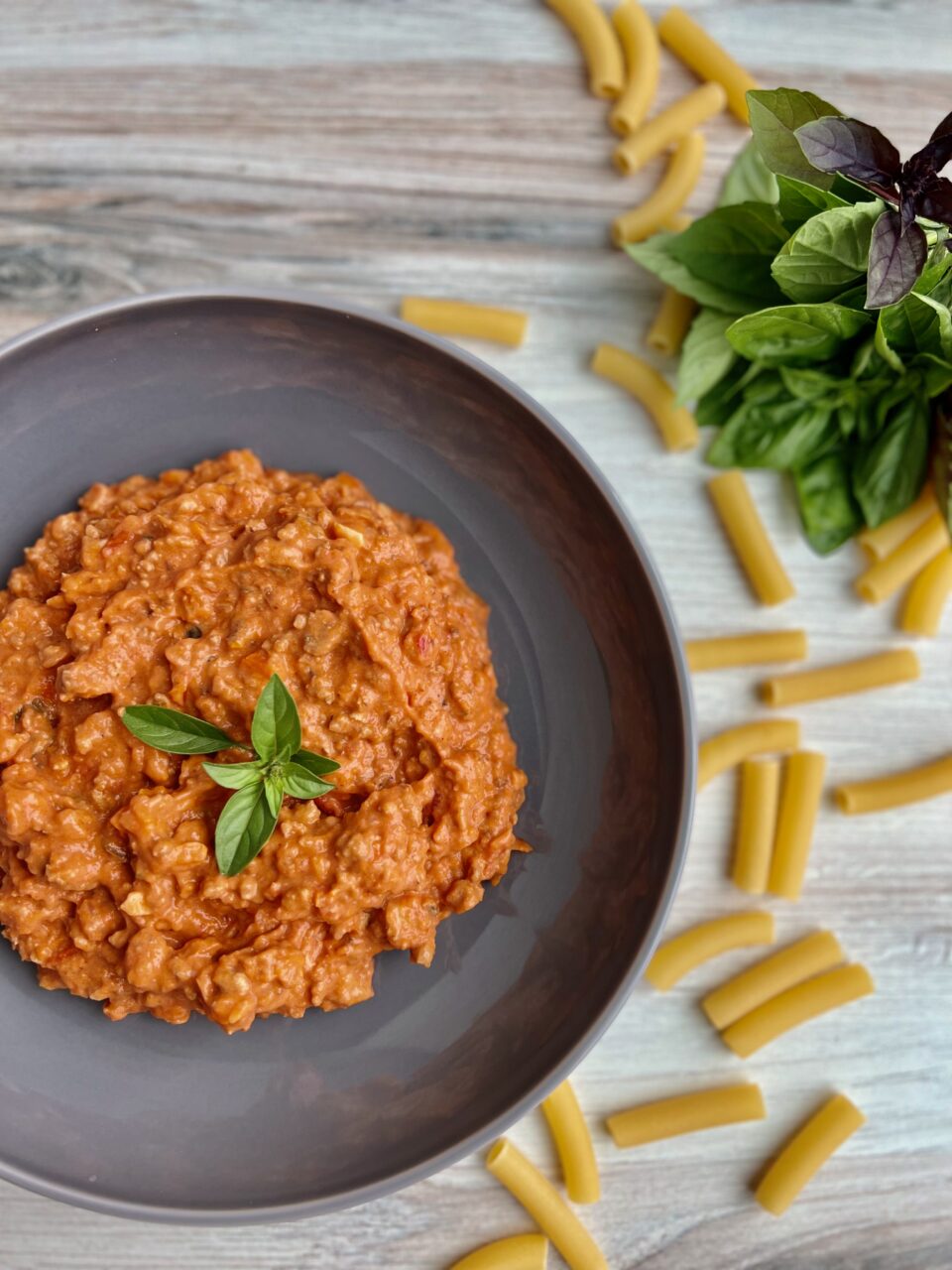 So how do you let your meat get brown? Here are a few tips:
I like to let my meat sit on the counter for 20 mins or so before I cook it so it's not as cold going into the pan
Next in a large pan place 1 TBS olive oil and let it heat up slightly (you don't want your oil to smoke though!) over medium heat. Then add your meat in and crank the meat to medium high
LET YOUR MEAT SIT – don't touch it. Resist the urge to move it around. Wait a few minutes for the bottom to get golden brown. The meat should not stick to your pan. If it's sticking – it needs a little more time to cook.
When you break up the meat with a wooden spoon continue to practice step 3
You may notice golden brown spots on the bottom of your pan – DON'T WASH YOUR PAN OUT! Those are where all the good flavor bits are. They will scrape up as soon as you add your veggies to the sauce
Once the meat is nice and golden brown and cooked THEN you can add your veggies to the pot
The rest of the details
The rest of the sauce is rather simple really. But there are a few ingredients that help make the sauce a little more flavorful along the way:
Grated carrots – the carrots are grated small so you won't even know they are in there but add a subtle sweetness to the sauce. Also common in a lot of traditional marinara sauces
Parmesan cheese rinds – whenever I make a sauce or soup I like to throw a few of these in there to give my dish a little nuttiness and umami flavor from the parm. You can usually find these in the cheese and wine section of your store where the big wheels of parmesan cheese are
Heavy cream – the heavy cream adds a little something to this meat sauce. It mellows out the tomato flavor and adds a richness to the sauce
Fresh basil – whenever I can I use fresh herbs. A big handful of basil added to this sauce makes an otherwise simple dish elevated in flavor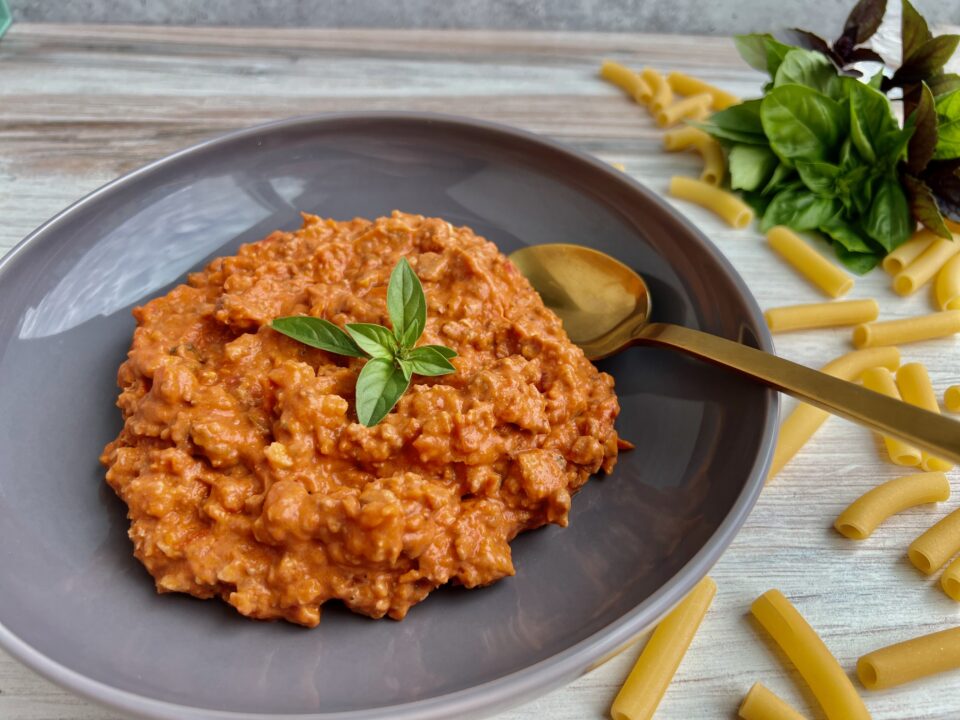 This creamy tomato meat sauce can be used in so many ways:
Simply serve over pasta
Use as a sauce for lasagna
Serve over zucchini noodles
Stuff a spaghetti squash with it, add fresh mozzarella cheese on top and bake until the cheese is golden and melty
However you decide to use it I assure you it will be delicious. So if you happen to be craving meatballs like me be sure to try this creamy tomato meat sauce instead. And if you do be sure to rate and comment below and tag me on Instagram! [6]
Print
[2]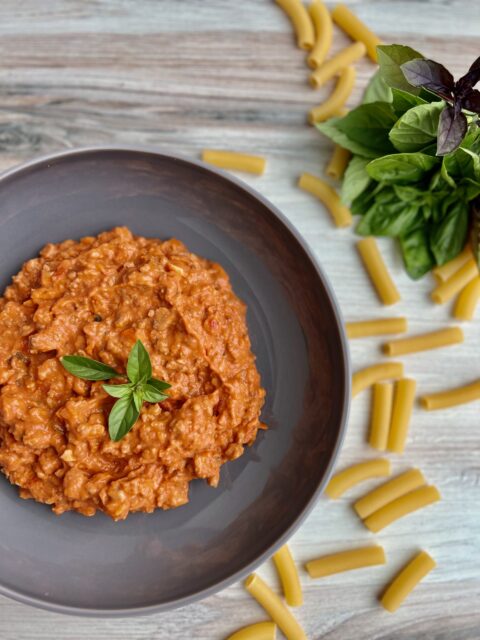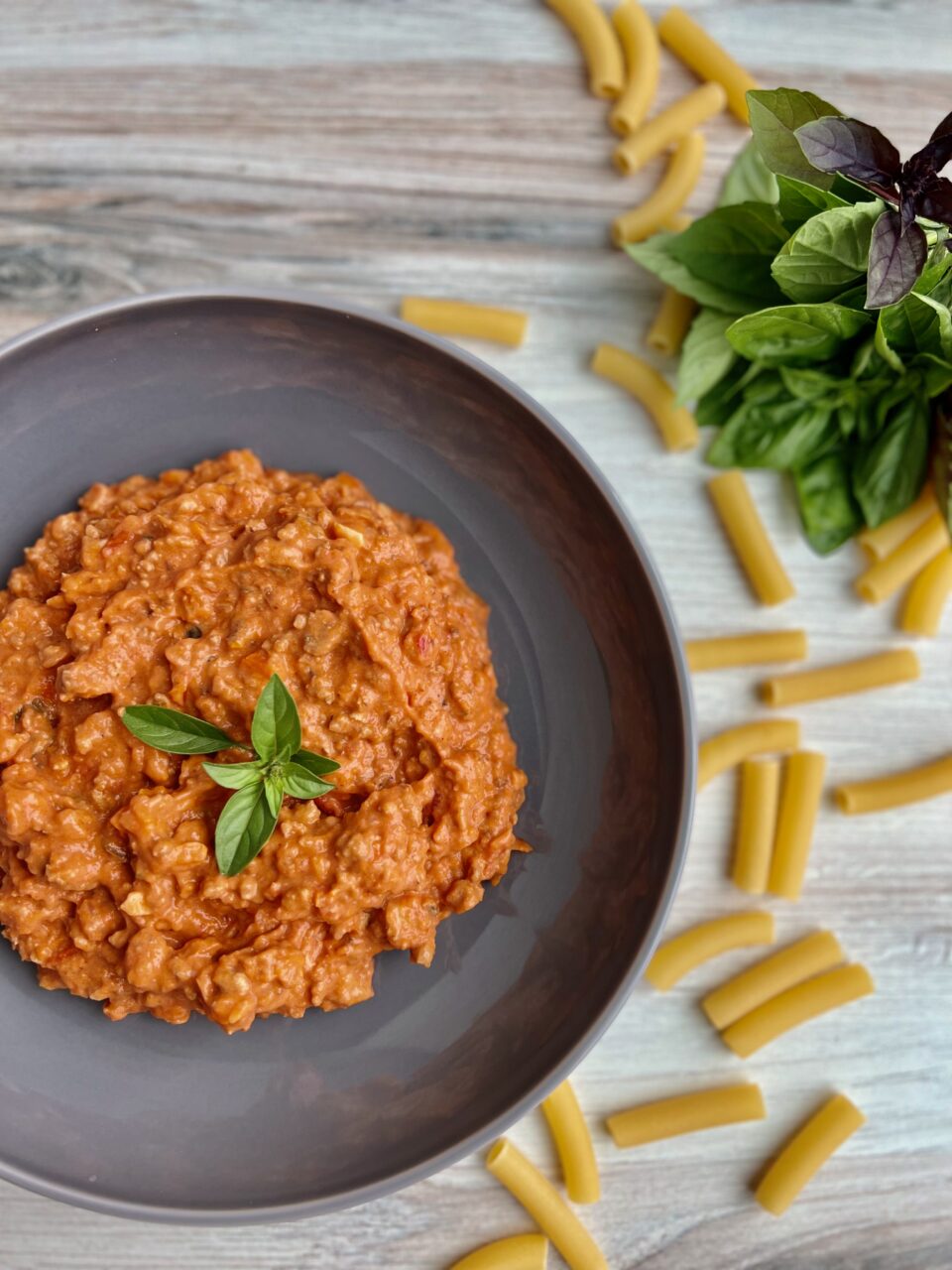 Creamy Tomato Meat Sauce
---
Author:

Karissa P [7]

Total Time:

2H35M

Yield:

8

-

1

0

1

x
1

lb

ground beef

1

lb

ground pork

2

carrots, grated or minced

1

yellow onion, minced (if your onion is very large only use half)

6

–

8

cloves of garlic, minced

2

28oz

cans

crushed tomatoes

1

–

2

parmesan cheese rinds

2

c

water

1/4

–

1/2

c

heavy cream
large handful of fresh basil torn in pieces or sliced thin
---
Instructions
In a large soup pot or Dutch oven brown meat in 1 TBS of olive oil. Season meat with salt and pepper. The key here is to cook over medium high and let your meat brown. Don't worry about stirring around too much. You want the meat to have some time on the hot pan to caramelize. There should be lots of golden brown bits on the meat. If the meat renders a lot of fat use a spoon to scoop it out.
Once meat is browned turn heat to medium and add in onions, garlic and carrots. Season again with salt and pepper. Cook another 8-10 minutes until veggies soften.
Next add in tomatoes, 1 c water and parmesan cheese rinds. Turn heat to medium to medium low. Cook at least 2 hours stirring from time to time. If sauce starts to thicken too much add in another cup of water to thin out.
Once sauce has cooked a few hours stir in basil and heavy cream. Start with a 1/4 c of heavy cream. The sauce should be a blush color like a light pink/orange. If it is not add the rest. Cook a few minutes to let the basil wilt.
Prep Time:

5M

Cook Time:

2H30M

Category:

meat, sauce, pasta, Italian