These chive twice baked potatoes are the perfect side dish for anything. Greek yogurt, cheese and chives make these potatoes full of flavor.
One of my favorite meals in the summer is a good chicken Caesar salad. The kind with homemade dressing and homemade croutons. Thankfully my husband whips up a great dressing from scratch. I don't know why but when we make Caesar salads my go to pairing is ALWAYS chive twice baked potatoes. There is just something about the cheesy potatoes that compliment the salad.
'Tis the Season(ings)
Over the years of making these chive twice baked potatoes I have realized there are so many opportunities to season the potatoes. Starting with the first bake. Yes you read that right. You may be thinking "how do I season the potato when I bake it whole?". Let me tell you!
After I wash and scrub the dirt off my potatoes I gently drizzle them with olive oil to give them a nice coating. Then I liberally season them on the outside with garlic salt. Trader Joe's has an awesome garlic salt grinder that I absolutely love but any garlic salt would work. After the potatoes are seasoned they bake for the first time. By seasoning the outside of the potato it ensures every bit is seasoned, especially for the people that like to eat the skins.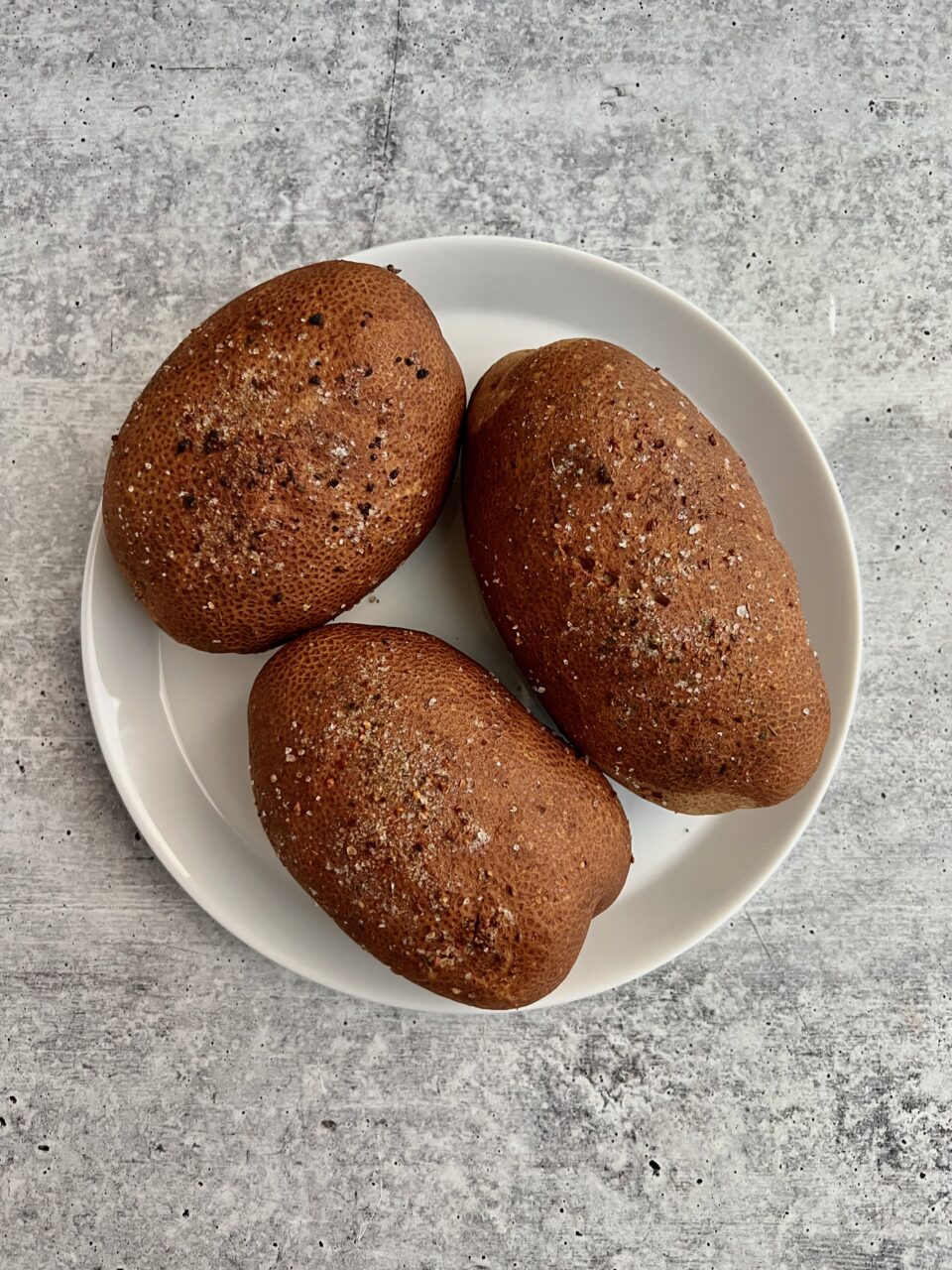 Fill it up
While the cook time on these chive twice baked potatoes seems long, most of the time is spent in the oven while you wait. But the most important part of the potato making comes after the first bake. That is when you get to create all the amazing flavor. After the potato is baked and slightly cooled I cut the tops off and scoop out the insides. Then I get to filling. Here are some keys and tips for the perfect twice baked potato: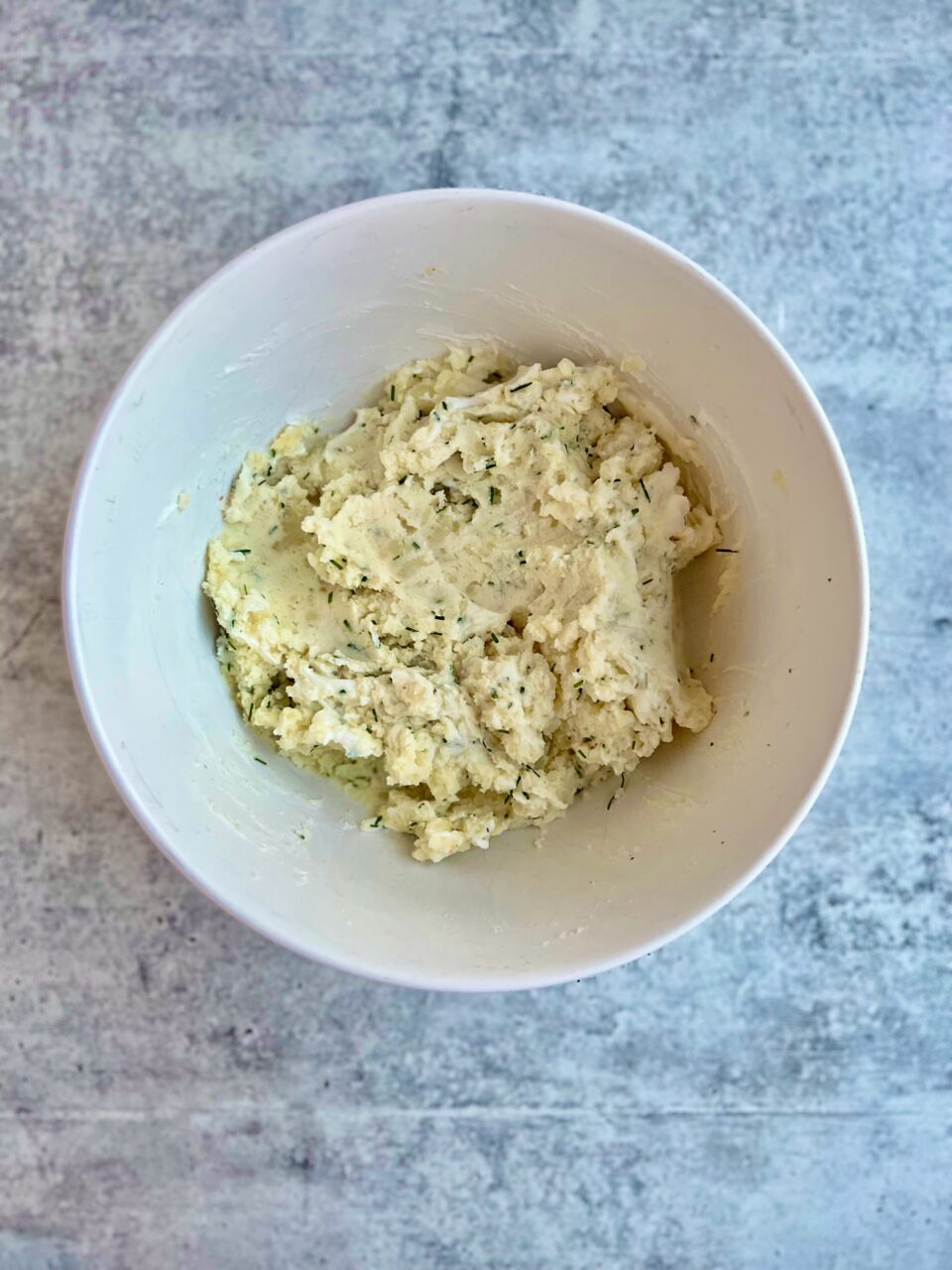 If your potatoes are big, instead of cutting off just the top of the potato cut them in half to get more servings
Use fresh herbs – I love using fresh chives in this version but if chives are not readily available you can substitute with scallions
Use a good cheese – I find if you use a good flavorful cheese you can use less of it. Some of my favorites for these chive twice baked potatoes are sharp white cheddar, Cotswold cheese, even Boursin would be delicious here (note to self!)
Use a flavorful binder – the potatoes will be dry so you want to moisten them up with some kind of liquid with flavor. I use Greek yogurt but sour cream would be great in here as well. Add a little butter, add some broth if the mix is too dry. All of these things add additional flavor to the potato.
Season, season, season – make sure you season with salt and pepper. Try your mix before you re-stuff the potato! Add seasoning as necessary
Twice Baked
The chive twice baked potatoes then have to get TWICE BAKED! They go back in the oven mainly so the filling can all melt together since everything is already cooked.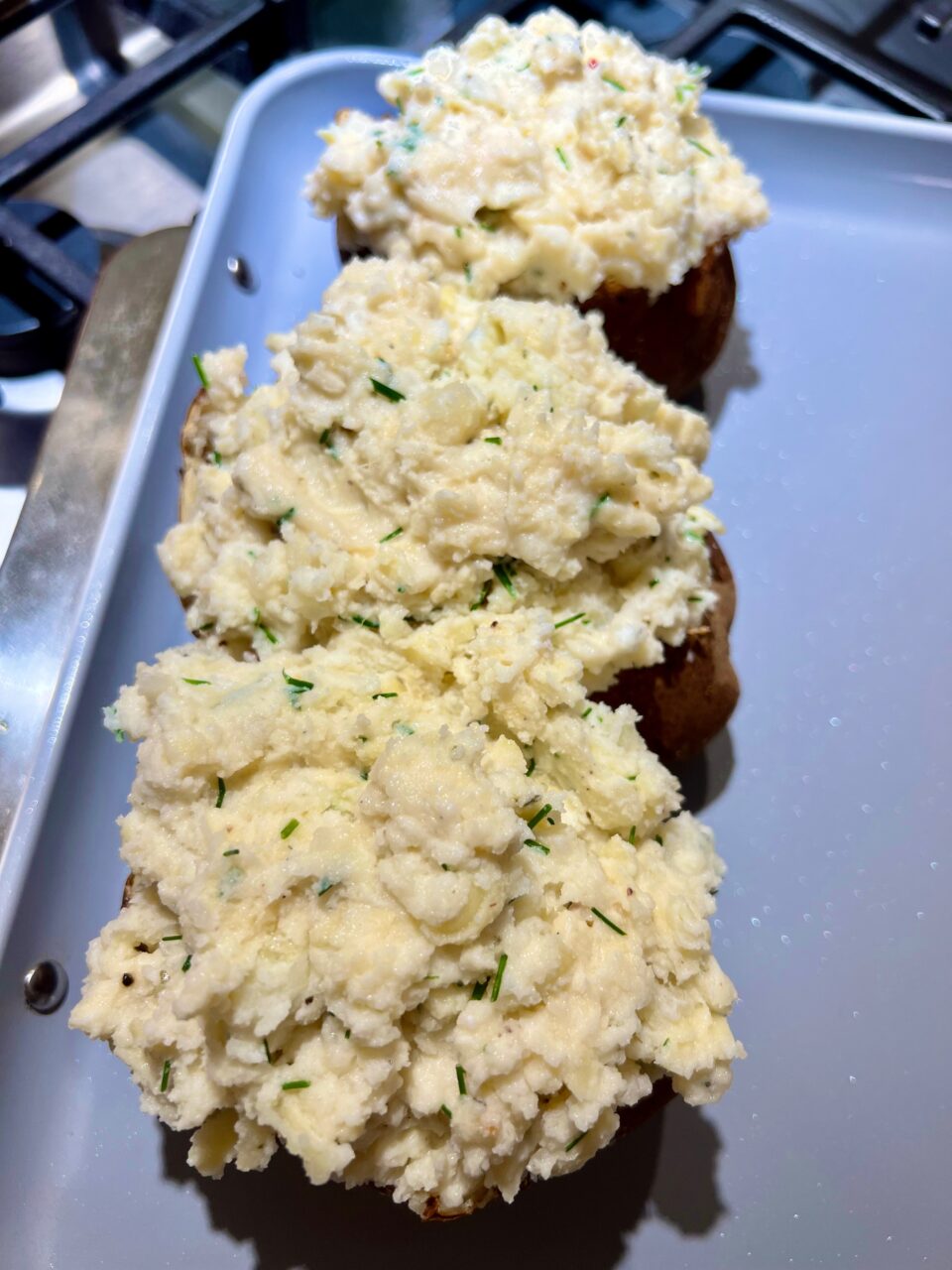 At the very end of the second bake I like to top the potatoes with a little extra. Be sure to save some of your cheese! I add one last layer of cheese and some chives and put in the oven for a few minutes. Then while you are eating you break thru that top layer of melted cheese into the warm delicious potato. Sooo good!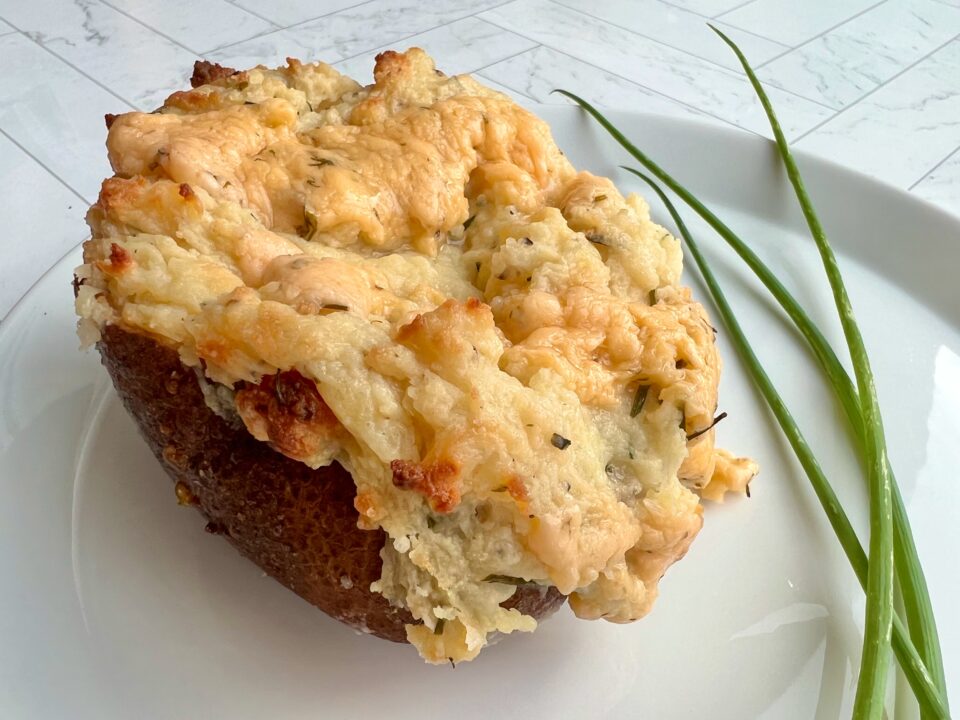 While these chive twice baked potatoes may seem like they take long the work is minimal and the flavor is maximal. So the next time you are looking for a side dish to try, give these chive twice baked potatoes a whirl. And remember when you do be sure to rate and comment below and tag me on Instagram! [3]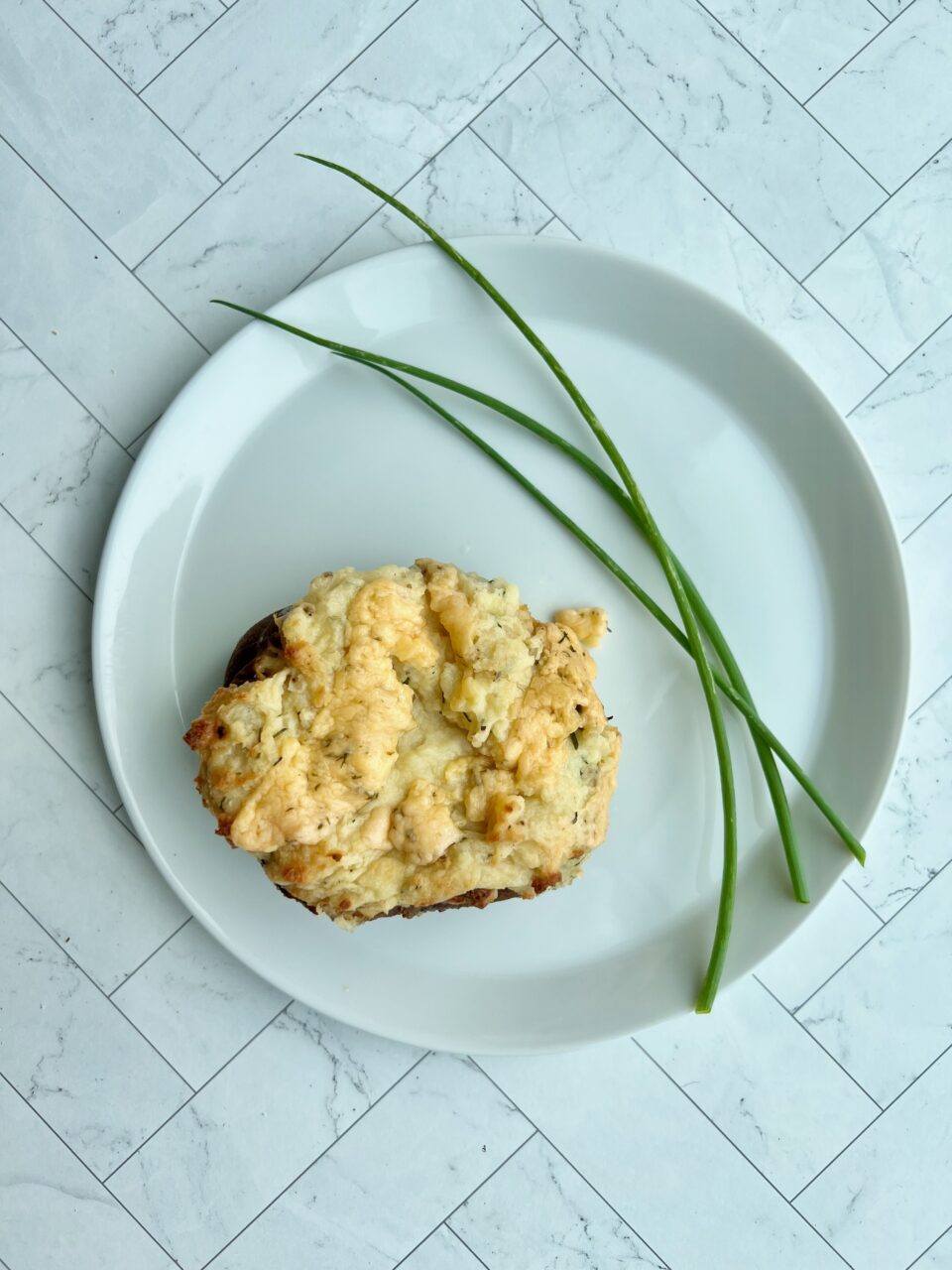 Print
[2]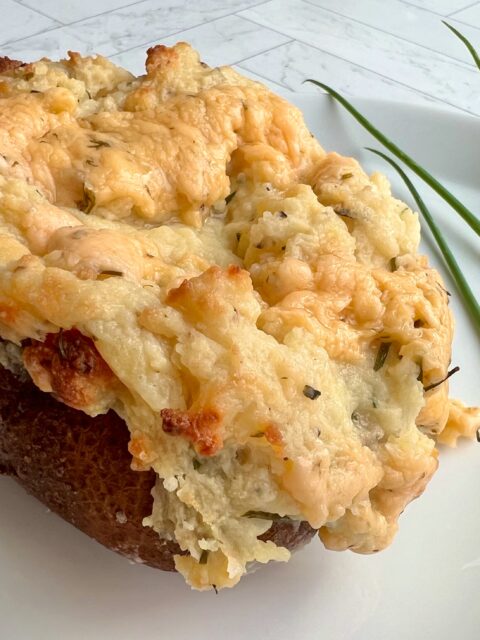 Chive Twice Baked Potatoes
---
Author:

Karissa P [4]

Total Time:

1H35M

Yield:

4

1

x
4

russet potatoes, scrubbed cleaned and pierced with a fork
garlic salt for seasoning

3/4

c

full fat Greek yogurt

3

TBS butter
A large handful of fresh chives cut small (if you cannot find fresh chives dried chives or fresh thinly cut scallions would also work)

1.5

c

sharp white cheddar cheese (gouda cheese, fontina, Monterey Jack would all be good as well)

1/4

veggie or chicken broth
Pantry staples – salt, pepper, olive oil
---
Instructions
Pre-heat oven to 425
Drizzle a small amount (1 TBS total) of olive oil all over the potatoes, rub with your hands to coat. Sprinkle garlic salt liberally over the potato skins. Bake for 1 hour. Check to make sure you can pierce the outside with a fork and that the potato is done. Turn oven down to 375.
Let the potatoes cool OR use kitchen gloves to hold the potato. Remove the top 1/8 inch of the potato, scoop the inside of the potato into a mixing bowl. Be sure to leave a little potato near the skin so the skin doesn't rip.
Add in butter to the potatoes. I like to let the butter melt into the hot potatoes first. Then add 1 cup of the cheese, Greek yogurt and chives. Season with salt and pepper. Mix everything up.
At this point if the mixture seems dry, add in a few TBS of broth at a time. You don't want the mix runny but you want it a little moist. TASTE YOUR MIX. Season with more salt and pepper if needed.
Stuff the potato mix back into the shells. Bake for 25 minutes.
Remove potatoes from oven, top with remaining 1/2 c of cheese. Baked 5 minutes until cheese is melted and bubbly.
Notes
This will make four larger potatoes. If you are serving smaller sides you can cut the potatoes in half after they are baked and remove the potatoes from the skins. This will leave you with 8 potato skins to re-stuff.
Alternatively, if you don't want to re-stuff the skins you could also just add the filling to a 9×9 baking pan instead
Prep Time:

5M

Cook Time:

1H 30M

Category:

side dish
Keywords: side dish, potatoes, twice baked, easy sides, cheese, chives