Chicken wild rice soup recipe with a few twists. This version is loaded with veggies and cut back on the fat but doesn't lack in flavor!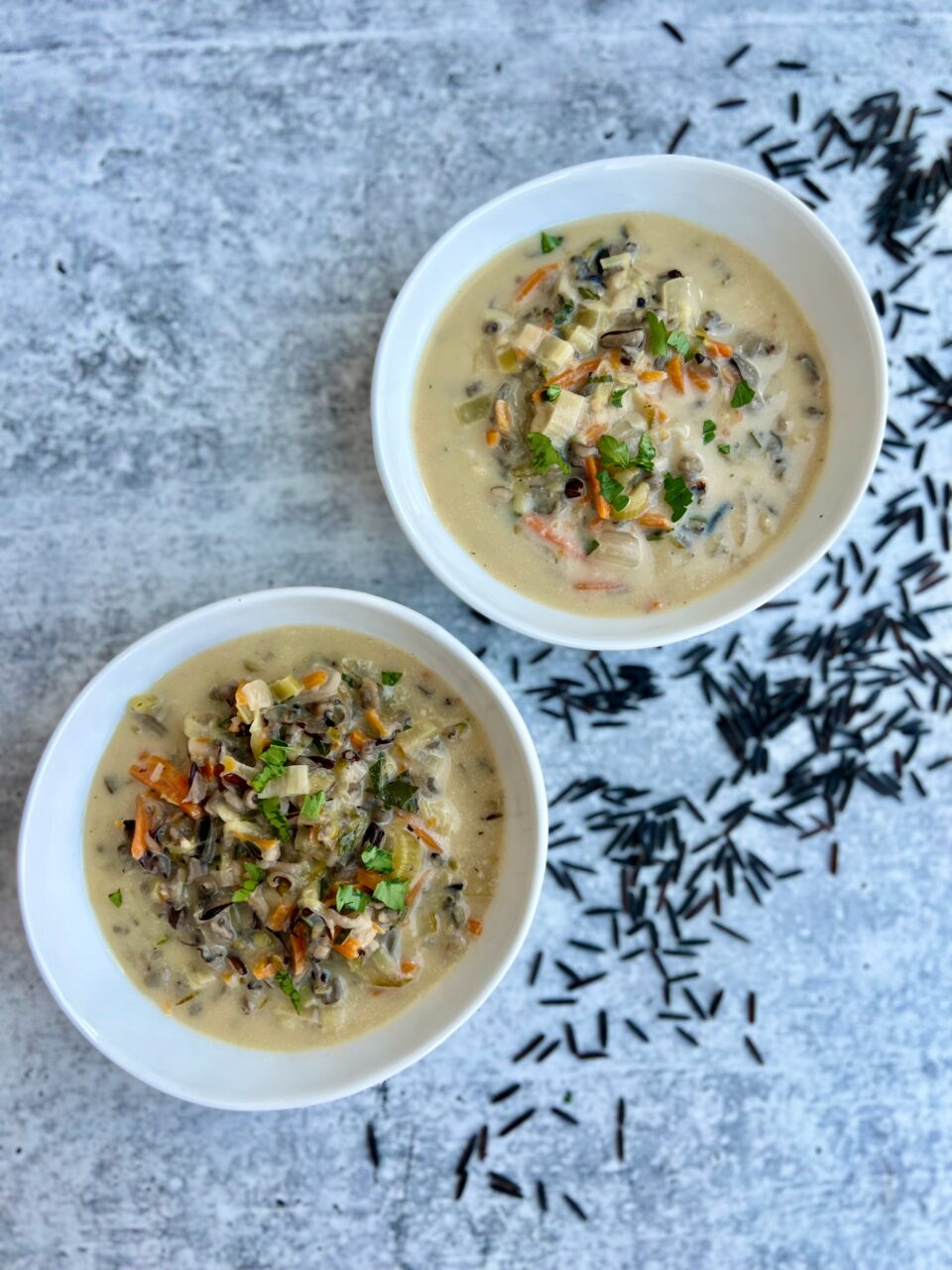 Chicken wild rice soup was something my dad would bring a big pot of when he would visit me in college. Growing up in the Upper Peninsula winter lasts what feels like six months. So soup becomes a staple. He would come visit and I would eat for days. It's a soup I actually don't make a ton. The other night my husband asked for chicken wild rice soup so I was happy to oblige.
A lot of chicken wild rice soups are really thick. But my husband doesn't love stew like soups so I had to compromise and make a broth-ier version than I would have liked. The good news is since it is not as thick and creamy it also has less fat in it than the usual version so by default it becomes healthier.
Same old soup, new techniques
There are a few things I did to set myself apart from the rest of the recipes out there. First of all I add white wine while I am cooking my soup. White wine gives the soup a slight sweet tanginess which pairs nicely with a splash of heavy cream. And I find by using the wine you can use less of the heavy cream and still get the same flavor profile.
Secondly I add in a ton of veggies. You don't even know they are in there. Like many of my soups I grate a few zucchinis and add to the soup. Zucchini is high in potassium and Vitamin C. Plus it's low cal and high in fiber. I also chop up fresh baby spinach for some greens. The spinach wilts down so much you don't even know it's in there.
Winner winner ROASTED chicken dinner
Another thing I do for this soup to give it more flavor is I roast the chicken. I saw a recipe from Ina Garten for chicken noodle soup where she roasted the chicken in the oven. Since then it's my go to. I think the chicken gets more flavor and doesn't dry out like it does just being poached in the soup. I used two bone on skin on chicken breasts. This time I loosened the skin a little and put a few cloves of garlic and a sprig of rosemary under the skin so it helped infuse the breast while it was cooking. Then I liberally seasoned the skin with salt, pepper and a good drizzle of olive oil before baking. If you like eating chicken skin you won't be sad about this.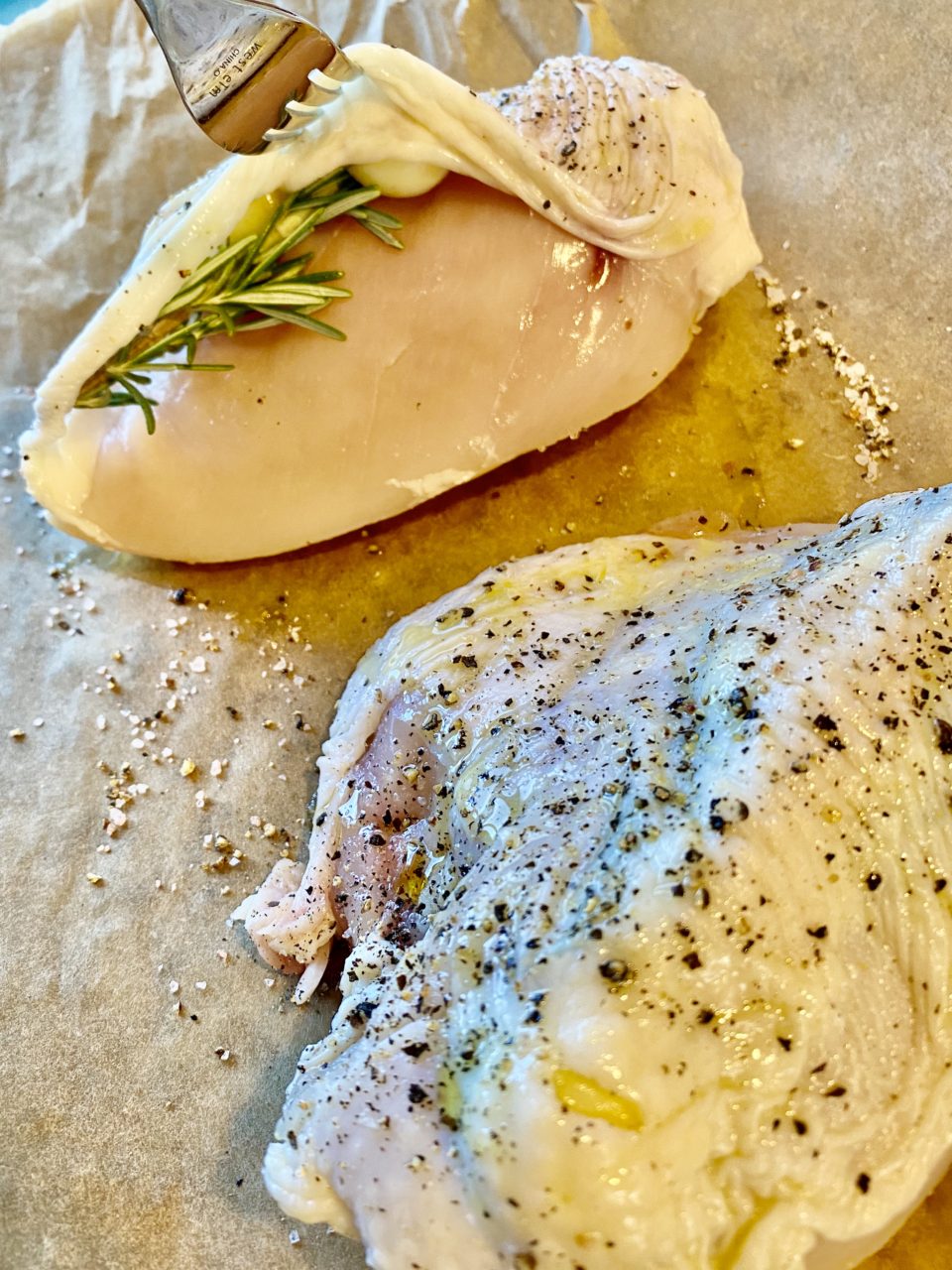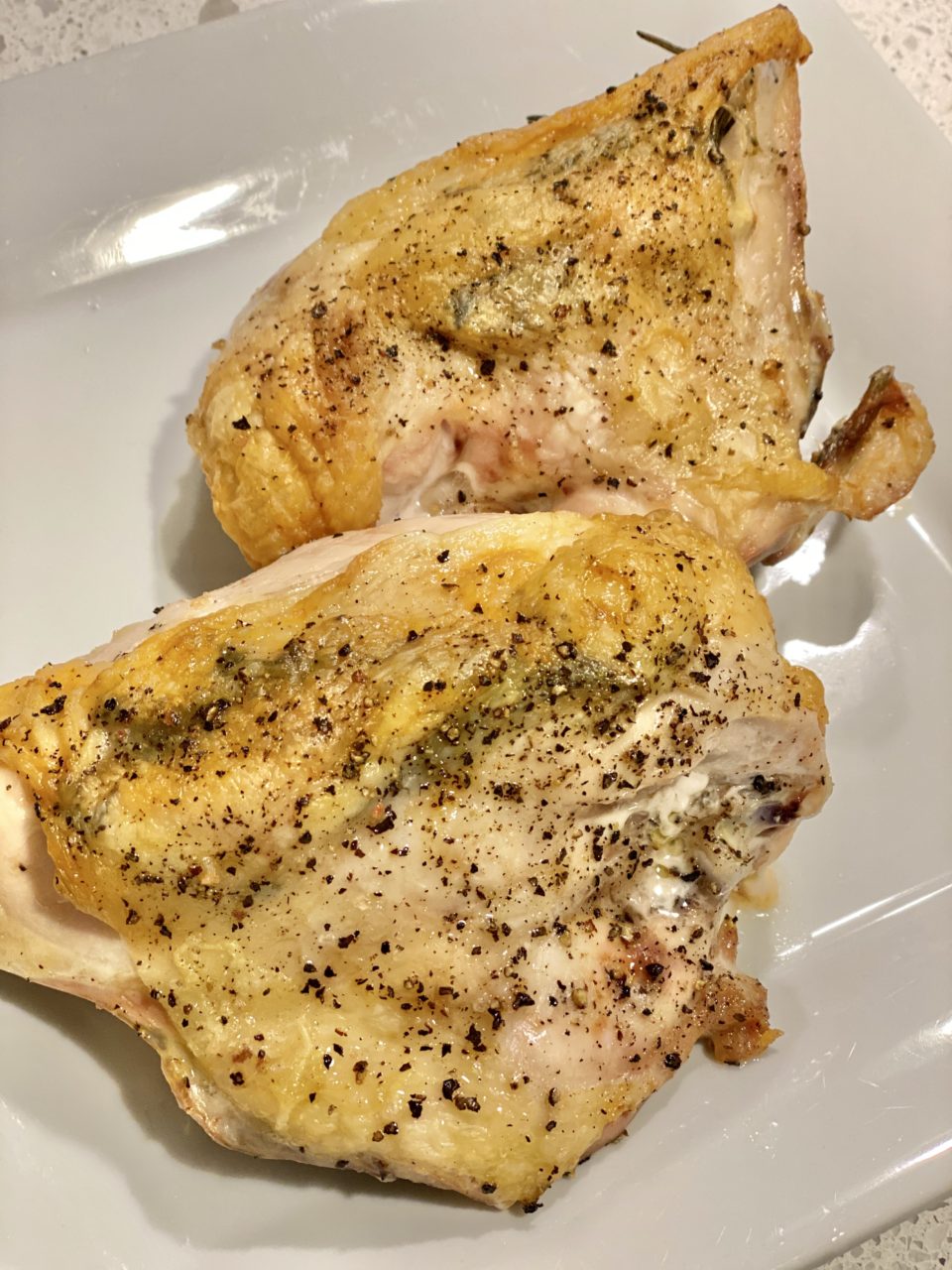 Another key to the soup is to multi task. When I get my veggies in the pot to sauté I put my chicken in the oven and put my rice on. Then when the soup is done the rice and chicken are done cooking so all you have to do is throw it all together. It's a great way to save time.
I love adding my touch to old classic recipes. Even though this chicken wild rice soup recipe is a little healthier it still holds up to the original version in flavor. My husband told me it was even better than the Progresso version he was thinking of when he suggested it. I guess that's not saying much but the soup can speak for itself. Enjoy!
And remember if you make this recipe be sure to rate and comment below and tag me on Instagram! [3]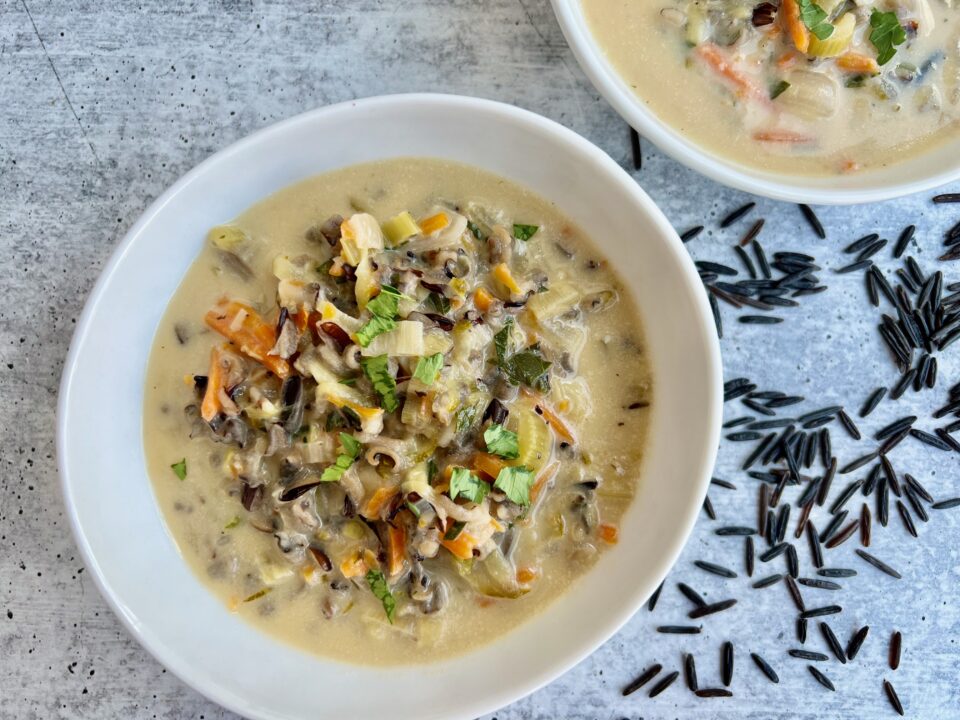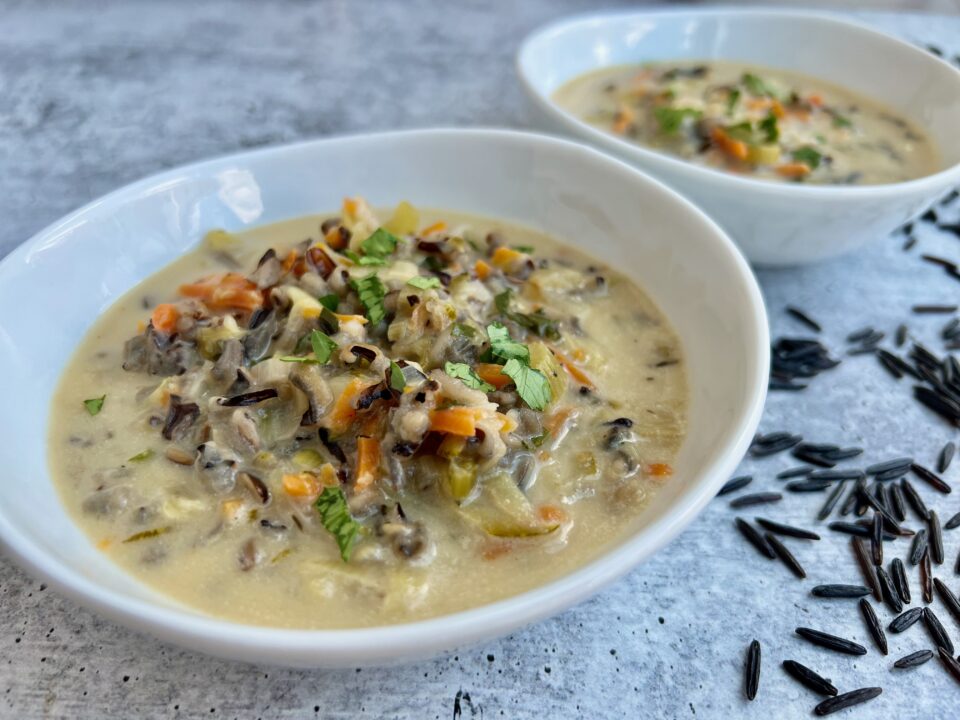 Print
[2]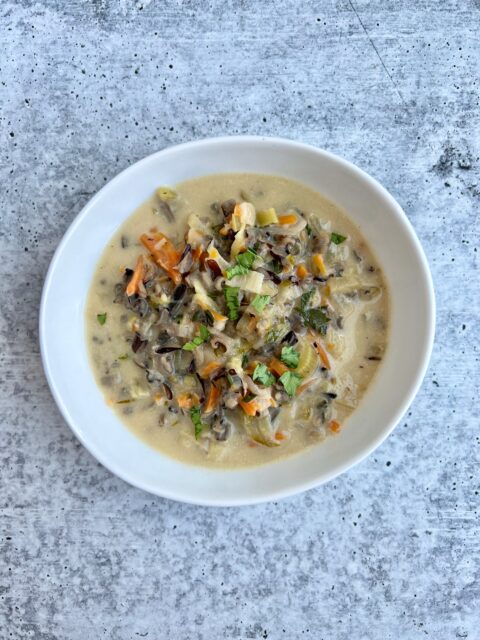 chicken wild rice soup
---
Author:

Karissa P [4]

Total Time:

1HR10M

Yield:

6

1

x
Description
This chicken wild rice soup is loaded with veggies. Plus roasted chicken gives the soup extra flavor!
---
1

–

1.5

lb

bone on skin on chicken breasts

6

stalks of celery, thinly sliced

1.5

c

grated carrots (I like grating the carrots because they then are similar in size as the rice)

1

yellow onion, diced

2

medium zucchini, grated

2

heaping handfuls of fresh baby spinach, rough chopped

3

sprigs of rosemary, two left whole, one remove leaves and mince

1

c

dry white wine (I used Pinot Grigio) – make sure it's something you actually would drink

1/4

c

heavy cream

3

TBS butter (you can use olive oil also)

12

cloves of garlic, 6 minced, 6 left whole

1/2

c

flour

8

–

10

c

chicken or veggie broth – I prefer to use chicken bone broth for a richer flavor

1/4

c

Italian parsley, minced

1.5

c

dry Minnesota Wild Rice
*For a vegan/vegetarian version replace butter with olive oil, use veggie broth and omit the heavy cream and chicken
---
Instructions
Pre-heat oven to 425 degrees.
Start your rice first it takes the longest! In a large sauce pan cook your wild rice. Follow package instructions for water to rice ratio. I also usually will use broth instead of water, add in a TBS of butter and season liberally with salt and pepper. I find that the cooking time for the rice on the package is usually 10-15 minutes too short.
Loosen the skin of the chicken. Place 3 cloves of garlic and one sprig of rosemary under skin. Season liberally with salt and pepper and drizzle with olive oil.
Bake chicken for 20 minutes, check the temperature of your chicken. The internal temp should be 165. I find that one breast usually cooks quicker. If chicken is 135-150 I cook an additional 3 minutes and check, 3 more minutes and check etc. until it reaches 165 as to not dry out the chicken. remove from oven once cooked and set aside.
While chicken and rice are cooking – in large soup pan over medium low – medium heat sauté butter, celery, onion, minced garlic, carrots, minced rosemary and bay leaves until tender around 12-15 minutes.
Once veggies are soft add in flour. Stir to incorporate, add a drizzle of olive oil if you need more liquid. Cook flour for a few minutes so it doesn't leave a raw flavor.
Turn heat up to medium high and add in wine. Let wine come to a gentle bubble and stir so it doesn't scorch. Cook for a few minutes until wine reduces by half and the liquid becomes very thick.
Add in broth (I start with 8 c and save a few because the rice will absorb some of the liquid), zucchini and spinach. Turn heat to medium, season with salt and pepper, cook for 10 minutes until veggies are completely tender.
When chicken is cooked and cooled so you can touch, shred into bite sized pieces.
When the rice is done add to soup with Italian parsley and heavy cream.
Lastly add in the chicken and check seasonings. Season with more salt and pepper as needed. If you want to thin out the soup add more broth.
*Note if you prefer an even thicker soup you can mix a few TBS of corn starch with 1/4 broth in a cup and add to the soup or start with 6 cups of broth in step 8 and add more as necessary
Notes
Have a meat thermometer on hand. This will help you know when your chicken is done so it does not overcook and dry out!
Prep Time:

10M

Cook Time:

60M

Category:

soup
Keywords: soup, wild rice, chicken,