In true Sunday fashion we were sitting around watching playoff football (Go Pack Go!) trying to figure out what soup to make for dinner. Notice I don't say "what to make for dinner" but "what SOUP to make"? Because I make soup seriously every Sunday. It's a great way to make a large quantity of healthier food to last me the week so I have a good lunch at work. Not only does it save money but in most cases, calories too when you aren't picking up take out. I was craving a beer cheese soup but decided to go a little rouge and make cheddar ale cauliflower soup instead.
While I was perusing through my Pinterest soup board and I saw something I had pinned about Aaron Rodgers making the ultimate Beer Cheese Soup. Which sounded not only heavenly, but fattening! Loaded with bacon, beer, cheese and heavy cream which I am sure is delicious but not something I needed to eat for 4 days straight.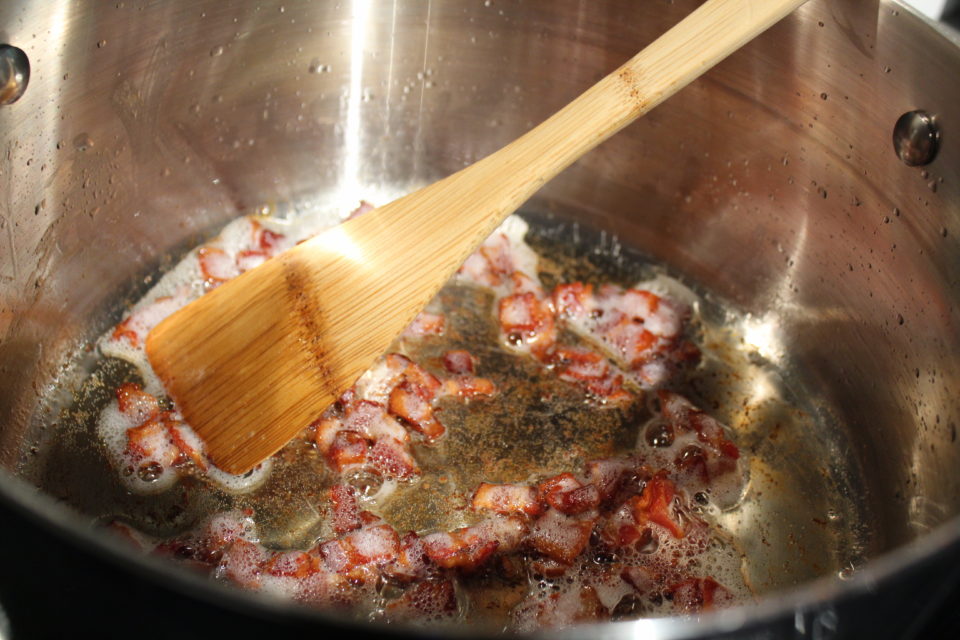 Over the years I have learned my immersion blender is my substitute for heavy cream. Most of the time I start with chicken or vegetable broth to replace the heavy cream. When you use the right base (potatoes, beans, cauliflower are all good) and blend with the broth the outcome tends to become a faux cream mixture. Since life is really about moderation, I still used bacon in this recipe as well as a little cheese. Also by using a cheese that is strong like a good sharp cheddar the flavor goes a long way so you can use less.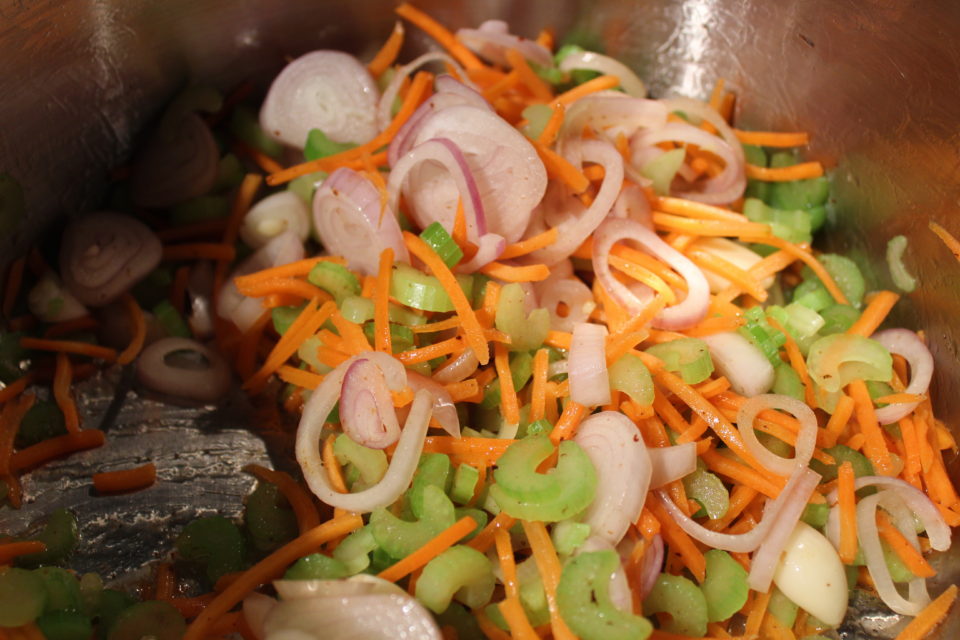 Lately one of my favorite Saturday brunch spots has been having a cauliflower soup on their menu. To finish it, they top it with chili oil which makes the soup have a nice level of heat. (Thanks Commonwealth for the inspiration!) Since we had some chili oil at home that we had got at an Italian grocery store (have you been to Eataly?!) so I put it to use. But if you don't have chili oil you can just top with a few dashes of hot sauce or just omit all together. Also if you do like spice, you can always make your own oil by adding red chili pepper flakes to some olive oil and put on the stove on low for 10 minutes to infuse.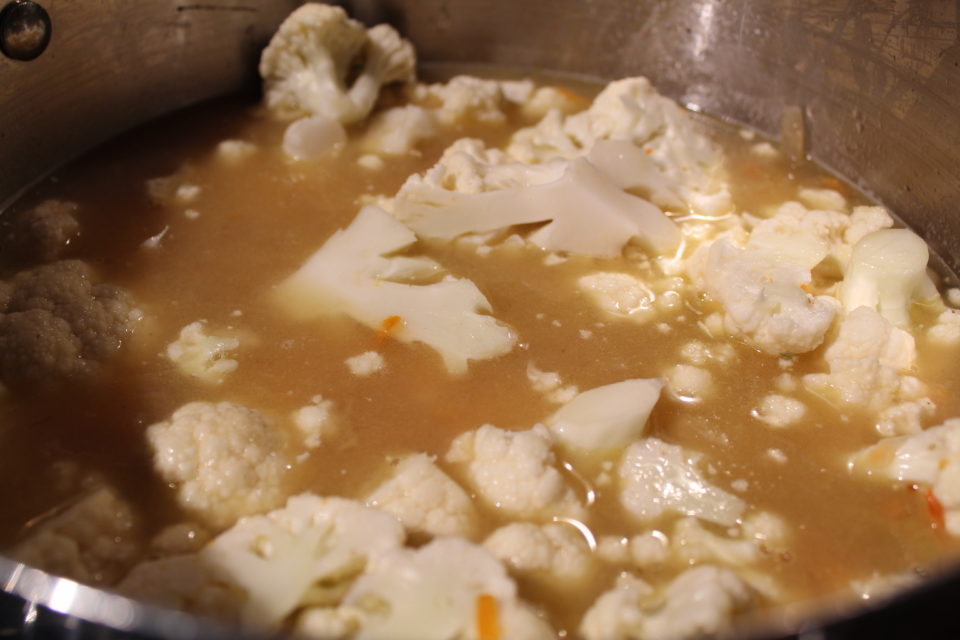 Since I was skipping on the cream I decided to whip up a quick batch of croutons to garnish my soup with as well. Cruotons are so easy to make. Also, so easy to BURN so be careful when you are roasting them in the oven. If you have any leftover bread it works great for croutons. Typically we don't buy loafs of bread so I like to look for little mini ciabattas or a mini baguette since we only want one serving of the croutons. Furthermore this prevents buying a ton of bread that will go unused.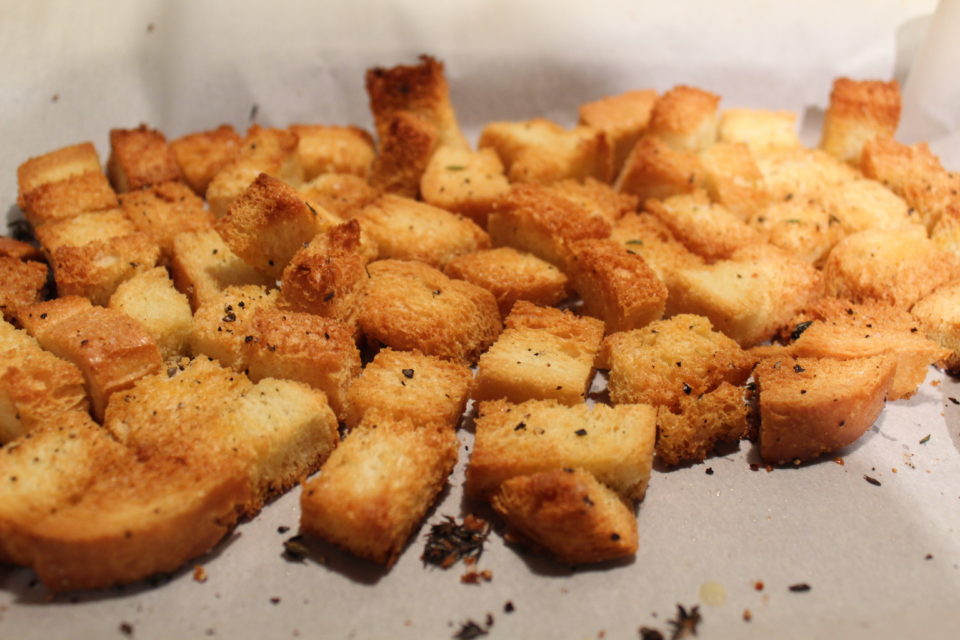 While my cheddar ale cauliflower soup probably wasn't as rich and creamy as Aaron Rodgers', it was still really tasty and pretty healthy. Plus the Packers won (THAT night…. we won't talk about the Atlanta game) so I consider Soup Sunday a victory!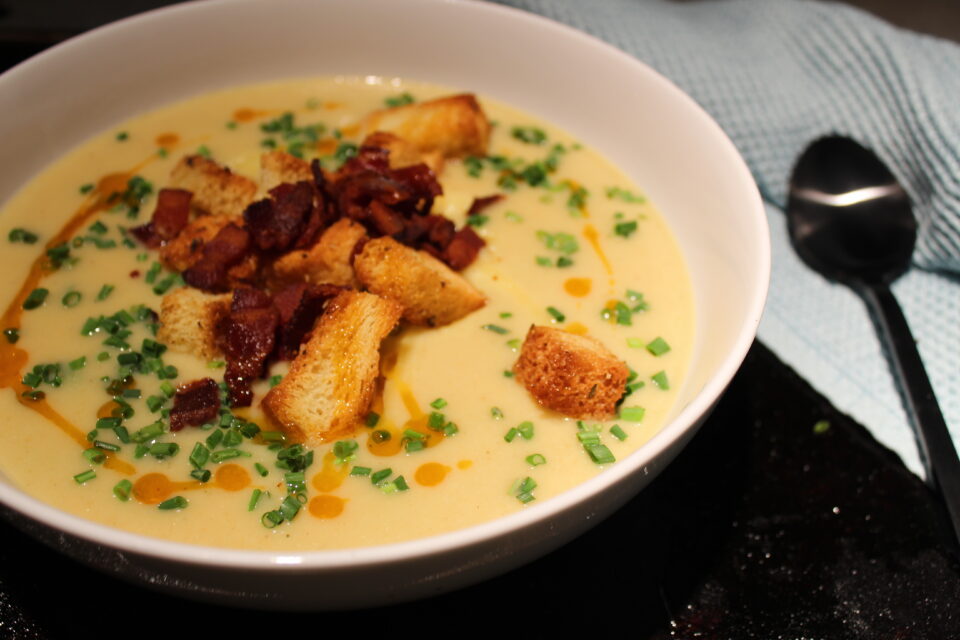 Print
[2]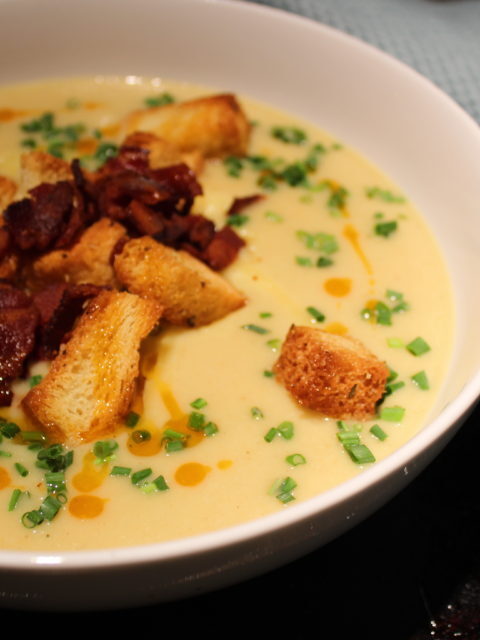 cheddar ale cauliflower soup
---
5

slices of bacon, sliced into thin pieces

2

heads of cauliflower

6

–

7

ribs of celery, thinly sliced

3

shallots, sliced thin

1

c grated carrots (for this recipe I cheated and bought the already shredded ones from the store)

6

–

7

cloves garlic minced

2

TBS flour

6

c chicken or vegetable broth

1

can or bottle of light beer, I prefer just an ale for this versus a hoppier IPA

8 oz

sharp cheddar cheese
bundle of fresh thyme

6

scallions, sliced thin

1

TBS dijon mustard
a few dashes of Worcestershire sauce
chili oil for drizzling
chives cut small for garnishing
salt and pepper (I prefer white pepper for this recipe)
Croutons
4

slices of day old bread (I like to buy a mini ciabatta loaf and use but any bread works here) cut into smaller cubes (about

1/2

inch cube)

2

TBS of olive oil (or a few spoonfuls of the bacon fat from the steps above)
salt and pepper (be liberal with your salt and pepper so your croutons actually taste seasoned!)

1

TBS thyme (since I am using fresh from above I just pull a bunch of the leaves from a few sprigs and use that)
---
Instructions
Start by sauteeing bacon in a large soup pot over medium heat, until cooked through to your preference (I prefer mine crispy). Remove with a slotted spoon and set aside. Next to the soup pot add celery, carrots, shallot and garlic to the reserved bacon fat. Season with salt and pepper to taste. Sautee until veggies are tender about 10 minutes. Next sprinkle veggie mixture with flour. Stir flour to incorporate and cook a few minutes. This takes the raw taste out of the flour.
Turn up heat to medium high and add in the can of beer. Your mixture will start to instantly thicken as the beer cooks out. Add in chicken broth, thyme, Worcestershire, dijon and cauliflower. Bring to a gentle boil. Cook another 10 minutes until cauliflower is cooked through.
Once the cauliflower is complete cooking, remove the soup pot from your hot burner. Find your thyme bundle and remove. Either using an immersion blender or a regular blender puree your soup so there are not any chunks remaining. When using a regular blender you will have to blend in batches. Be sure to vent the lid to prevent the hot liquid from exploding.
Return soup to the stove and keep on low heat. Add scallions to the soup. Slowly start to whisk in your cheddar cheese in small batches making sure it melts and incorporates into soup before adding more.
Finish the soup by topping with reserved bacon, croutons, drizzling a little chili oil and a few chives to garnish. My husband likes to add a few dashes of hot sauce to his too (but what DOESN'T he add hot sauce to?!?!)
For the croutons
Start by tossing all of the ingredients together so bread becomes lightly coated with olive oil and seasonings. On a cookie sheet bake at 425. I check my bread every 4 minutes to make sure it doesn't burn and flip them around. The croutons take about 12-16 minutes to become crunchy. Just be sure to watch them to make sure they don't burn.
Notes
To make a vegetarian version omit bacon, use a few TBS of olive oil to start your veggies with. Simply replace chicken broth with vegetable broth.
Prep Time:

10

Cook Time:

30