While I am a picky meat eater I love a good gourmet BLT. When I think about pairings of meals BLTs and tater tots are a perfect combo. Especially if the tater tots are crispy. There is a place in Detroit that has the best tater tots (thank you Mercury Bar!). But of course they are legit fried in lard. So the odds of replicating that at home are slim to none. But I have the next best thing!
So I find a way to make your every day frozen tater tots "gourmet". We always make our bacon in the oven now on parchment paper. So after I cook the bacon I drain the bacon fat from the tray. Then all that's left is the residual bacon fat and little brown bits. I put the frozen tater tots on that and roll them around. Then I drizzle a tiny bit of olive oil on the top of the tots and season LIBERALLY with garlic salt (love the Trader Joe's grinder) and black pepper.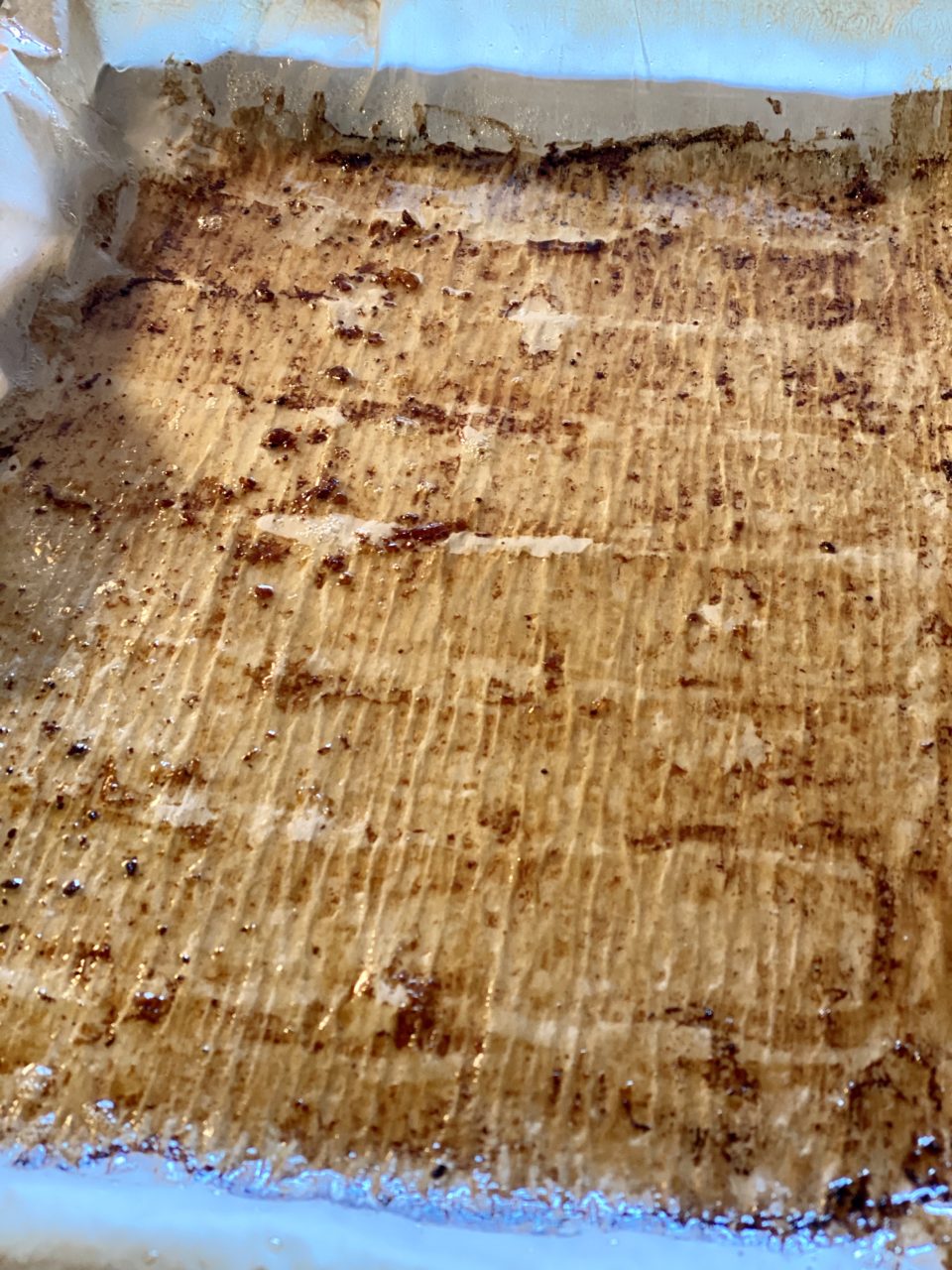 The other key to getting an almost "fried" tot is to crank up the heat in your oven. I bake my tots at 450 for 25-30 minutes flipping them half way. However we have a gas stove. Our family has been quarantining at my mom's house. I found her oven doesn't get hot enough. So I had to kick on the broiler at the end to get the tots nice and crispy.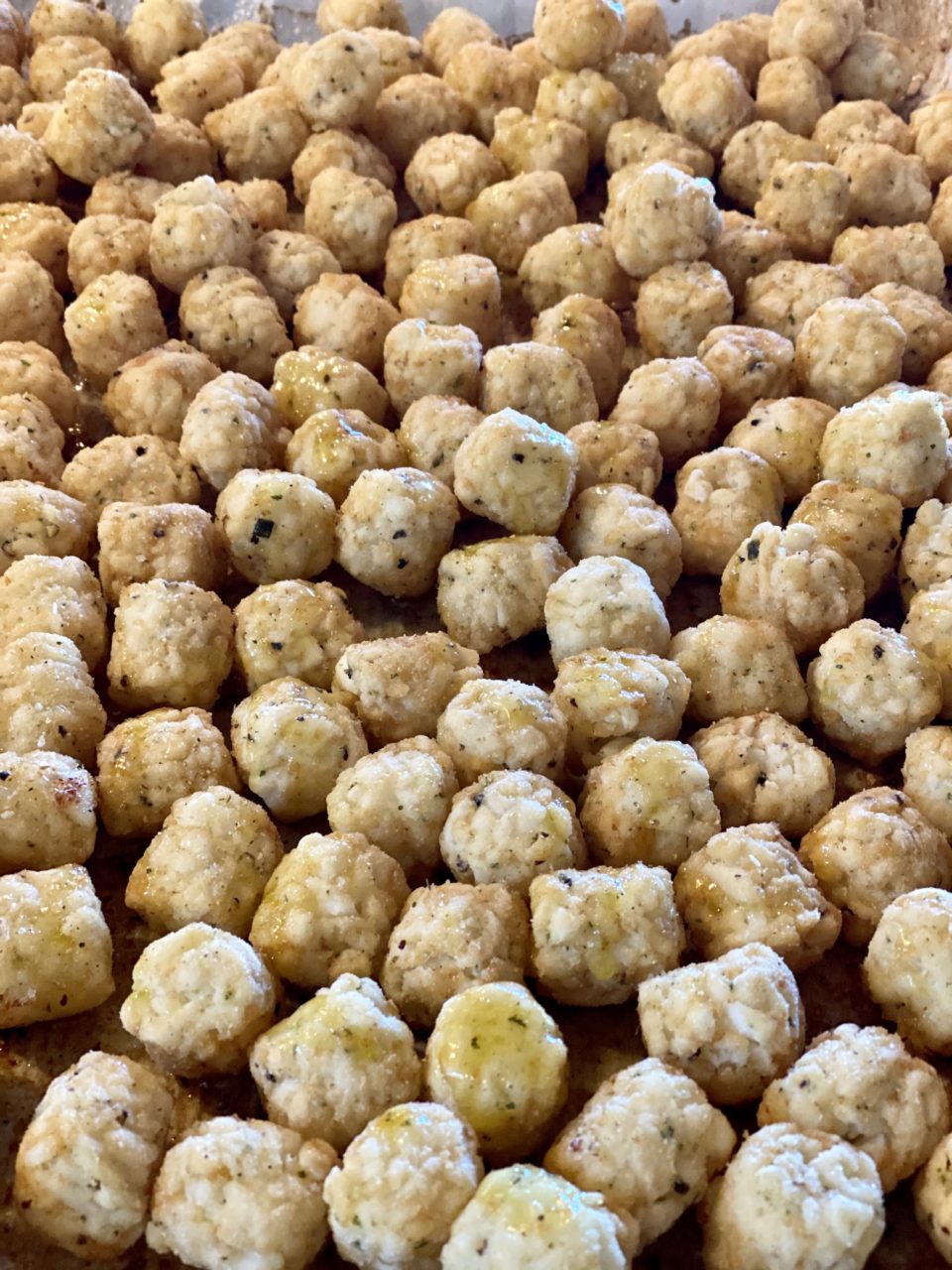 There is one last step once the tots are cooked to make them gourmet. I grate white cheddar cheese on them and top with chives. Then I plop them back into the oven for a few minutes to let the cheese melt.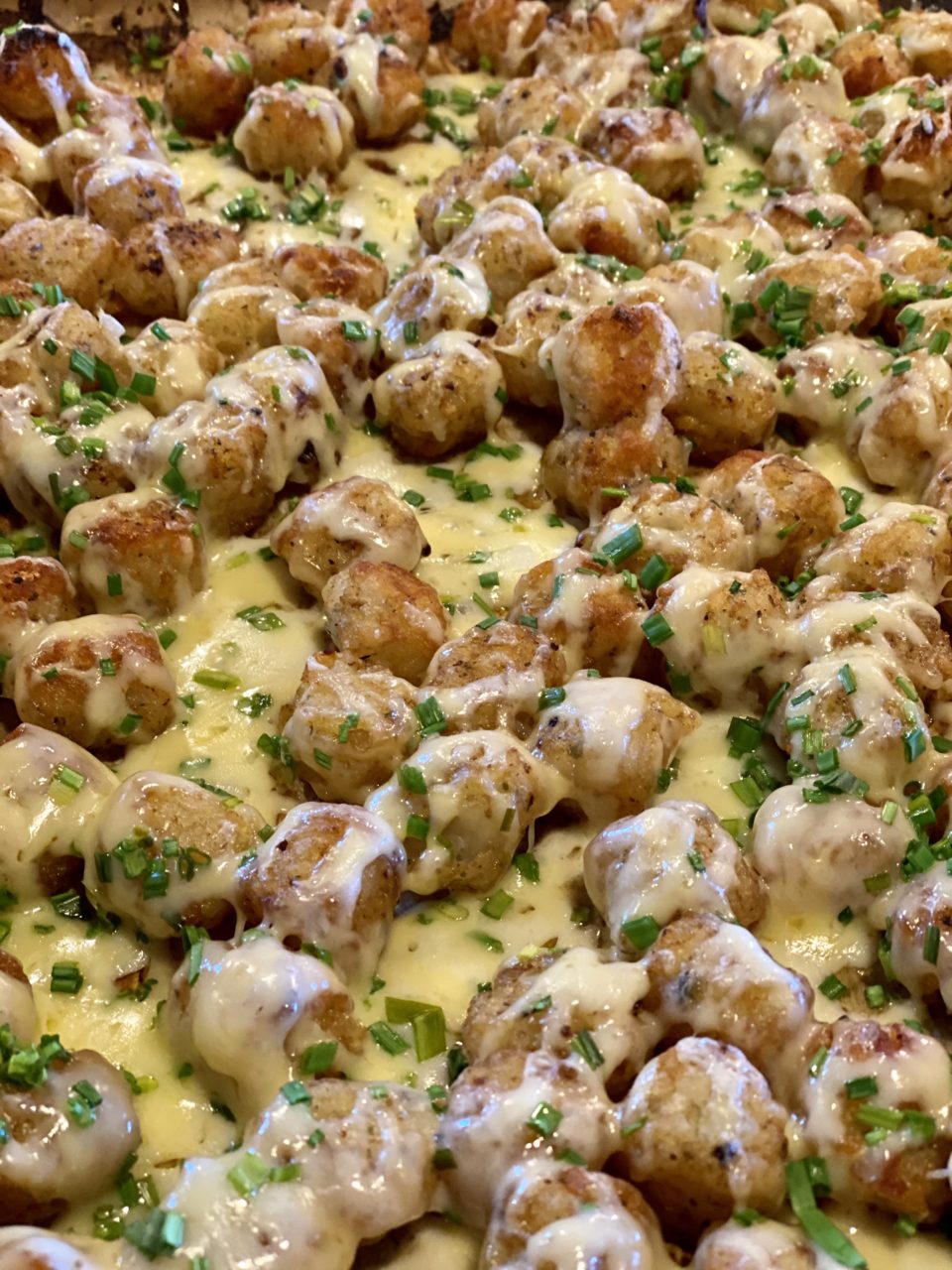 So onto the BLT. I hate mayo. I have never liked it. But I find a BLT without a spread makes the sandwich really dry. So I started making an avocado "aioli" without the egg. I hate to tell you it's a vegan aioli because I am pairing it with bacon but that's what it is. Actually it's more like an avocado pesto. In a food processor I combine basil, avocado, lemon juice, salt, pepper, garlic cloves and then a splash of water to whip everything into a thick sauce. I use that smear over my bread for the BLTs.
I also find that getting a good bread for your BLTs really makes a difference. Try to buy your bread from a bakery or fresh baked from the grocery store. And use good produce. Instead of iceberg lettuce swap it out for butter lettuce or romaine. Use roma or heirloom tomatoes for extra flavor.
Basic at home meals don't have to be flavorless. These little tricks with help you take your BLTs and tater tots to the next level!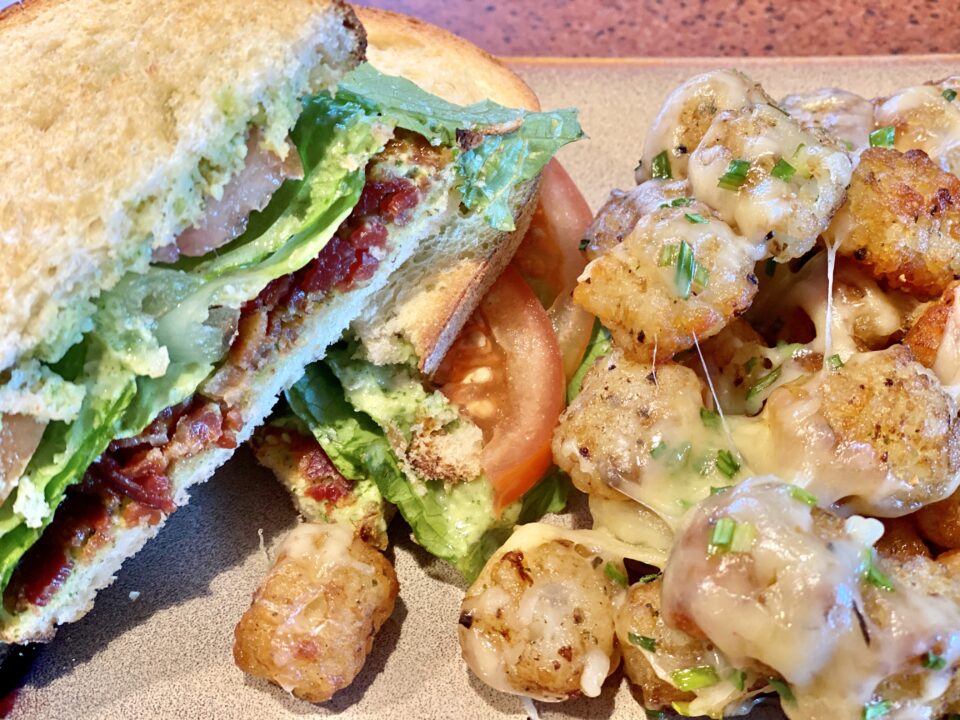 [lt_recipe name="BLTs and Tater Tots" servings="4″ prep_time="5M" cook_time="55M" total_time="1H" difficulty="Easy" summary="Note: You need a food processor or chopper to make the aioli. Most of the cook time for this is set it and forget it!" print="yes" image="https://eatbreathelove.net/wp-content/uploads/2020/04/IMG_2021-480×640.jpg" ingredients="FOR THE BLTs:;4-5 pieces of bacon per person;8 slices of bread (I love using sourdough);3-4 tomato slices per person (I love romas or heirloom tomatoes;2-3 leaves of lettuce per person (use romaine or butter lettuce instead of iceberg!);;;FOR THE TOTS:;2 bags of frozen tater tots;1.5 c grated cheddar cheese (I prefer sharp white for this);chives sliced thin;Garlic salt (I love the Trader Joe's grinder) and pepper;;FOR THE AIOLI:;1 large avocado;1 6-8 oz package of basil;2 garlic cloves;juice of half a lemon;salt & pepper;" ]Preheat the oven to 425;Place all ingredients for aioli in food processor. Pulse to combine ingredients. Then add a few TBS of water to puree the ingredients finer into a spread.;On a parchment paper lined cookie sheet, place bacon in one layer. Cook for 15-20 minutes until bacon is cooked to your desired doneness flipping every 4-5 minutes. (I like mine crispy!);When bacon is done drain the grease from the cookie sheet. Turn heat on oven up to 450. DO NOT throw away the parchment paper. In a single layer spread the tater tots on the bacon parchment paper. Roll tots around to pick up some of the bacon bits and flavor. Season with garlic salt and pepper. Drizzle the top of the tots with a little olive oil to help them get nice and brown.;Cook tots for 30 minutes flipping after 15 minutes. If after 30 mins the tots are not crispy, broil on high an additional 5 minutes.;Top tots with cheese and chives. Place back in the oven for 2 minutes to melt the cheese.;Assemble the BLTs by spreading each piece of bread with the aioli. Then layer the tomatoes, lettuce and bacon to make the sandwich. I like to cut mine in half.;Note: I like to combine Siracha with ketchup to dip my tots in![/lt_recipe]