Summer is officially here! The warm summer weather makes it hard to want to be inside, especially in the kitchen. There is nothing I love more than firing up the grill in the summer. We grill year round because we are fortunate enough to just step right outside to our grill but it is much more pleasant when it's 80 out versus 20. Grilling in the summer makes me think of the staples, BBQ chicken, corn on the cob, tomato/basil/mozzarella salads, the list could go on.
My husband and I differ in our preferences of chicken. I like the white meat, he likes the dark. It usually means we are buying a few different packs and making them both. However, lately I have been finding an easier solution than buying multiple cuts of chicken – buy the whole bird. It solves the white meat/dark meat problem since you get both. Typically a whole chicken is cheaper per pound than breast meat anyway. It serves two people with enough for leftovers as well. We buy organic chickens which are smaller than normal chickens (as you would expect, they are not being pumped full of hormones to get bigger) so if you are feeding four and want leftovers you might want to make two chickens.
I have always seen recipes for beer can chicken and wanted to try. Most of the recipes I have seen are for the oven. I have found a few on the grill but since your chicken has to cook at least an hour you want to make sure you have enough propane so you don't run out of gas. I wanted to spice my chicken up nicely so I decided to use a blackening type season mix on my bird. One of the tricks I use when I make turkey on Thanksgiving is I like to rub a butter/herb mix under the skin of the bird to cook in between the meat and the skin. I mixed my blackening seasoning with some butter and did this trick to my chicken to help keep it nice and juicy while cooking. I also put the rest of the seasoning in my beer can (a little trick from Bobby Flay) that way when the beer is steaming the chicken it gets an extra level of flavor.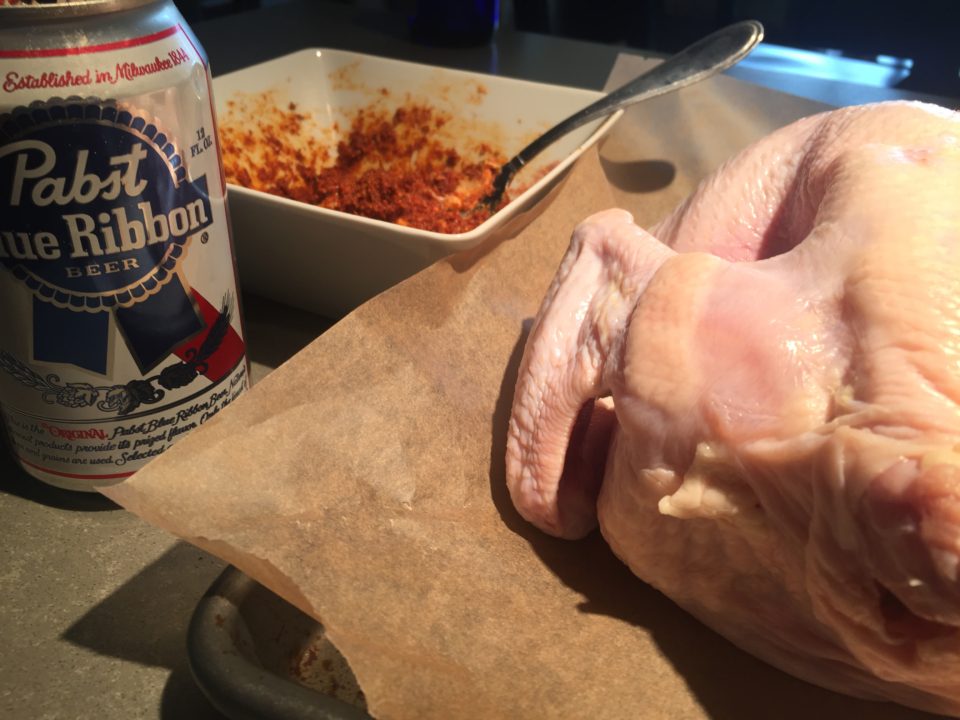 I love the different vegetables that crop up in the summer time. The one thing I have taken away on our trips across the world is that most countries only cook with what is in season or with what they preserve. In Italy you won't catch them using fresh tomatoes in January because there aren't any. They can their tomatoes from the summer to use in the winter. I like using what's in season and what is fresh (plus it's cheaper that way). In the summer you can often find garlic scapes. Garlic scapes look like a chive on steroids. They are big and green and they are actually the top of a bulb of garlic. Farmers cut this part off to let their garlic bulbs grow big but they are actually edible and really tasty. I love potato leek anything and typically I add chives to my twice baked potatoes so I thought a garlic scape/chive Gouda mashed potato would be a great pairing to my chicken.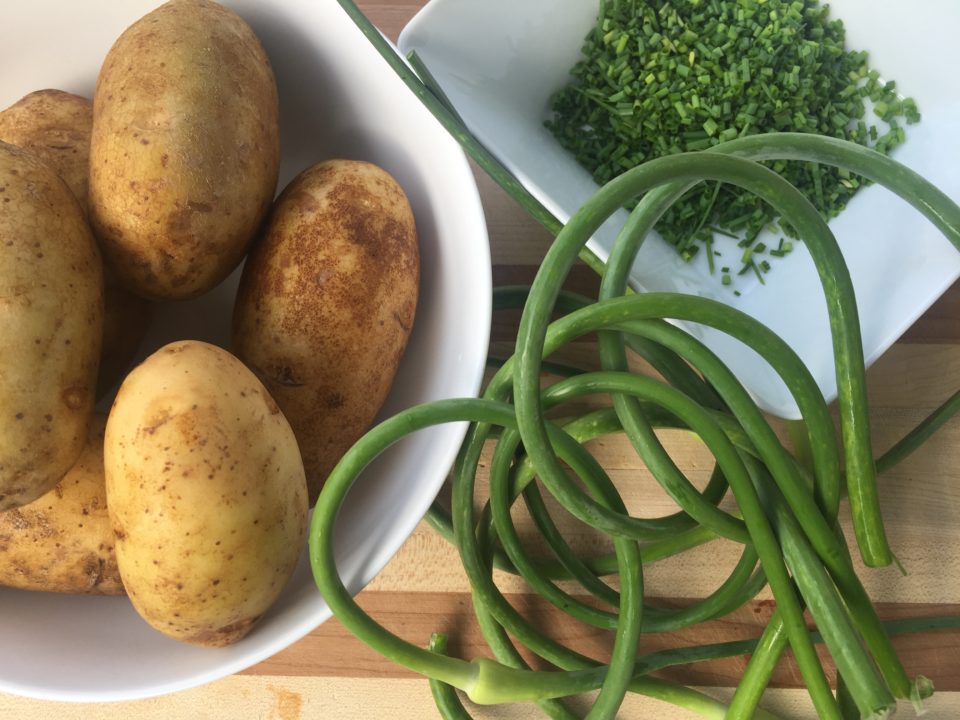 The scapes have a nice garlicy flavor and are a little peppery. I decided to sauté them up in some butter to cook them down a little to balance the texture of the mashed potato. I didn't want crispy scapes and soft potatoes. I really wanted to use Yukon Golds for this recipe but my husband mis-read my grocery list so russets were what we had so I went with that. Per usual, when I know I will be using cheese in a "creamy" dish I ditch the milk (we don't drink it anyway so it's a waste to buy a whole carton) and use chicken stock instead (you can sub it for veggie broth for a purely vegetarian version). The addition of Greek yogurt is a great substitution for sour cream. I have recently found a great brand based out of Atlanta that is also grass fed (found here). The combination of the scapes, chives and Gouda cheese were delightful.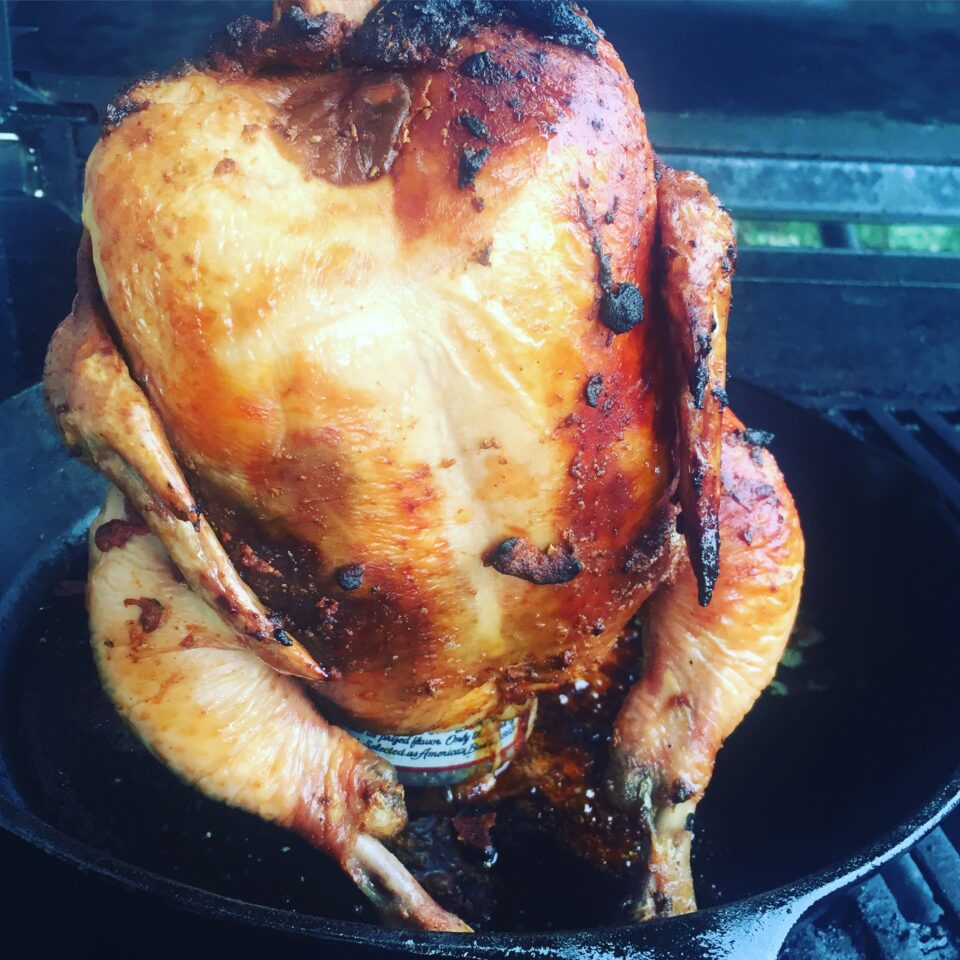 The best part about this meal is you can literally set it and forget it for the chicken. You just leave it on the grill which gives you time to sit outside and enjoy the nice weather for a bit and then multi task your potatoes. This meal is great for a couple or to feed a feast.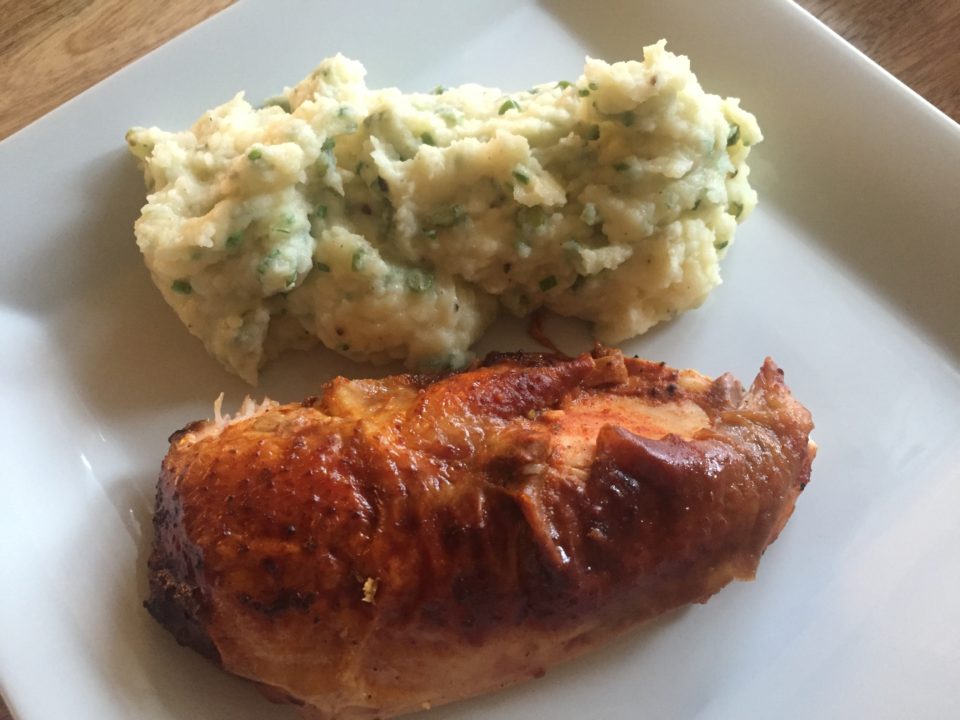 Print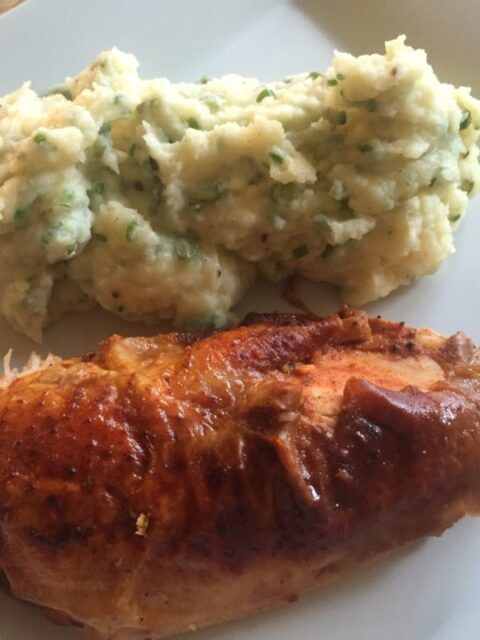 blackened beer can chicken with garlic scape mashed potatoes
---
Total Time: 1 hour 15 minutes
For the chicken
1 whole chicken, rinsed and patted dry
1 can of beer (I prefer a basic light beer)
1.5 TBS paprika
1 TBS garlic powder
1 TBS onion powder
1.5 tsp oregano
1.5 tsp cayenne
3 TBS of butter, room temperature
7 cloves of garlic minced
liberal amounts of salt and pepper
For the potatoes
2 lbs of russets or Yukon gold potatoes washed and cubed (if using russets, peeled as well)
1 bunch of garlic scapes, thin tips chopped off, sliced very thin
4 TBS of butter
1 bunch of chives minced
1 c of chicken broth (or vegetarian broth)
1 c of grated cheese (I used 1/2 c of white cheddar and 1/2 c gouda)
1 8 oz container Greek yogurt
---
Instructions
For the chicken
Pre-heat grill over medium-high temperature. You want at least a three burner grill for this. Heat two of the burners.
In a small bowl combine all of the spice rub mixture. Add 3/4 of the mixture with half of the minced garlic to your room temperature butter. Mash up with a fork to combine.
Empty half of the beer from your can. With a wine opener or old school can opener, make a second hole in your beer can. Add the remaining chopped garlic and spice mix into the beer.
Liberally rub butter/spice mix all over your chicken. Try to get up under the skin to leave butter in the pockets to help moisten chicken. Carefully place the chicken over the beer can. In a cast iron pan or a throw away pan (something that will withhold the heat of the grill) place the chicken in the pan (to catch the pan drippings) and place the pan on the side of your grill without heat. Cook 50 minutes to an hour and check the temperature of your chicken with a meat thermometer. You want your chicken to be 165. Always check in the thickest parts of your chicken. Let chicken rest for 10 minutes to let the juices recirculate. Cut your chicken into pieces. The chicken should be very tender to where you can actually pull the legs and wings off with little effort.
For the Potatoes
In a large soup pot with COLD water (this helps potatoes cook evenly) add potatoes and bring to a boil. Cook until fork tender (15-20 minutes) While the potatoes are cooking, in a frying pan with 1 TBS of butter sautee the garlic scapes over medium heat for 15 minutes until tender. When potatoes are done, drain and put back in the pot. Add in 1/4 cup of chicken broth, the remaining butter, cheese, Greek yogurt and plenty of salt and pepper. With a potato masher combine. If the potatoes are too thick add 1/4 of the chicken broth at a time until you receive the desired thickness you like. Stir in garlic scapes and chives.
Prep Time: 15
Cook Time: 60